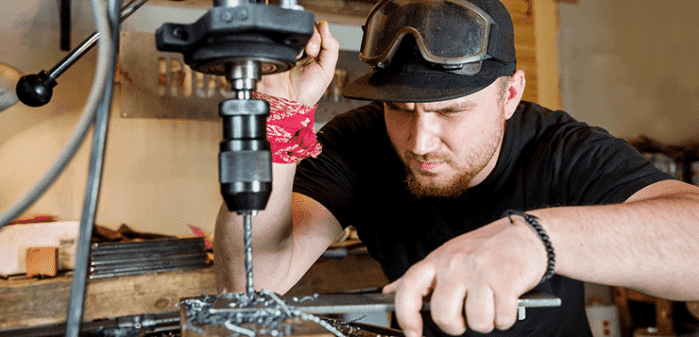 Helpful Hints on Choosing a Drill Press
Power equipments such as drill press and chainsaws require precaution to avoid accident injuries (No. 3) while operating with them. You need to know about servicing, setting up, maintenance proper method for the selection of tool and work holding device to complete your job safe and sound without any damage to yourself, equipment and someone else nearby.
Your collection of home appliances may not be necessarily complete without the addition of a drill press. This multi-purpose device can come in handy when the need arises. It becomes needful, when there are occasions that you would have to drill holes in woods, stones, metals, etc, to a certain depth. The drill press was well-designed to be used for several purposes. For instance, it can function either as a spindle sander or as a mortise machine. However, a drill press is used to drill or enlarge a cylindrical hole primarily. Drilling the major operation performed by drill press. You can perform reaming, counter boring, tapping and countersinking. You can find the following hints quite useful before deciding on which drill press can best perform your tasks.
First, Choose The Model That Is Appropriate For Or Relevant To Your Task:
Why you need identify the model suitable for your task? A drilling machine has many shapes, sizes and power based models. There are different types of drill press, from hand-held power drill to bench mounted and floor mounted drills each having its unique uses. The floor models and the bench top models are;
Floor models are built to handle heavy-duty construction work. Also they are used to perform certain projects in commercial centers, as well as DIY (Do-It-Yourself) projects, that are of a considerable magnitude. The Floor models are able to do this because they are fitted with a number of accessories, and powered or driven by their powerful motors.
The bench top models are designed to perform small task. They are not as big as the floor models, and are usually attached to a workbench or a stand.
Second, You Have to Take into Consideration the Distinct Attributes of a Drill Press:
Before deciding on which drill press to buy, study the reviews such as floor drill press reviews to anticipate what tasks around your home that it would be able to perform in the foreseeable future. This is necessary because drill press has certain unique features that enable it to perform optimally.
 Horsepower
You would want to take into account, for instance, the horsepower of the drill press that you intend to buy. There is need to ascertain the kind of horsepower (HP) that a drill press possesses. This is because the horsepower decides what measure or amount of power that the motor can generate. Ideally, a drill press can have HP range of 1/4 HP to 1 HP to drill certain holes. However, that may be insufficient in some instances, when you would require a higher horsepower to perforate hard surfaces or substances.
Speed
Moreover, there is need to examine the variable speeds of the drill press. Doing so, would help you to control the work process and ensure that the material is properly bored with the different diameter holes so as to avoid marring it. I advise that you opt for a drill press that has several speed settings. These features make it more flexible. Consideration should be given to both the flexibility of the table, and the center drilling capacity of the press and you should ensure that the right sizes of holes are drilled on your material without causing problems.
Quill travel
You should pay attention to the quill travel of your drill press which has to be of a reasonable amount. This is imperative as it can help you to not only regulate or determine the depth of your but also to enable you to achieve further depths if need be. The precise depth stops that this feature creates can help you achieve holes of precise depths for heavy-duty work and projects that can be arduous and tiresome.
Some Basic Accessories of a Drill Press
Lastly, you should bear in mind that a drill press has be accompanied with its accessories, and you should endeavor to check that these accessories are intact and work well with your drill press. Every bit of these accessories has a use and should not be toyed with, no matter how little the part or accessory, as it would be needed in time as you become used to the mechanism or operation of the tool.
You will find among these accessories are;
• Sanding drums and mortising attachments,
• Fences,
• Planer heads
• Drill Bits

These accessories can be very helpful when you are involved in such primary tasks as drilling repetitive holes or sanding edges with the drill press.
Among these accessories of the drill press, the drill bits stand out as the most essential components. Hence, it is wise you obtain the required bits of different sizes and types. As these bits are varied in sizes, so they differ in terms of use. For instance, cobalt bits are used for drilling in projects that are heavy-duty in nature; it requires steel bits that are of considerable size to do hardwood drilling. You may decide to use carbide-tipped bits and high-speed steel bits, titanium-coated bits, to achieve this too. Because your choice of drill bits could go a long way in determining how well your drill press performs, it is crucial that you choose them with some sense of caution.