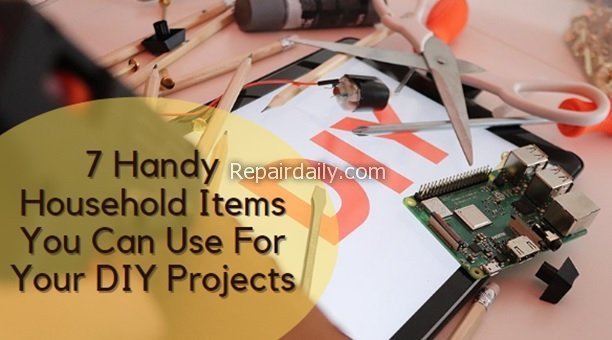 If you're a DIY enthusiast, you know that there are tons of cool things you can do with common household items.
You don't need to run out to the store and buy dozens of expensive supplies to start your next DIY project. There are many things available in your house that can be used in a variety of ways, so you're sure to find something you can use for a number of different crafts.
---
Here is a list of some handy household items that you can use for just about any project.
Bale Tie Wire
Bale Tie Wire is one of our favorite household items to use for DIY projects. You can get it at your local hardware store or you can even pick some up from a local farm supply shop. It is strong and inexpensive. You can use it if you want to hang something heavy on the wall. If you have an old picture frame that has lost its hanging hardware, don't toss it out! Just nail some baling wire to the back of the frame and hang it up on nails in the wall.
You can also find a bale tie wire handy when looking for something to hold together temporarily. A piece of furniture broke? Attach it with baling wire while you find a more permanent solution. It's not pretty, but it will hold things together until you have time to fix it properly!
Garden lover? Make animpromptu hanger for your plants or garden tools. Baling wire makes a great holder for long-handled gardening tools in a shed or garage and it also works well when making a hanger for potted plants inside your home or outside on the patio or porch.
Binder Clips
Binder clips are one of the most versatile items that many people have just laying around their house. They come in a variety of sizes and can be used for all kinds of things. For instance, they can be used as a shelf or drawer organizer, or they can even be used as jewelry hangers. You can also use them to keep cords from getting tangled up behind your desk and when traveling.
Toilet Paper Rolls
Most people throw away toilet paper rolls without even thinking about it. However, these rolls can actually be used for a wide range of purposes. For instance, toilet paper rolls can be used as cord holders when on the go and organizers in the kitchen or office. They can also be used as a decorative element in any room by covering them with tape or wrapping paper and using them as vases.
Rubber Bands
Rubber bands are another must-have item for getting projects done around the house. They're great for keeping things together when drilling holes or sanding objects. I also like using them for securing electrical wires when I'm working on electrical projects. Finally, they can be used for hanging different objects on walls or other surfaces—perfect if you need to hang art up or mount mirrors!
Old Tires
Old tires are one of the most useful things you can almost find anywhere. They're strong, sturdy, and can be cut into various shapes which are perfect for use as baseboards, shelves, or even as seats. Old tires can also be used to build a frame around your door so that it doesn't slam when you open it.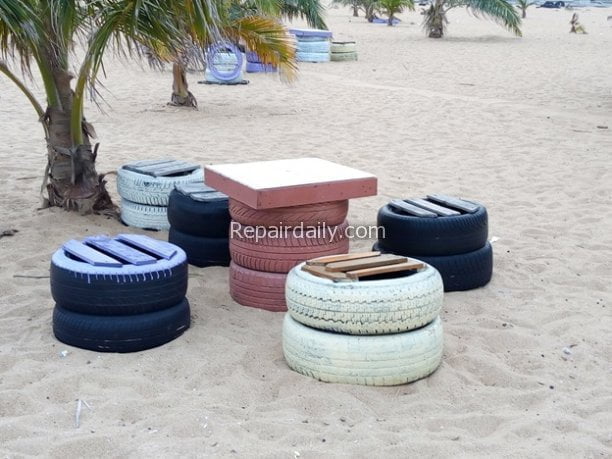 Old tires are excellent for building furniture because they're not too heavy and they don't require many other materials to create a craft that's sturdy and functional. If you want to make something really well-made, use an old tire that has been cut into shape. It's a good idea to make sure the tire is in good condition before you begin cutting it—if it has any holes or rips then you might have some problems with the strength of the end product.
Cans
Forget about tossing your tin cans into the recycling bin! You can repurpose them for a variety of DIY projects. They are easy to decorate, so you can make them look like anything from high-end to rustic or vintage with the addition of paint, lace, rope, yarn, burlap or whatever else you have in your craft box. To add texture and dimension to your project, use a hot glue gun to attach beads, buttons, sequins or other small items. Here are some ideas for what you can make:
Make an oil lamp. All you need is a tin can, some cooking oil, a wick, and a cotton ball. Fill the can with the oil and light up the cotton ball on top. Voila! Instant lamp!
Create storage space. Tin cans are great for stashing loose items like rubber bands and paper clips. If you want to get fancy, you can even paint your cans to match the color scheme of your office or craft room.
Build a bird feeder. Just cut off both ends of the tin can and poke holes in it if you want extra drainage for your seeds. Then just fill it with birdseed and hang it from a tree outside!
4.Make a vase out of tin cans. Tin cans make great vases, and they're perfect for creating a rustic look in your home decor. Try painting them with chalkboard paint so you can write the names of flowers or plants on them when giving them as gifts!
5.Turn tin cans into planters. Got some empty tin cans? Use them as planters for fresh herbs or succulents! If you want to get really creative with this idea, try painting each one in different colors before filling it with plants.
Glass Bottles
Bottles are great for organizing, such as in the kitchen or bathroom. If you've got an old shampoo bottle lying around, clean it and use it to store all your liquid soaps!
They can also come in handy for DIY projects. If you're into making your own salt scrubs, lotions and other hydrating body products, glass bottles can be ideal for holding them. You can also use them to hold homemade scents and refreshing spritzers!
Takeaway
In addition to these seven household items, there are countless others that you can use to do your DIY projects, but I think this is a good place to start if you're looking for ideas. So get out into your garage/basement/storage area/yard and find some projects that you've always wanted to do, but never knew what to use. If you have any ideas of your own on how regular household items can be used in an unconventional way, be sure to share them in the comments below!
FACEBOOK
TWITTER
INSTAGRAM
LINKEDIN

I'm so excited to tackle all my home improvement projects! From plumbing to DIY and cleaning - I'm ready to get down to work! #homerepair #homecleaning #plumbing #diy
---
---
---