If there is one room in the house that we all know we should clean regularly, it is the bathroom. This can be a place where germs and bacteria build up and they can make you sick if you do not get rid of them. What's more, there is nothing more satisfying than having a sparkling clean bathroom.
Yet, how often is regular cleaning and why areas should you be focusing on? Should you be cleaning your bathroom every day? Nobody really tells you what you should be doing. But, we are going to give you some tips so that you can enjoy having a clean bathroom.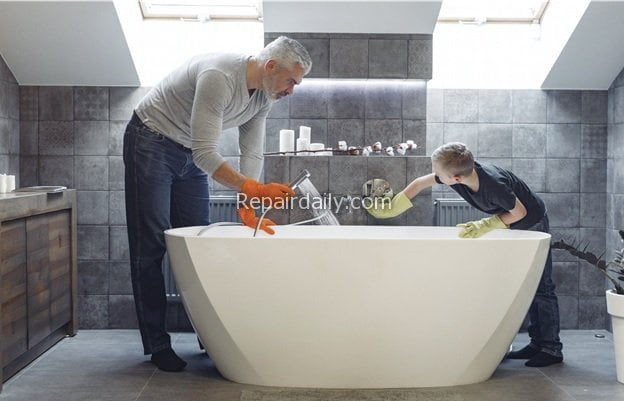 ---
How Often Should You Clean the Bathroom?
First of all, think about how often you use the bathroom in your house. This is going to be done several times a day, whether it is to use the toilet, brush your teeth or have a shower. This is an indicator that this room requires more attention than others.
So, how often should you clean the bathroom? As a rule of thumb, you should be cleaning the bathroom at least once a week. This is if you live alone. The more people that live in the home, the more regularly you should be cleaning it. In addition, some bathroom things should be cleaned more often than others. This is something we will cover later. In fact, most experts agree that it is best to clean the bathroom around two to three times per week if you have time. But, the longest you should go is one week.
What Areas Should You Clean the Most?
It is worth noting that there are areas of your bathroom that you should focus on more than others. For instance, you should try to clean the toilet on a daily basis. Getting into the habit of doing this will mean that it does not seem like such a hassle. This should include cleaning in the toilet, as well as around the seat. This is going to get rid of germs and bacteria that might be present.
Another place to focus on is the shower or bath. If you are using this every day or you have several family members, you want to clean it regularly. Indeed, this include a quick clean every time you use it to cut down the deep cleans you have to do. But, if you do not shower or take a bath every day, you can get away with cleaning the bathtub around once a week or every two weeks. Again, a good habit of getting into is wiping the area down after every shower or bath. So, the general rule is, the more people you have in the house, the more you should be cleaning it. After all, the last thing you want is soap scum building up and staining.
Even the sink should be an area that you clean on a regular basis. People forget that it is used for a variety of tasks, which means that it is perfect as a germ breeding ground and for spreading bacteria. For instance, you wash your hands, brush your teeth and you can even shave using the sink. So, it is best to wipe this down after use and clean the area twice or three times during the week.
Are There Places People Forget to Clean?
The simple answer to this question is yes. Of course, there are obvious places that we have discussed, such as the shower, toilet and sink area. But, there are less obvious areas that people forget about. For example, how often do you clean the drain stopper? This is a place where soap scum, hair and other debris gather. So, you want to be cleaning this on a regular basis.
Another question to ask yourself is; how often do you clean the toilet brush? Of course, you use this for scrubbing the inside of the toilet. But, a lot of people do not clean the brush itself. This means that end up spreading germs back around into the toilet, as well as harbouring them in the toilet brush holder. This should be cleaned several times a week.
Sometimes, it is good to take a step back when you are in the bathroom and take a look everywhere. When you are rushing around every day, you can forget spots and not see dirt anymore. So, stepping back can allow you to check where you have not cleaned in a while.
FACEBOOK
TWITTER
INSTAGRAM
LINKEDIN

I'm so excited to tackle all my home improvement projects! From plumbing to DIY and cleaning - I'm ready to get down to work! #homerepair #homecleaning #plumbing #diy
---
---
---