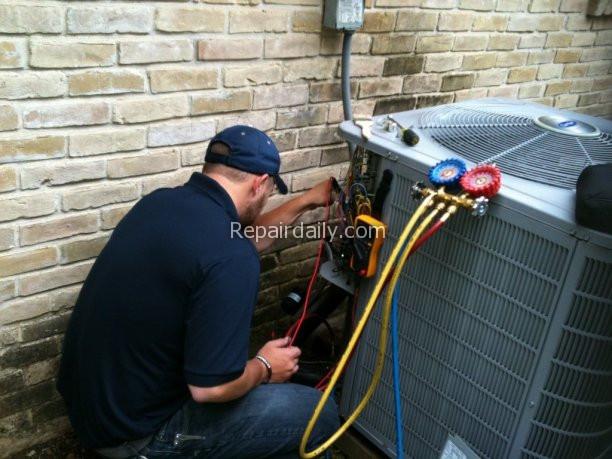 Your HVAC system is responsible for the warm atmosphere in your home. It controls the temperature, humidity, and air purity in your indoor spaces, ensuring you get the much-needed warmth and cool temperatures in all-year seasons.
For comfort and excellent indoor air quality throughout the year, your HVAC system must have proper maintenance. And good care is made possible with HVAC service contract plans. These plans ensure that HVAC technicians from the HVAC companies you subscribed to provide prompt and regular servicing and maintenance throughout the year.
---
To get a top-notch HVAC technician in Bella Vista and the surrounding areas, contact the pros at Anderson Air by visiting the following link — https://andersonair.com/service-areas/bella-vista/.
The higher the scope of your contract, the more you pay. But are HVAC service contracts worth it in the long run? Let's find the answer to this question.
Why Most People Prefer HVAC Service Contracts
You may opt for maintenance plans rather than paying for costly service visits when your HVAC system stops working.
An HVAC service maintenance plan enables homeowners to avoid minimizing last-minute issues by scheduling regular maintenance assessments to detect any problems before they get out of hand. Doing so saves you more money in terms of significant repairs.
What Do HVAC Maintenance Plans Include?
Most  HVAC companies provide contracts to customers putting in new HVAC structures. This guarantees that the brand-new device keeps running successfully throughout its lifespan.
Most HVAC service contracts include:
Regular system cleaning
Seasonal tune-ups
Routine check-ups
Priority treatment during peak seasons (hours)
Furnace and ac maintenance for winter and summer
Replacement of parts
Emergency services
Note: HVAC service contracts' offerings (service scope) depend on the service provider. HVAC companies offer and provide different packages at different prices.
Positive Aspects of Periodic HVAC Maintenance
Are HVAC service contracts worth it in the long run? Yes, they are.
Preventive check-ups and routine servicing are the best tonics for HVAC system maintenance. Getting experienced eyes to scope out your HVAC system helps detect minor problems before they become an expensive ordeal. Frequent cleaning and furnace/ac filter changes also ensure you and your family breathe cleaner and fresher air while relaxing at home.
An HVAC contract guarantees seasonal and yearly check-ups and tune-ups. And this routine upkeep ensures that cooling and heating structures perform successfully, preserving you in snug temperatures during the 12 months.
HVAC service contracts are beneficial in areas with extreme weather conditions
Are HVAC service contracts worth it in harsh climates? Yes, they are.
A service contract with a "priority clause" is quite beneficial if you happen to live in an area where going without air conditioning or heat is life-threatening.
A service plan is a must-have if you live with infants, older adults, or people with ill/frail health. Paying a yearly service fee provides you with much-needed peace of mind because a technician can come over if your system becomes faulty.
You'll likely spend more cash staying at a hotel for a night or two because of your home's uncomfortably hot or cold temperatures than you would pay for a whole year's service contract.
Do HVAC Service Contracts Cost More Than Scheduled Repairs?
One of the most common things that dissuades homeowners from getting an HVAC service contract is its high cost. The average price for an HVAC service contract is about $150 to $500 a year. On the other hand, HVAC system repair costs about $150 to $450 at an hourly rate of $75 to $150, with some HVAC companies charging a service call fee of about $75 to $200 in the first hour.
If you happen to have a brand-new ac unit, you may be able to survive on your manufacturer's warranty if it's better than the HVAC service warranty that's been offered. Note that some companies require a service contract as a requirement of the HVAC warranty. So, you must do your fair share of research about all these terms before choosing a maintenance plan.
Additionally, you need to look at each service's monetary value (price). In some cases, paying for these individual services on your own may be cheaper or equal to what is in the contract.
Although repairs may seem cheaper in the short run, service contracts are the more affordable choice in the long run.
Things to Consider Before Getting An HVAC Service Contract
Air conditioning and heating are necessities for comfortable living. So you must ensure that all terms of the service contract meet your needs before spending money on any HVAC service contract.
Here are things to know (find out) before signing the contract:
Find out if your unit is still under the manufacturer's warranty.
Find out the commonest repair for my HVAC model.
Find out the cost of my ac unit's repair.
Find out if the service contract costs more than the repairs.
Are service contracts with HVAC companies worth it in the long run?
Yes, they are great if the company has a solid reputation.
Some companies might view HVAC service contracts as swift tools to collect money. So, pick an HVAC service provider with mostly positive reviews from known home service websites.
Should You Get an HVAC Service Contract?
Not worrying about an HVAC component suddenly breaking down can make sleeping much at night. It can also make leaving your kids or pets behind while you are away much more accessible. This is because you are unlikely to receive a frantic phone call from a loved one saying that the house is cold or that there is a gas leak.
So, are HVAC service contracts worth it? Yes, they are worth every penny.
Conclusion
Although an HVAC service contract can save you hundreds or thousands of dollars in replacements and repairs, you may pay for a contract for years without ever using it.
It will help if you consider your HVAC maintenance plan the way you see insurance.
Although there is no guarantee that you will need (use) it, it gives you the peace of mind that it is there whenever you need it.
FACEBOOK
TWITTER
INSTAGRAM
LINKEDIN

I'm so excited to tackle all my home improvement projects! From plumbing to DIY and cleaning - I'm ready to get down to work! #homerepair #homecleaning #plumbing #diy
---
---
---