As the world evolves, several deck-building methods continually spring up and improve accordingly. As a DIY enthusiast, keeping abreast of top installation decking tricks or tips is essential for building your deck or your friends'.
Of course, a few of these top decking installation tips may be a little too complex, even for DIY enthusiasts. Therefore, such tips or tricks should only be left to certified decking installers, North London professionals, and experts who have the means to carry them out safely.
---
Top Tips/Tricks When Installing a Decking
Without further ado, here are some top decking installation tips you should know: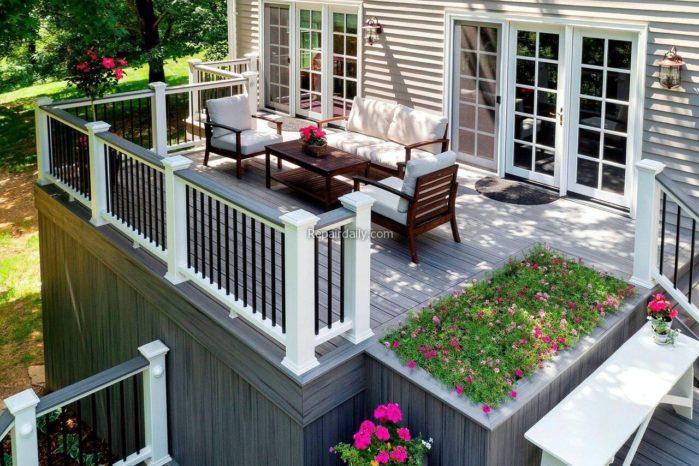 1. Use the most appropriate deck materials.
If your primary goal is to make your deck an integral and essential part of your home, selecting and using the right deck colour becomes crucial.
You'll find several options for decking materials in the market today. Unfortunately, this makes it a bit challenging to make the proper selections. First, however, you need to consider whether you'll use composite materials or natural wood.
You also need to consider the width and length of the deck plants. However, your deck shape —and the colour of your deck in contrast with the part of your home it will be attached to—should help you dictate this aspect.
2. Make use of decking spacer boards.
You can use yellow boards — spacers used for keeping decking planks apart. Large spacer boards will always grab and pull out and never fall between other decking plants.
These boards are usually sold at big box hardware stores, and you should be able to locate one in your area.
3. Use the right fasteners for the job.
The primary advantage structural screws have over conventional lag fasteners is that they don't require a pilot hole. Since structural fasteners work remarkably well for handling ledger boards and fastening thick framing members, this significantly slashes the installation period by half.
All you need are structural screws and a ½-inch drill or an 18-volt impact driver to get the job done in record time.
4. Prevent deck rot using flashing tape.
No matter how pressure-treated lumber is, if it stays wet, it'll eventually rot. However, flashing tape prevents water from getting trapped between joists that are doubled up.
If you need to resurface an existing deck frame, ensure you tape over any joists with lots of holes from previous screws or nails.
White and shiny silver tapes are noticeable between those gaps in the decking. But you can purchase and use black tape if you find one. The good part is that the perimeter deck board will cover the tape.
5. Use engineered lumber outdoors.
Using engineered lumber indoors or inside buildings has been a practice for years. This is because engineered lumber is straighter and stronger than the standard or regular variants.
Different versions of engineered lumber for outdoor use now exist. Framing an entire deck with engineered lumber may not be cost-effective. However, installing a drop beam using engineered lumber is an excellent way of reducing the number of footings and posts required for supporting a deck.
6. Hide the ends of ugly deck boards.
It's common knowledge that manufactured deck boards' ends aren't always a pleasant sight, and leaving them exposed will be a bad idea.
However, you can hide them in two unique ways:
By raising the fascia board.
By installing a perimeter board around the outside edges of the deck.
In the first method, the top gets flush with the top of the decking. But you shouldn't forget that almost all fascia/skirt boards are at least 11¼ inches wide. This implies they're not wide enough to cover a 2 x 12 joist and the deck boards.
Using the second method dresses up your deck, even more so when you use the accent colour for this particular board. However, a downside to this method is that perimeter boards require additional fanning beneath.
7. Make use of durable decking.
Most of the manufactured decking over the last few years were "composite," i.e., a combination of polymers and wood fibres. Composite was a significant improvement over wood, and many homeowners installed composite decking extensively.
However, manufacturers now offer shelled or capped decking, the core of which is similar to composite. It's made from cellular PVC, though the core is covered with a tougher, denser polymer layer.
Knowing the existence and availability of durable decking material is vital as it helps you make the right choice when installing a deck.
8. Blocking to keep decks square and flat.
Wood decking is stiffer than manufactured decking, which is why the latter may result in bowed joists, resulting in a wavy deck surface.
But you can avoid this by permanently attaching blocking at right angles to the joist, which helps to keep the joists flat. You should also install diagonal blocking to prevent the entire frame from racking.
Ensure you use narrow lumber, i.e., 2 x 8 blocking on 2 x 10 joists. This makes the blocking look somewhat less conspicuous when viewed from a distance.
In addition, you can run a string at the top side of the joists when everything is secure and then plane down all the remaining high spots.
9. Deck posts with zero maintenance material.
One of the excellent ways of sprucing up posts is by covering them with maintenance-free material. In addition, the material should be easy to install, so you don't have to worry about staining or painting again.
Go for maintenance-free material that you can simply glue on 3 sides, making it easier to slide over the post. Afterwards, you only glue and clamp the last side, which will remain secured for the long haul.
You can purchase or order such maintenance-free materials at home centres, lumber yards in your area, or online.
Conclusion
Although decking installation may prove somewhat cumbersome or rather complex for many, the tips/tricks discussed in this article can simplify your process in various ways. Hence, consider putting one or more of these into use the next time you're setting up a decking for your home or a friend's.