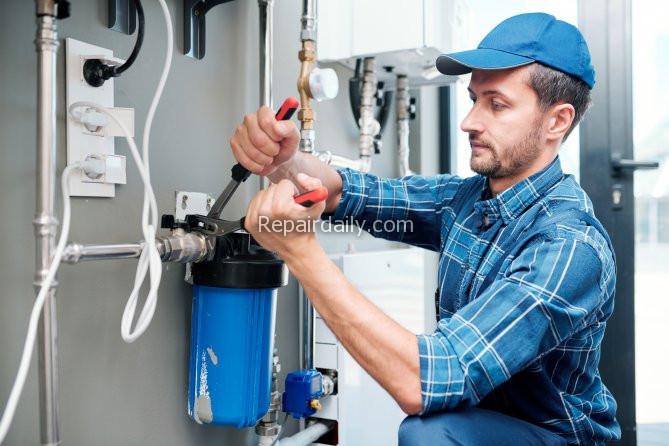 Your homeowner's insurance policy should cover any unexpected water damage caused by a plumbing fault or broken pipe. On the other hand, most home insurance policies exclude damage to your home that happened over time, such as a slow, steady leak, as well as damage caused by regional flooding.
Depending on the cause, some types of damage related to water damage, such as mold, may be excluded from your normal insurance. However, if you want additional coverage, you can usually purchase it as an optional rider from Surex.
---
Does homeowners insurance cover plumbing, such as water damage from leaking pipes?
Any abrupt and accidental water damage caused by a plumbing failure, such as a broken pipe or ruptured water heater, should be covered by your homeowner's insurance policy.
Water damage may be severe enough that you'll need to restore a portion of your home's structure, replace lost items, and possibly relocate for a few nights. Fortunately, your homeowner's insurance policy may include three separate clauses that may cover water damage to your home:
Dwelling coverage: The dwelling coverage provision in your policy protects the structure of your home, including the roof, walls, and floorboards.
Your dwelling coverage will reimburse you if a covered leak damages part of your house or if you have to remove a portion of a wall to repair a leak. If your home's built-in appliances, such as a water heater, are destroyed, your dwelling insurance will cover them.
Good's coverage: If a plumbing issue damages your home, your policy will reimburse you for any personal property lost, including clothing, televisions, and furniture. However, unless you add an extra rider to your policy, many expensive items, such as jewelry, will only be covered up to a cost of $1,000 to $2,000 maximum.
Additional Living Expenses (ALE) coverage: If you're temporarily displaced from your home, ALE coverage, also known as loss of use, will be available to reimburse you for travel, hotel, and food expenses when you buy a policy.
It's possible that if water started gushing out of your washing machine while you were away, your wooden floorboards would buckle. Water could also leak through the floor, causing damage to the walls and ceiling of the floor below.
Your insurance would most likely cover you in this situation. An insurance adjuster would visit your home after filing a claim to inspect the damage. Suppose the cost of replacing or repairing your floor, molding, and the lower-floor ceiling is $3,000, and your home insurance policy has a $1,000 deductible. In that case, your insurance company will cover the remaining $2,000 from your pocket.
What kind of plumbing problems aren't covered by homeowner's insurance?
Before you begin asking the question, "does homeowners insurance cover plumbing problems?" You should note that policies do not cover damage caused by natural wear and tear, and unless you have an endorsement, they will not reimburse you for water damage caused by a backed-up drain or flood.
While plumbing issues and burst pipes are covered by water damage, it's crucial to note that specific situations or types of damage aren't. When you request water damage, your home's insurance carrier will send an adjuster to analyze the extent of the damage and the cost. They will assess:
The pipes' position or other sources of damage
Whether the damage is the result of an old or new leak
If there are any indicators of deterioration, such as corrosion, it should have alerted you to a potential leak in the future.
Whether the leak is due to old age or normal wear and tear,
The adjuster will use these assessments to determine whether you could have reasonably avoided the leak. If they suspect you may have, they may refuse to cover you.
Inadequate upkeep
Another reason the answer to the question "does homeowners insurance cover plumbing repairs?" is negative is that water damage that occurs due to natural wear and tear or a lack of upkeep is not covered. For example, because only a small amount of water is leaking, you may detect a minor leak but do nothing about it for a few weeks.
That leak could create a bulge in your wall to increase over time, forcing you to file a claim. Unfortunately, you would have canceled your coverage weeks ago if you had chosen not to address the problem right away. Your insurance company would most likely claim that you didn't perform routine maintenance and refuse to reimburse you.
A burst pipe during the winter is another common claim that many insurers dismiss. If you are away for the holidays and turn off your heat altogether, your pipes may burst and freeze due to the cold. In this case, you could be held liable for the repairs because you could have avoided the harm yourself.
Backup sewage
While your homeowner's insurance coverage may cover a leaking toilet, a flooded or backed-up sewage system is not, even though it may overburden your plumbing system.
Fortunately, most house insurance companies offer sewage or water backup coverage as a low-cost rider that you can add to your policy. Because sewage damage can be dangerous to your family and detrimental to your home and property, it's a smart idea to purchase this optional coverage.
Damage caused by flooding
The line between flood and water damage might be blurry in some circumstances. Does homeowners insurance cover plumbing repairs? Usually no. But flooding is not necessarily considered a plumbing issue. As a result, you should always contact your insurance provider as soon as possible to find out how you're protected and what precautions you should take to limit the damage.
A mold infestation
Mold damage is typically not covered by most homeowners' insurance policies. On the other hand, insurance companies offer varying levels of protection against mold damage resulting from a covered leak.
To assess your coverage, check your policy's wording carefully, and expect your insurance to contain a mold remediation reimbursement maximum of $1,000 to $10,000.
While any coverage is beneficial, typical mold claims can cost anywhere from $15,000 to $30,000. Many insurers, like sewage backup, provide supplementary coverage in the form of an optional rider.
However, if you reside in a mold-prone area, such as Florida or sections of California, you should be aware that mold coverage may be significantly more expensive.
To prevent mold from spreading, you should clean, ventilate, or dehumidify places that are prone to mold growth regularly. These are some of the areas:
Bathrooms, especially if used for showering, don't have windows, basements, or any other partially underground rooms.
Rooms for doing laundry
Under-sink cabinetry
Garages
Crawl areas