At some point in time, every homeowner is going to have to deal with roof-related issues. Sometimes the entire roof needs to be replaced. If you're lucky, you'll only need a roof repair. You'll of course want the job done right the first time around in either scenario. After all, your roof protects you, your family, and your belongings from the elements.
Whether you do the roof repair yourself or have someone else do it, proper preparation is in order. Here are 10 essentials you're going to need if you plan on repairing your own roof: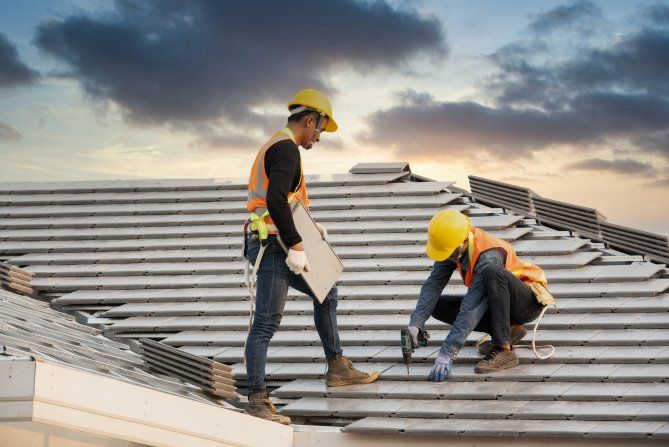 ---
1. Shingle Remover
It's not easy removing old shingles by hand. However, with a shingle remover tool, the job is much easier and quicker.
2. Nail Bag or Tool Belt
Keep all your tools and/or nails all in one convenient place when you're repairing your roof with a trusty tool belt or nail bag. You'll have all the tools you need right at your waist at all times.
3. Hammer Tacker
Prior to installing your roof, you're going to need to roll out felt paper, which needs to be stapled. And what better way to keep it intact than with a hammer tacker?
4. Fall Protection Gear
Slips and falls happen, even for those who are relatively stable. This is especially true when on a sloped roof. And, well, if you fall off, it's not going to be pretty. So, fall protection is critical.
5. Utility Knife
You never know when you're going to need a utility knife. A retractable utility knife is especially convenient since it only requires one hand to use.
6. Chalk Line
Human error happens. However, you're definitely not going to want to be careless about your shingle placement. Chalk line, however, can help you ensure a proper layout and accurate measurements.
7. Hammer
Nearly every repair project calls for the use of a hammer. A quality roofing hammer can assist you in placing new roofing nails, nailing off drip edges, and even cutting shingles.
8. Tape Measure
A 25-foot tape measure should be more than plenty for a roofing repair job. This simple tool can be extremely helpful when it comes to ensuring your measurements are exact prior to nailing down shingles.
9. Pry Bar
If you don't have a shingle remover on hand, you can alternatively use a pry bar. These bad boys make removing shingles such a breeze.
10. Roofing Nailer & Air Compressor
To speed up the process of nailing down shingles, you might wish to invest in a roofing nailer. And if you opt for a roofing nail, then you're going to need an air compressor as well.
Repairing a roof can involve more than what meets the eye. Do you need help with a roof repair? Reach out to Primo Roofing & Solar today.
Conclusion
Repairing a roof requires hard work, carefulness, and precision. When repairing a roof on your own, you'll quickly realize that unless you have all the supplies and gear you need to get the job done, doing it properly is going to be difficult. Whether you get the job done yourself or hire a company to do it for you, getting it done right is important.