Just like kitchens require a countertop in order to give them a glorious look and improve their functionality, modern bathrooms also require a countertop. If it is a vanity countertop, it just becomes even more magnificent.
However, kitchen countertops are quite big, and homeowners need to call an expert to install them. While bathroom vanity countertops are generally much smaller and don't require any professional skills to get installed, a homeowner can install the countertop; only he is required to have the perfect tools to perform this job.
Learn more about the differences between solid surface and quartz countertops in this Caesarstone post.
---
A bathroom vanity serves different purposes than a kitchen countertop. However, for many homeowners, a bathroom vanity can be a new concept, as the word vanity is used to denote many different terms, so let's first explore what a bathroom vanity is…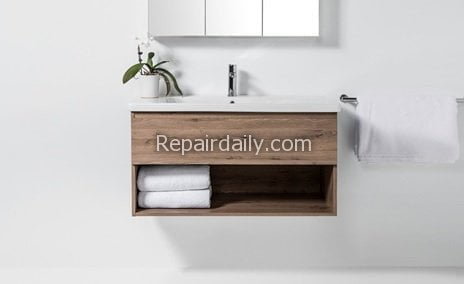 What are marble bathroom vanity countertops?
What does a regular bathroom consist of? A bathtub, a shower, a sink, a storage unit to store the clothes, a water heater, etc.; so where is the vanity? When one combines a sink, a countertop, and the storage unit around them together, they are called a bathroom vanity. Apart from storage compartments, a vanity also hides all the visible plumbing, making the bathroom more pleasant.
But bathroom vanities should not be confused with bathroom cabinets, and they have some major differences between them like– a bathroom cabinet will never consist of a sink, while it is one of the major features of a vanity.
The most attractive feature of a bathroom vanity is its countertop, which is the most visible part. Most people judge an individual by the bathroom of their house, and a beautiful countertop is more than enough to leave a good impression on the guests. There are many kinds of bathroom vanity countertops available in the market, but the most popular among them is the marble bathroom vanity countertops.
Best marble bathroom vanity countertops
Marble countertops are one the most graceful additions to the bathroom, which are long-lasting and very delightful to look at. Marble is probably the most common rock used in the structure of a house, and there is a good reason for it. They do not require any kind of human intervention for the beautiful patterns they possess, and everything is embraced in them naturally. Marble is a metamorphic rock formed naturally with a combination of different materials, but its main component is limestone.
1.   The classic white
This elegant material is prominent and perfect for the manufacture of countertops. There are a variety of colors available for marble vanity counters in the market.
Still, one of the most popular is white marble bathroom vanity countertops, considered one of the most classic and purest colors for a marble. Just like out of all the ice-cream flavors, the most popular flavor is still classic vanilla, same is the case with the marble countertops.
2.   Finish it off in style
One of the most crucial factors that make the bathroom countertop even more unique is the finish of the countertop. Marble comes in an uncountable number of patterns; almost all patterns are unique and never overlap. Some of the most popular finishes include:
Honed: The texture of this finish is like matte velvet, and the sheen is very low. This finish helps in adding a natural look to the marble countertop, catching every person's eye.
Polished: This finish adds a glossy texture to the surface of the marble countertop. The countertop is left with a silky smooth texture because of this finish.
Leathered: If an individual wants a vintage-looking bathroom countertop, he should go for a marble countertop with a leathered finish. But homeowners must ensure to frequently seal this countertop as it is more porous than any other finish.
3.   Uplift the look with a stylish sink
The sink can add a more elegant look to the marble bathroom vanity; hence don't ignore this vanity feature. However, not every sink goes with every countertop. Hence consider properly matching the sink with the countertop so that the vanity does not look odd after the final finish.
Some of the sink styles an individual can consider are:
Self-rimming or drop-in or top-mount
Undermount sinks
Vessel sinks
Wall-mounted sink
Vanity sinks
Console sinks
Pedestal sink
4.   Other than white
Although white is the most used color for the marble bathroom vanity countertop, why not do something different as most of the population is already going with white. Marble is one of those stones which are available in a variety of colors in nature itself.
Hence, if an individual does not want to go with white, he has many other options for his countertop like; pink, black, gray, cream, red, blue, brown, etc. An individual can go with any color. Also, the homeowners should just ensure that the color is in contrast with the bathroom.
5.   Cultured marble bathroom vanity countertops
If the marble countertop is not the perfect match for an individual's budget, cultured marble bathroom vanity countertops could be considered. So let's have a detailed discussion on cultured marble.
This kind of marble is not a naturally occurring one; this marble is a type of engineered stone. This stone comprises ninety-three percent marble (approximately), and the remaining seven percent is made of pigments and polyester. This marble is more durable and has better resistance to stains and scratches.
Cultured marble is also easy to maintain as they have a lower absorption rate. Furthermore, the surface of cultured marble is a bit more consistent than a naturally occurring marble, and lastly, even this marble is available in a lot of variety and color.
Conclusion
Marble is undoubtedly the first choice of any house owner when considering bathroom countertops. Still, inside marble countertops, there are so many choices available that often homeowners get confused about which choice they should go for.
Whatever an individual's choice, one should always be assured that the countertop purchased should be of high quality and matches his bathroom perfectly. However, engineered stone like cultured marble is also not a bad choice; this type of marble gives the house owner much more durability than regular marble.
But marble, no matter how much engineered, always demands maintenance which should be provided if an individual wants it to last long.