If you are tired of looking at your home the way it has been for years, then renovation is the best option to rebrand it. It may seem daunting and stressful, but there are a lot of cool, affordable ideas you can use even on a budget.
Failing to create a realistic budget is homeowners' biggest mistake, leading to a substantial disparity between the estimated and final costs. A renovation budget is a perfect tool to account for the potential costs associated with the renovation project while helping keep track of the overall spending. It also outlines all the prospective costs keeping the project scope in focus.
So if you want to remodel your home with no wiggle room in terms of price, check out these budget-friendly renovation ideas. These ideas will surely help you turn your dream into a reality without breaking the bank.
---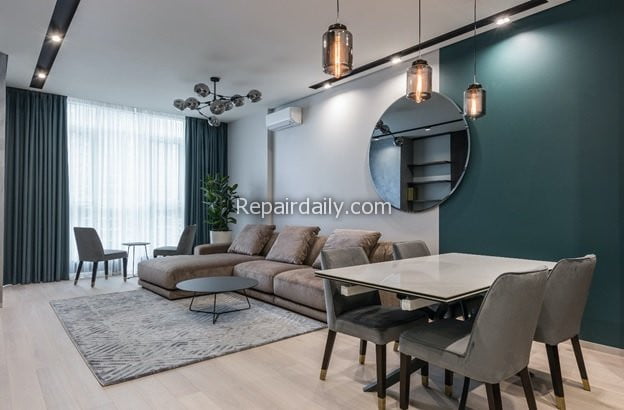 1. Make a Plan of Your Top Renovation Needs & Priorities
First, it is important to have an idea of your design layout and your priority in terms of the rooms that need your attention. Start with the most frequently used spaces, i.e., your kitchen and bathroom. Plan what kind of renovations these spaces need. Do you need more storage space in your bathroom? Do you need to replace the marble countertops? Whatever it is, these budget-friendly bathroom renovation ideas should be a good place to start.
And if you can't upgrade these spaces at once, even just a fresh coat of paint can make a huge difference. As for your kitchen, these are some things you can do to transform the space.
Instead of buying new cupboards and cabinets, repaint the old ones
Use quartz or wooden countertops instead of granite
Put up open shelves to place crockery and glassware
Give your woodwork a refresh with steel frame extensions
Laminate the work surfaces
2. Make small changes with a big impact
Keeping your budget in mind, try to figure out affordable and practical ways to remodel your home. Don't hire professionals if you can do the task yourself, like wall décor, adding a coat of paint, changing faucets and showerheads, replacing light fixtures, and adding shelves and organizers wherever required.
Add curtains of contrasting colors in the rooms to improve the overall appearance. Wooden shutters are a great idea if your budget allows it. Play a little bit with lighting because good lighting creates depth and height and completely transforms the space. Installing a dimmer switch can be a superb addition to making your living room look cozy.
Instead of buying new furniture, upgrade the older one by reupholstering or refinishing the wooden pieces. Adding indoor plants is another great way to spruce up your living space, as they'd bring color, life, and freshness.
3. Update the Flooring
While opting for full-service flooring upgrades, the result is sure to look great but exceeds your cost expectations. So, if you're looking for luxury flooring upgrades on a budget, there are some excellent yet cost-effective options.
Carpet is one of the best options that stick around for a long time. It is comfortable and offers a timeless look and feel with a wide range of colors, patterns, and styles.
Next in the line is vinyl flooring, which is gaining insane popularity in residential spaces. It's water-resistant and gives a classy look with various patterns and styles. The reason is not just the stunning and luxurious look but the durability and ease of maintenance.
Last in the row is stained concrete which is highly versatile. Stained concrete rejuvenates the existing flooring. You can achieve a modern look through subtle colors, contemporary designs, and custom graphics.
Recycle and upscale
The best idea to implement during renovation is to recycle and upcycle the things instead of just replacing them. Using old doors as cabinet doors, an old dresser as a vanity or a mix of ceiling tiles to make a statement wall are all great ideas. You can also mix recycled glass with concrete to give your kitchen countertop a fresh and new look.
5. Freshen Up the Walls
Painting is one of the last things in renovation projects to minimize the risk of damaging your new space, especially the floors. Preparing walls before painting is vital to ensure you get the best finish. There are many ways to cut down painting costs. First and foremost is to choose a basic color or try mixing two colors to come up with a color of your choice. Secondly, go for the best quality paint as it lasts longer, gives full coverage with fewer coats, and is less likely to create a mess. Lastly, measure the rooms accurately and buy the correct amount of pain.
Final Thoughts
When it comes to home renovation, you can make significant impacts with minor changes. The above-mentioned budget-friendly renovation tips can save you time and money while adding significant value to your home. Through careful planning and proper budgeting, you can turn your dream home into reality without spending much money.