No one likes watching their wallet drain like a leaky faucet. But when it comes to home improvement, you don't want to pinch pennies too hard, either.
While many homeowners prefer picking pliers and hammers to fix the basics, some end up short-circuiting the whole house. Even the tutorial videos on YouTube don't save them from the inevitable disaster.
So, how does one decide what to do and what not to DIY?
---
A handy rule of thumb is to ask yourself, "If I mess up, what's the worst that can happen?" For example, if you attempt to patch a hole in your wall and mess it up, there's no cause for major alarm. But if you try to rewire the whole house and make a mistake, you could be in for a shock – literally.
So, here's a list of home improvement tasks that can end up as DIY projects or expensive repairs. Let's find out.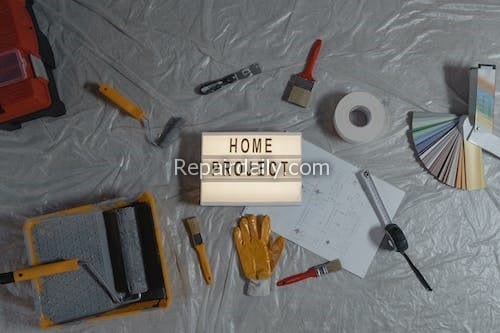 Projects Best Left for Professionals
Electrical Work:
Well, of course, there's no harm in switching a lightbulb or two. But if you're looking at the ceiling fan, that's certainly not your jam. And if you're considering digging direct-burial cables for outdoor lighting, don't even think about it. The consequences of doing it wrong are severe and can be dangerous.
So, hire a pro in this case. They'll know what equipment to use, like an underground wire locator, and will be able to inspect the existing setup as well. Plus, they have enough experience not to electrocute themselves – and that's always a bonus!
Plumbing Work:
Ah, plumbing. The bane of many a homeowner's existence. While you can probably pull off a few small tasks, like unclogging a sink or toilet, anything involving heavy-duty fixtures like water heaters and tubs is a no-no.
Unless you have ample experience in the field, plumbing can quickly become too complicated and expensive to handle. Better to go with a professional who can get the job done right the first time.
Yes, it can be expensive. But imagine having a living room drenched in water because you tried replacing the sink yourself! Not a lovely vision now, is it?
Roof Replacement:
We've all faced unglamorous things, like changing shingles and cleaning gutters. But roof replacement is an entirely different ball game. It requires hours of balancing on the ladder and keeping your eyes peeled for every crack.
Unless you're an actual roof repairer, attempting to fix a leaky roof on your own can lead to two things:
Mold growth in the attic because you messed up
Your leg raised high into the air and splinted with a plaster cast
So, if you're looking at a frayed roof, call a professional before it falls apart.
Structural Changes:
It's tempting to make a few structural changes to the property every few years. From a room addition to even adding a window or two, there's so much potential!
But here's the thing: Structural changes involve fiddling with the building's load-bearing walls and beams. And if you don't know what you're doing, you may have to deal with a crumbled roof and wrecked walls.
Also, it usually requires permits, inspections, and professional installation that could leave you with long days (and short nights).
So instead of trying out an unlicensed renovation adventure on your own, let the experts handle it.
Installing Flooring:
Installing flooring may look easy, but it's an art of its own. If done wrong, you can create weak spots that could lead to uneven surface issues, water damage, and even hazardous mold growth. So, while it's a project you can attempt on your own, it's also one you can easily go wrong with.
If you want to get the job done with precision, it's best to leave it to a professional. They'll be able to help you choose the right type of flooring, arrange for its delivery, and guide you through the installation process.
Projects Safe to DIY
Painting:
No bonus points for guessing the effects a fresh coat of paint can have on any room. And the best part is that you can certainly take up a brush and go all Bob Ross on your walls. So, no extra bucks on the contractor's wage!
Make sure you have the right tools and equipment, like a step ladder, roller brush, plastic sheeting, and painter's tape.
Also, read up on the types of paints and the methods you need to use for different surfaces. For instance, oil-based paint is best for wood surfaces and latex on walls. And remember to do a patch test in an inconspicuous area to avoid surprises. Oh, also, please prime before you paint.
Minor Carpentry:
Woodworking can be fun if you're in the right frame of mind. From making a bookshelf to a garden planter, the possibilities are endless. And if you've put together a few IKEA pieces, you already know the drill.
But be warned: if it's too complicated or needs more than a few nails and screws to hold, you might want to include a friend or your partner.
That said, if you've got a few tools and the know-how to pull it off (and some patience to boot!), then go ahead and make the most of those pieces of wood. You might even end up with a masterpiece that no one can replicate.
Also, remember to wear goggles, masks, and gloves for safety. And if you're using power tools, take proper precautions.
Organizing:
Bring out the Marie Kondo in you and get your home organized in no time! From purging unwanted items to adding labels, organizing is a great way to make your home look neat.
It's best to start with one room and move on to another. That way, you can take your time with each space and give those items the respect they deserve!
Before starting your mission, you must get the right supplies and materials. It includes storage bins, baskets, stackable containers, and labels. Also, consider buying new drawer organizers, bookshelves, and other pieces to give your home a much-needed makeover.
Once you've got all the items, it's time to organize. And don't forget to take pictures for those Instagram-worthy moments!
Gutter Cleaning:
Not an ideal job for the faint-hearted but an important one nonetheless. Gutters accumulate a lot of dirt, debris, and leaves, causing blockages. And if the waste is too high and not cleaned, it can lead to water seepage and even flooding.
So instead of getting caught unawares, why not get on the ladder and give your gutters a thorough cleaning? It won't take more than a few hours. Just make sure to wear gloves and use a ladder with safety straps. You'll also need a power washer and a scoop to remove debris. To prevent future blockages, consider adding gutter guards.
Patching a Hole in the Drywall:
Patching holes in your walls is a great way to quickly spruce up any room without breaking the bank. Grab some lightweight putty and go wild. Fill, scrape, wait for it to dry, then sand until you can no longer tell there was ever anything wrong with that wall! For the leftover (slight) imperfections, simply prime before giving those spots an extra fresh coat of paint.
Bottom Line:
Home improvement tasks can be the perfect way to freshen up a tired space. And while some are best left for the professionals, others are great DIY projects. Just make sure to use the right tools and materials, and stay safe during the process.
If you feel like you're in over your head at any point (even during a DIY), it's best to call a professional. So, don't pester yourself and leave it to the experts!
FACEBOOK
TWITTER
INSTAGRAM
LINKEDIN

I'm so excited to tackle all my home improvement projects! From plumbing to DIY and cleaning - I'm ready to get down to work! #homerepair #homecleaning #plumbing #diy
---
---
---