With the New Year fast approaching, people often look into decorating ideas based on the styles and patterns most appealing to them. An architectural innovation called Plastwood stencil was developed to add beatification inside or outside the home. Thai Plastwood Co., Ltd. quality product is suitable for both interior and exterior use and is made from high-quality plastic (Unplasticized PolyVinyl Chloride, or uPVC) green plastwood, which has many outstanding features superior to other materials. These features include being waterproof, heat resistant, and silent because it is soundproofing, lightweight, strong, and durable.
Manufacturer's Background: Thai Plastwood Co., Ltd.
Thai Plaswood Company Limited, a manufacturer and distributor, was founded in 1991 as the first producer of plastic wood sheets in Thailand and Southeast Asia and committed to protecting the environment and natural resources. We developed a polymer created to replace actual wood using German invention and cutting-edge technology with exceptional qualities that make it in every way better than natural wood. Additionally, all products are recyclable and reusable. Consequently, it can be regarded as an utterly eco-friendly substance.
---
In addition to flat sheets, roofing sheets, ceilings, flooring, and slats, we have developed a wide variety of products to serve as an alternative material for the demands of the road. Advertising and furniture advertisements daily lead to an increase in architectural complexity.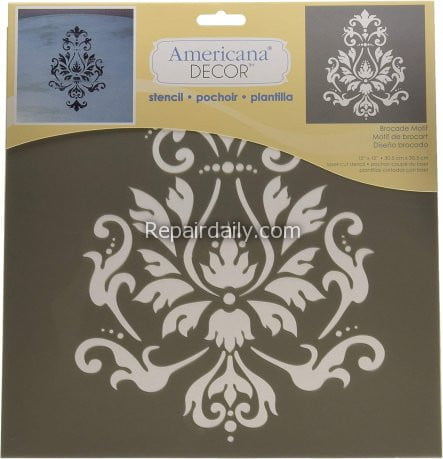 What is Plastwood Stencil?
Plastwood Stencil comes from a material called Plastwood sheet. It is waterproof, heat resistant, soundproof, lightweight, strong, and durable. It also does not rot, swell, or burn. Termites, insects, or mold do not eat it. It is an excellent deal for people to engage with value-added products, which significantly seek to provide long-lasting and efficiency above all.
It can be drilled or stenciled with the desired outline. The product is colored white. It is possible to create the appropriate color without adding more foundation paint, and it can be bent, curled, and not recovered by using high heat. Utilizing plastwood stencil, a flat sheet that functions as a limitless alternative for wood is a fantastic choice for ornamental elements. It is adaptable to users' many needs. It enhances the appearance of your home overall and exemplifies simplicity and elegance above all else. It is suitable for both exterior and interior design, such as built-in furniture in the kitchen and bathroom.
Limitless Features of Plastwood Sheets
You may save a ton of money over time by using this plastic wood as your New Year's decoration. Here is why. Each plastwood sheet is made of materials that are intended to be durable, increasing the likelihood that it will outlast natural wood. Given that the sheets do not rot and can withstand the test of time, the answer to the question of how long it would be before you had to replace them would be almost never.
Plastwood sheets are the finest alternative to natural wood, technically speaking. Wood-plastic sheets offer your property far better protection against natural disasters like earthquakes because they are impact-resistant and robust enough not to be easily destroyed by a powerful force. In addition, it is much lighter and stronger than wood. Additionally, plastwood sheets are also environmentally friendly because they use raw materials that do not necessitate cutting down trees, reducing deforestation.
Plastwood sheets are helpful for house decoration and décor as well.Speaking of beautifying, the unique approach to maintaining your home's attractiveness is employing composite wood in its construction. The truth is that since termites and fungi cannot survive on sheets, they will no longer be a concern for you.
Plastwood sheets are exceptional in terms of privacy and security.The material is needed to create a soundproof space. It is one of the most often utilized soundproofing materials in offices and rooms. It means that using plastwood sheets will ensure your privacy.
It can be used as fire protection. The exceptional ability of this material to resist heat is another benefit. In addition to withstanding heat, these particular sheets will protect you against fire as well because plastwood sheets' physical characteristics were specifically created to be flame-retardant and fire-proof. Additionally, these sheets are waterproof. Therefore, utilizing plastic wood on wet surfaces or regions is a wise choice. In addition, installing plastwood sheets is more straightforward than installing actual wood. Finally, all tools and equipment for the home renovation are friendly and can be used with plastwood sheets.
We can say that this wood-like plastic has so many practical applications and distinct qualities that buying them is one of your best investments in your house or place of work. Yes, that is what is meant by a lifetime investment.
What components are needed to make plastwood sheets? 
Every sheet of plastwood under the Mountain brand has passed the quality test at every stage. You can be sure that all sheets fulfill TIS and ISO9001 requirements from the time that raw ingredients are mixed until the time that plastwood sheets are produced.
Most people frequently question what raw materials are being used to manufacture plastic wood out of all those fantastic attributes listed above. The main components of a plastwood sheet are high-grade foam and plastic materials. To assure quality and longevity, the process of making the sheets goes through several steps and testing.
Plastwood sheet products are made of high-quality plastic (Unplasticized Polyvinyl Chloride or uPVC) that has been combined with additives, molded by extrusion, and then sandwiched together like a sandwich (Celuka) or pressed with a roller (Free-Form) and cast sheet to harden quickly (Shocking) with water or air, producing a sheet that has a particularly hard surface on both sides and has the PVC foam core material.
The sheet can also be used as PlastRoof vinyl roofing sheet with an installed Interlock system and 2-in-1 capability. It is convenient, has quick water drainage with vinyl plastic, and has a lovely appearance. Plastex floor is sturdy, not rotting or swelling, with no worries about termites and insects, and PlastPole meets all styles. Modern-style ceiling and wall panels (PlastCeil) are lightweight, have sound and heat insulation, and are an excellent option for decorating the interior and exterior of our homes.
Where Can You Use Plastwood?
A plastwood sheet has a wide range of applications. These are the ideal building materials for homes, workplaces, and structures. Additionally, this material is best used to construct tiny shops or booths, and even interior design and home decor can be made from it. Perhaps some signs and displays are constructed using sheets of plastic wood.
Renovations and repairs are costly. In business, repairs are a portion of the accumulated little expenses that, over time, add up to a sizable amount of money. While some business owners opt for extremely cheap materials for their businesses or offices, others make an effort to discover a unique material that is both inexpensive and long-lasting. Unexpected disasters could also have an impact on your company, including your building and other assets. Right now, problems with water and fire may arise. Not to add the problems with termites in businesses and stores; these are all frustrating situations! It may cause you to feel entrapped in fear of unlikely accidents and disasters.
When having the thought of improving elegance and safety for your home, you must be astute enough to pick materials that are impact, fire, and water-resistant. Thanks to these materials, you can be sure that repairs will not be necessary. The quality of the materials is more important than their cost. How durable are these materials? This is a crucial query to make before choosing construction supplies. Plastic wood sheets are an excellent option for corporate infrastructure because of their versatility in function. Any desired styles and designs are achievable.
Exemplary Qualities of Plastwood
Water and moisture can be immersed in water
Durable, non-weathering, not swollen
No problems with termites, insects, and molds
Flame resistant
Can print spray colors
Can be used in all types of carpentry
Can be bent by heating
Heat insulation
Where to find the best Plastwood Sheets in Thailand?
Modern technology, a systematic process, and premium materials allow us to go above and beyond the degree of pleasure for every one of our customers. Thousands, if not millions, of homebuyers and construction workers in Thailand, place the most trust in Bangkok Plastwood Co., Ltd. It manufactures and produces each plastwood sheet with care and ensures that it has passed a number of quality checks. You now have three choices. One option is to keep using natural wood, let it rot or get eaten by termites, and then buy new. Two, find out more about plastwood sheets and how using them instead of natural wood could benefit you and your family.
The third choice is to get in touch with the experts to help you discover the most fantastic offer. Consider durability and safety. You can have everything. Contact us right away or visit our website: https://www.thaiplastwood.com/, if you have any further questions. We will be happy to respond!
FACEBOOK
TWITTER
INSTAGRAM
LINKEDIN

I'm so excited to tackle all my home improvement projects! From plumbing to DIY and cleaning - I'm ready to get down to work! #homerepair #homecleaning #plumbing #diy
---
---
---