Stop Hair loss Naturally


20 Reasons for hair loss
Understanding what causes hair loss is vital before considering the use of any hair growth support supplement. It is important to know that hair loss can be caused by a number of factors. These include, but are not limited to, genetics, hormonal changes, and environmental factors. So Genetic & Reactive are 2 types major hair loss problems millions faces today. On average we lose around 80 strands a day which is normal, but above that is NOT normal. According to Health.com

1. Physical Stress.
2. Lack of protein.
3. Too much vitamin A.
4. Female Hormones.
5. Heredity.
6. Pregnancy.
7. Male Pattern Baldness.
8. Antidepressants, blood thinners, and more.
9. Poly-cystic ovary syndrome.
10. Over styling.
11. Anemia.
12. Emotional Stress.
13. Hypothyroidism.
14. Vitamin B Deficiency.
15. Sudden Weight loss.
16. Autoimmune-related hair loss.
17. Anabolic Steroids.
18. Trichotillomania.
19. Aging.
20. Chemotherapy.


Hair Growth Life Cycle
The natural hair follicle life cycle consists of 3 distinct stages. These stages are the anagen, catagen, and telogen stage. Understanding what happens at each of these stages is essential to understanding the natural life cycle your hair follicles go through, allowing you then to see where you can help improve the process.
As you can see in the hair growth diagram, the hair growth process begins with the anagen phase. The anagen phase is also referred to as the growth stage, and can typically last for a period of 2-6 years. Interestingly, there is evidence to suggest that the anagen phase is also ethnically variable, with one example being of people of Asian descent actually averaging around a 7-year anagen phase.
---
In comparison, the catagen phase is very short lived. Also referred to as the transitional stage, the catagen phase is exactly that, the transition of the original hair making room for a new hair follicle. This period typically lasts around 10 days.
Third and finally, your hair then moves on to the telogen phase. Also referred to as the stationary stage, the telogen phase is when your hair is released from the original follicle and then falls out. The remaining follicle then sits patiently for up to 3 months before the entire 3-stage process is repeated again.
Each hair follicle is independent and therefore the timing of each hair through these 3 stages is staggered. The aim for nutritional and dietary formulas is to prolong the inevitable telogen phase by extending the length of the anagen phase. Of course, if the telogen phase period could be reduced too that would also be of great benefit. Luckily, there do exist natural ingredients that may assist in doing both of these things.
Folexin is simply a hair growth supplement that is designed for all men regardless of their age and background. It is among the best hair treatment systems that are helping most men across the globe. As the years pass, most men tend to lose hair due to various factors such as genetics, age or even health factors.
Folexin claims to solve this issue of hair loss irrespective of the cause. The hair loss product was majorly designed for men to prevent and cure hair loss problems, although there are some women who have benefited from the same product. The manufacturer of Folexin male hair loss treatment claims to use potent, quality and natural ingredients in making the product.
Its use is also said to provide an effective hair loss solution among other hair problems. The product is also known to increase the hair volume and thickness, and also promotes the growth of long hair. Also, its formula is said to have high quality and potent ingredients that work together to improve hair health and generally the overall well-being.

LEARN MORE TO STOP HAIR LOSS
1 % HAIR RECOVERY
1 % EASE OF USE
1 % HAIR LOSS PREVENTION
1 % OVERALL EFFECTIVENESS
1 % SPEED OF RESULTS
Biotin
Biotin, or what is otherwise referred to as vitamin B7, is a water-soluble vitamin that is a member of the vitamin B complex. The vitamin B complex is a group of key nutrients needed for healthy metabolic, nerve, digestive and cardiovascular functioning. Biotin is host to a number of benefits, and more commonly supplemented today for improvements in maintaining the health of hair, skin, and nails. Source 5
Fo-Ti
Native to China, fo-ti has been used by the Chinese people for centuries as a means to promote general health and anti-aging. It's believed to help support the natural hair growth process and some research also suggests possible benefits in helping to nourish gray hair.
Other Ingredients
There are several other natural ingredients inside the Folexin formula that assist in the strengthening of hair and improvements to your hairs health. These can be found in the nutrition panel provided.


Folexin Key Ingredients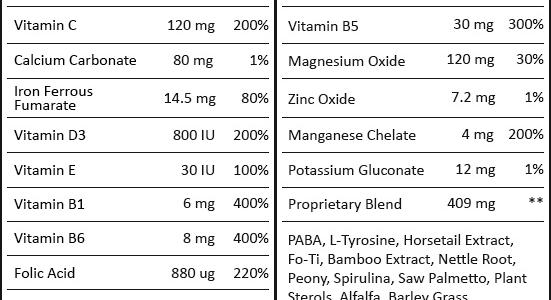 Advantages of Using Folexin [Foligen]
1. Safe and natural components. Folexin has safe and natural ingredients which bring guaranteed results when compared to other products or supplements. This makes one comfortable while adding the product to his or her daily routine.
2. Adding confidence. When one uses this product, the results of hair regrowth and enhancement makes him or she have confidence without having to hide their heads in hats or toupees.
3. Hair growth and thickness. Foligen hair loss treatment is known to promote hair regrowth as well as thickness throughout the head. The regrowth further leads to hair thickening. Also, the existing hair would not fall from your head as before.
4. Reduced risk of baldness. Whenever the hair structure is strengthened from the base, there isn't any chance that one will experience hair fall or baldness. The product can also be used before the problem arises since it reduces the chances of hair falling in the future.
Disadvantages
The product can only be found online.
The exact value of its components used isn't given.
The product is majorly made for men.
The manufacturer's details are not provided.
Side Effects
Just like other hair loss cures, individuals have the tendency of checking out on the side effects of Foligen supplement. Before most people decide to use the product, they search online reviews from customers who have used the product earlier to determine if there are some negative effects associated with the product.
Folexin is said to contain 100% natural ingredients and thus suffering from negative effects isn't easy provided that you follow the instructions given correctly.
It is recommended that users consume two capsules of Folexin on a daily basis. Also, for one to maximize its results, it's advised to take it during the middle of the day once and during the evening.
​

What Can I Expect?
Support for visibly stronger, nourished, and more beautiful hair.
Support for improvements in hair texture and feel.
No major side effects.
What Should I Not Expect?
Overnight success. Folexin is designed to support natural hair growth, however, as with any formula, it will depend on other factors and influences such as your lifestyle and diet.
Miracle cure. Folexin is designed to aid the natural hair growth process; it's not a miracle hair loss treatment.
Visibly Thicker, Stronger Hair Quality
Day to day your hair is constantly up against the elements, whether that be dryness and breakage from the sun, chlorine from pools, or hot temperatures from hair curlers and straighteners. Adding more biotin to your diet may help to improve the strength and elasticity of the hair structure. Source 6
Support The Natural Hair Growth Process
A deficiency of biotin may cause your hair to fall out, which is primarily because biotin is essential for cell proliferation. Biotin reacts with your hairs cell enzymes and stimulates the production of amino acids. These are the building blocks of protein that also make up your hair. Source 7
Improve Your Overall Hair Health
Folexin helps to improve overall hair health. Biotin is the main ingredient in contributing towards this as it helps the body metabolize fats and proteins, helping your hair cells absorb the nutrients they need to support visibly stronger, nourished, and more beautiful hair. Source 8
Where To Buy Authentic Hair Growth Natural Ingredients Supplement?