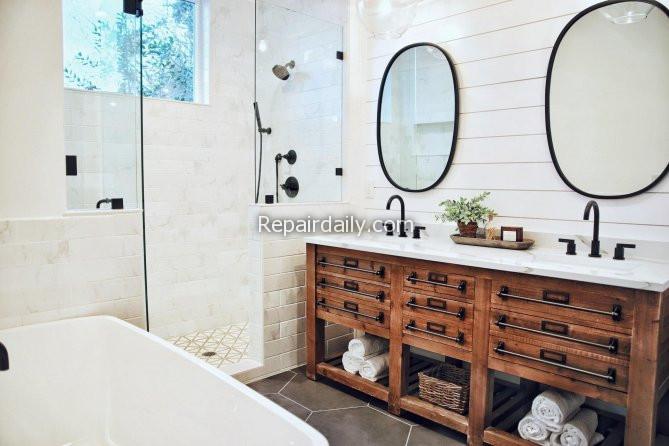 The bathroom is, at its heart, a functional space. But it can also be a luxurious retreat from the rigours of modern life, a sanctuary in which to recharge, relax and pamper.
The COVID-19 pandemic gave all of us a much-needed reminder of the importance of a comfortable home, so it's no surprise that renovations across the board are on the increase. And the bathroom is one of the most popular spaces to renovate. So why not go all out, and add some luxury spa elements into your project?
---
There are plenty of things you can do, from small, inexpensive touches to new fixtures and fittings. Take a look at the following tips to maximise the pleasure and health benefits you get from your bathroom.
Simplicity Is the Key
Keeping your bathroom design simple, with classic white tones and elegant fittings, makes the room more relaxing. It's worth spending some time seriously decluttering the space before you make any changes.
Keep countertops and ledges clear, and store must-have items in simple, rustic wicker baskets. For a more modern aesthetic, decant your products into uniform bottles – they look almost decorative when lined up together. Having a simple base also means you can place different rugs, towels and bath mats to change up the vibe without committing.
Tubs and showers
Standalone tubs give off a real air of luxury and look great standing as the centrepiece of any bathroom. For those with more compact spaces, an on-trend option is to install an Ofuro – this is a Japanese soaking tub that is smaller but deeper than a regular one. And to get your bathing experience to a whole new level, you can also think of changing the tapwares and showerheads. This way, you will get rid of the old clogged taps, and add something not only healthier but more aesthetical.
Nothing says 'spa' more than a walk-in shower. If you can fit it without a curtain or door, all the better. Multiple angle showerheads – and those that massage – make showering an invigorating experience.
Everyone Loves Fluffy towels 
Now you've got your tub or shower sorted, it's time to prepare yourself to get out in style. There is nothing better than drying off with a plush, soft, fluffy towel, so get rid of those worn-out old ones you've been using.
Install a towel warmer – this not only keeps the towels toasty and comforting, but it also serves to heat your bathroom.
Towels can also be used to decorate, especially if you have a mostly white bathroom. Choose soft tonal colours, from lush forest greens and aquatic blues to warm reds and oranges.
Lighting is Everything
You can't lie back and relax in the tub with a single harsh ceiling light. Bathroom lighting comes in all shapes and sizes, with solutions to fit any design style and budget.
It's important to remember that the bathroom is a functional space, so appropriate task lighting is a must – spotlights and vanity lights to help shave, floss, and find whatever product you need. But many of these task lighting ideas come with dimmer switches to help create a relaxing atmosphere and set the mood for some spa-like pampering. Smart technology and timers are widely available and more affordable than ever, meaning you can set the mood quickly and conveniently.
Wooden Elements
Another on-trend addition to your bathroom design is the use of wood. While not recommended for flooring (although it is possible to use specially treated wood) there are plenty of faux wood tiles you can use throughout the space – these are particularly effective in the shower.
Elsewhere, there are plenty of accessories that incorporate wood – bathroom trash cans, toilet brush holders, towel rods, and tissue holders to name but a few. Wooden tables or shelving can create a pleasing, spa-inspired accent to the rest of the space.
Adding Plants 
Bring the outside in! Plants in the home have been shown to boost our mental wellbeing, and the bathroom is the perfect place for them.
Potted bird's nest or staghorn ferns add to the tonal colour scheme you've established with your towels and wood features, and aloe vera can actually be used straight from the plant. You can also create natural aromatherapy treatments with the use of plants – eucalyptus, lavender and lemongrass combined with steam from the shower give your mind and body a lift.
Relaxing Music
The lights are low, and the bath is full of bubbles. Why not stimulate another of your senses by playing some relaxing music?
In days gone by, having a music system in the bathroom seemed inconvenient or downright dangerous, but now with the availability of good quality and affordable smart speakers, you can soundtrack your bathroom time without hassle or the involvement of electrical cables. Set up playlists and activate them with your voice, whether you're listening to upbeat danceable stuff to brush your teeth to in the morning, or dreamy classical music for a relaxing soak in the tub.
Having a spa experience at home boosts your mental and physical wellbeing, and sets you up for dealing with the outside world, whether you choose to begin or end your day in your Zen-like oasis.