Installing outdoor lights for your landscape makes it essentially easy for everyone to maneuver within the property. Whether for parking purposes or holding an outdoor dinner party, having enough illumination makes everything convenient for your family and guests. But aside from these benefits, installing lighting fixtures thwart crimes and keep your home and family safer and secure.
However, like any other element in your home, your exterior lighting also needs sufficient tender love and care. Since they work hard every day to keep your property well-lit and safe, it's natural for these systems to experience wear and tear. No matter how high quality and expensive it is, bulbs could burn out, and wires could be torn and grounded over time. 
---
To ensure the aesthetics and safety of your beautiful home continuously apply the following tips to maintain your outdoor lighting system:
Hire The Pros 
If you're gifted with some handyman skills and talents, you might feel that you can handle the maintenance of some parts of your home. Although this is true, you shouldn't risk anything for your electrical wirings. This is a home project where you can't afford to conduct trial and error, especially if you don't have any previous knowledge or experience with outdoor lighting. In that case, it's time to wise up and call professionals like Washington Outdoor Lighting or any other reputable local electricians for their electrical maintenance services. 
They have qualified and experienced specialists who can perform a wide range of electrical services for your outdoor needs. Whatever issue or task you have for maintaining your exterior lighting system, nothing beats the advantage of leaving them to the professionals. You can rest easy knowing that they know the work best and will ensure the most successful and effective outcomes for your property.
Inspect The Wiring Outside 
When it comes to safety, you should never turn a blind eye to any trivial or complex issue. This context applies even to your outdoor lighting. For your system to work correctly, you need routine maintenance. If you're wondering how often it's best to conduct an inspection, the ideal answer would be to have all your electrical wiring inspected at least once or twice a year, preferably before winter. 
You are responsible for keeping the inspection of your electrical systems on schedule. It's best to write down the specific date when it's due. Book with a reputable electrical wiring specialist and have them come over for a deep and thorough outdoor lighting inspection.  
Before winter arrives, invite the pros to evaluate and assess all the lighting around your property. Let them know if you have observed some issues so they can repair them accordingly. No matter how unsure you are, it's best to let the experts know about your concerns so they can adequately address them. It's best to prevent an issue rather than solve a hazardous problem. 
Let the electricians search for exposed wires, burnt lamps, and damaged outlets. As previously mentioned, it's always wise to leave any electrical tasks to the professionals. This also includes inspection, as they're more knowledgeable about electrical connections. 
Replace Burnt Out Lamps 
Lamps naturally get damaged over time, and it's crucial to have them replaced right away. You won't want to risk your safety when some lamps don't work outdoors. If you want to save on electricity bills and go for an energy-efficient option, it's best to replace your conventional lights with light emitting diode (LED) ones. 
LEDs are modern, have longer lifespans, and are cost-effective in the long run. On the other hand, compact fluorescent lamps (CFL) are known to save electricity by 25% compared to the traditional bulbs, but LEDs have proven to be more energy efficient among all of them.
However, it's worth noting that they're priced higher individually, which can add up to your initial investment. However, with all the electricity bill savings you can earn each month, you'll reach your return on investment (ROI) in just a few months.
Even if some lamps are still working but are already malfunctioning, it's best to replace them entirely. These issues may lead to additional wattage usage and an increase in power consumption. Furthermore, it's best to turn off your outdoor lighting whenever they're not in use to keep their lifespan longer. One excellent option is scheduling timers or having motion detection features on your lighting system. 
Clean The Lenses 
Cleaning is an essential step in maintaining your exterior lighting systems. Chances are your outdoor lights are constantly exposed to diverse elements like dust, soil, rain, ice, and many more. Through the changing seasons throughout the year, they remain exposed and used every day. Therefore, the lenses of your lighting fixtures can accumulate grime and bacteria, influencing their overall efficiency.
The lenses of outdoor lights can become unclear and less attractive as a result of debris collecting on them. To alleviate this issue, ensure to clean the lenses at least every season. You can perform this lighting system maintenance tip when cleaning your outdoors during seasonal changes. While cleaning windows and sweeping the yards, you can wipe the lenses of your lighting too. 
Remember that your entire outdoor landscape can have a more illuminated pathway, driveway, and exterior spaces when your lighting lenses are clean. In turn, this will prevent any accidents or injuries and ward off crimes even more. When your home is well-lit after dark, you decrease the chances of any harmful situations and you don't have to constantly fear any aged family member falling or slipping through your front door. 
Unlike repairs and lighting inspection, cleaning lenses can be done by yourself. With gloves, a cleaning rug, and some glass-cleaning solution, you can perform the task in just a few minutes. Be sure not to leave any smudges or smears on the surface after cleaning. The goal is to get rid of cobwebs, debris, soil, and dust on the lenses. Wipe them well and turn on the lights to ensure that you'll see apparent results after cleaning them. Keep in mind that a significant loss of brightness can be caused by dirt and grime, so it's essential that you clean the lenses as often as possible.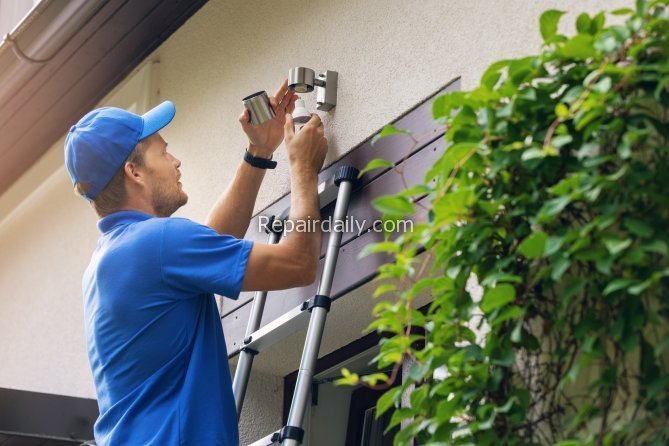 Clear Out Any Obstruction 
Your exterior lighting can be placed in different locations within your driveway or yard. And over time, they might experience different obstructions. It's best to check them and see if there are grasses, plants, and branches that are obstructing their illumination. These situations are very likely when you have a green landscape in your home. Since your exterior lighting is crucial in maintaining your curb appeal and safety, don't overlook clearing out any obstructions as soon as you see them. 
Maintain your yard and garden plants, so they won't grow high enough to cover your exterior lighting fixtures. You can trim some branches that cover the lights. However, perform it the right way as you don't want to kill the plants and trees permanently. While you're at it, you can apply some landscaping trends to spark your outdoor space even more. 
It's best to perform this early since bigger obstructions can be harder to deal with and can damage your lighting fixtures quickly. Even the tiniest obstruction can impair the quality of light provided by the bulbs. The light can also be blocked from reaching areas you intend to light up with your outdoor lighting. Hence, check your yard and deal with obstructions early on. 
Hide Exposed Wires 
The danger of electrical wires coming into contact with snow and other wintry drifting cannot be overstated. As you may know, wires and watery elements are dangerous combinations. Therefore, it's crucial to check your wiring connections and spot any exposed wires. If you find any, you need to call an electrician to hide them well or repair them first if the wires are already damaged.
Essentially, wires need to be hidden off the ground or at least hidden within wire covers. Also, they need to apply electrical tapes as necessary. Overall, these wires must be away from pets, people, weather elements, sun exposure, and other factors. When the cables are hidden and organized, they also transcend to a clutter-free environment.
Reposition Lighting Fixtures 
Another tip for maintaining your exterior lighting system is repositioning your lighting fixtures if needed. Assess the lighting fixtures' location before making any changes. Look at every light on your property and determine which ones are the most useful and which ones are useless. The key is to maximize the use of all fixtures so they won't be a waste of investment and energy. 
When you renovate or adjust any exterior design and element, it's crucial that you perform the exact repositioning for your lighting fixtures too. Consider the areas where your family spends the most time. You can adjust the focus of your lighting fixtures to direct attention to high foot traffic areas, or you can add exciting up lighting at the feet of trees or on stairwells. Position these fixtures in the regions that people move or pass around often. 
Conclusion
There are many outdoor lighting ideas to brighten up your yard, but maintaining them is more than essential in the long run. The tips mentioned above can help you maintain your exterior lighting system so your property will continue looking at its best. Furthermore, it will also ensure your family and property's safety.  
FACEBOOK
TWITTER
INSTAGRAM
LINKEDIN

I'm so excited to tackle all my home improvement projects! From plumbing to DIY and cleaning - I'm ready to get down to work! #homerepair #homecleaning #plumbing #diy
---
---
---