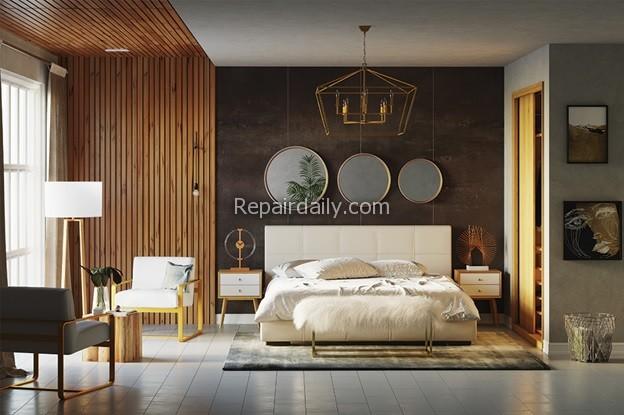 For many of us, our bedroom is not just a place to rest but a sanctuary to heal!
It is a place where everyone unwinds from their stress after a hard day and tends to be a much more personal space than a living room or dining room.
---
Because of its importance, designers tend to be proactive when it comes to designing one's personal room. This is because a personal room is more about comfort and functionality.
Whether you are looking to design your room from scratch or just looking for some idea to revamp your existing space, this article might help you out.
Everyone Wants To Feel Good In Their Space
The need for a place where you can feel secure dates back to the prehistoric age when we used to live in caves.
Fast forward to today, when we have some of the most advanced, comforting, and good-looking homes and rooms, the principles have remained the same.
It is simply being human where we want a place to feel secure and relaxed.
This is where the whole beautification of the rooms comes in. Sometimes, it is really hard to pinpoint what is wrong with the room and which areas can be revamped and upgraded.
After scouring the internet, we find countless experts' advice and suggestions. So we took our time to curate all the valuable information and present it to you in the most simple form.
Beautify Your Room With These Tips
A bedroom is generally the most private room in a house. It is the bedroom where people spend their most precious time of the day, rest and relax. Therefore, it can also be one of the trickiest rooms to decorate.
While it's certainly a big task, it is worth it to have a bedroom that you love and enjoy every second.
Ready to get to work? Here are a few tips that can help you beautify the room.
Go For Subtle Colors
While thinking of making your room look more beautiful, the first thing you need to consider is the color scheme you need for your room. Choosing the right colors to decorate the interiors reflect your sense of style.
Color is the first thing that your guest's eyes see. Depending on how you have used your color palette, they can feel welcomed or overwhelmed.
Play Around With Texture & Color
When you are decorating your room, there is so much design potential. The best way to make your room look appealing is by decorating the room with items that speak to your personality— it can be different texture colors, granite countertops, paints, and wall hangings.
Just be careful not to overcrowd the space since you want your personal space to be cozy and not stressful.
Add A Touch Of Greenery
If you have a large window or a balcony, you can think of adding greenery to beautify your room. Adding a few beautiful plants to your room can make your room look beautiful and classy.
In fact, an assembly of a couple of colorful plants and herbs can help you create an indoor garden to enjoy.
Leave Spaces To Move Around
Adding space while designing your room is also important. It makes your room look bigger and breathable. When your room is too packed with different furniture and has no room to move around freely, you might feel like you are living in a small space.
Avoid overcrowding your room. This also includes adding unnecessary shelves and cabinets. In addition, an overly cluttered bedside desk can make the atmosphere more stressful.
Final Thought
Decorating your room is a big job and one that is worth doing right. So it is because, no matter how your days go, it is the room that becomes the place for your success.
While others might see their room as a place to take a good night's sleep, we see it as a sanctuary that helps you heal. Hence, you need to take your time and design your room.
When all the teeth painting, painting, furnishing, and tile work is completed, you will be left with a space that you would love to be in and worth putting your effort into.
FACEBOOK
TWITTER
INSTAGRAM
LINKEDIN

I'm so excited to tackle all my home improvement projects! From plumbing to DIY and cleaning - I'm ready to get down to work! #homerepair #homecleaning #plumbing #diy
---
---
---