Having a swimming pool can be a dream come true for many homeowners. But just having a pool isn't enough. It has to look good. With the right backyard pool designs, a beautiful pool can be the centerpiece of your outdoor living space.
Are you ready to transform your swimming pool into a luxurious oasis? These ten tips will help you create a pool that will be the envy of all your friends and neighbors.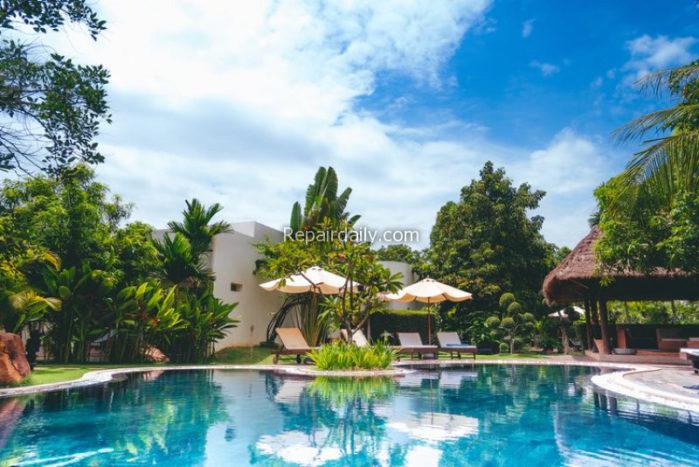 ---
1. Select the Right Materials
When it comes to building or renovating your pool, it's essential to select the right materials. That way, you can ensure it will last for years to come! For pool walls and decking, selecting a material that will resist fading and staining is best. Ceramic tiles will withstand sun damage and extreme temperatures. Regarding your pool surface, it's best to select a low-maintenance and durable material.
2. Add a Focal Point
If you're going for an elegant and classic look, adding a decorative focal point to your pool will make it stand out. A decorative focal point can be as simple as placing a statue in your pool or as intricate as creating a water garden with stepping stones and aquatic plants. Another way to add a decorative focal point to your pool is by using colored tiles. You can place colored tiles around the edge of your pool, in your pool deck, or even in your waterline tile.
3. Create a Relaxing Retreat
Your pool area should be a place to relax and unwind. To achieve this, you'll want to use soft and soothing materials. You can add to your pool by using deck materials that are warm to the touch, like wood or cork. These materials are also great for absorbing sound and making your pool area quieter and more peaceful.
4. Invest in Quality Furniture
If you want to transform your pool into a luxurious area, you'll want to invest in quality furniture. The best furniture for your pool is durable, comfortable, and easy to clean. When it comes to durability, you want to make sure the furniture will last and survive the harsh outdoor environment, as well as everyday use from swimmers. When it comes to comfort, you want your furniture to be easy to lounge on for hours.
5. Install a Water Feature
A water feature can make an ordinary pool extraordinary. You have plenty of options to choose from. You can install a small waterfall, a large pond feature, or even a bubbling rock. Whatever type of water feature you select, it's important to keep in mind each feature's space and size requirements and make sure you select one that is right for the space in your pool.
6. Plant Around the Edges
Another great way to transform your pool is by planting around the edges. You can plant flowers, bushes, vines, or even aquatic plants around the edges of your pool to create a beautiful, lush look. You want to select plants that grow well in the area, will not grow too large, and will not spread too far.
7. Choose Mood-Enhancing Lighting
Another idea is adding mood-enhancing lighting. You have many different options to choose from, including color-changing lights, underwater lights, and even fiber optic lights. Make sure they are designed to withstand outdoor environments and are energy efficient.
8. Add a Fire Feature
Fire features are a unique way to transform your pool and provide entertainment for your family and friends. When it comes to selecting a fire feature for your pool, you want to make sure it is fireproof and is designed to be submerged in water. You also want to make sure it is easy to install.
9. Upgrade Your Pool Accessories
When transforming your pool, you can also update your existing accessories. You can upgrade your pool lights, pool filters, and other pool accessories to create a new look and feel in your pool. When it comes to upgrading your filters, you have several different types to choose from, including sand filters, automatic cleaners, and other filter styles.
10. Add a Few Special Touches
Finally, another great tip for transforming your pool is to add a few special touches. You can add a special feature to your pool, like an infinity edge or a water slide. You want to make sure it will create a unique look and make your pool into something special.
Are you dreaming of a backyard paradise instead of a dull, standard pool? You can easily achieve your goal with some simple tricks! With the right design and decor, you can make your backyard an idyllic destination for friends and family to enjoy. Get ready to make a splash as you transform your pool into a beautiful, inviting oasis!
FACEBOOK
TWITTER
INSTAGRAM
LINKEDIN

I'm so excited to tackle all my home improvement projects! From plumbing to DIY and cleaning - I'm ready to get down to work! #homerepair #homecleaning #plumbing #diy
---
---
---