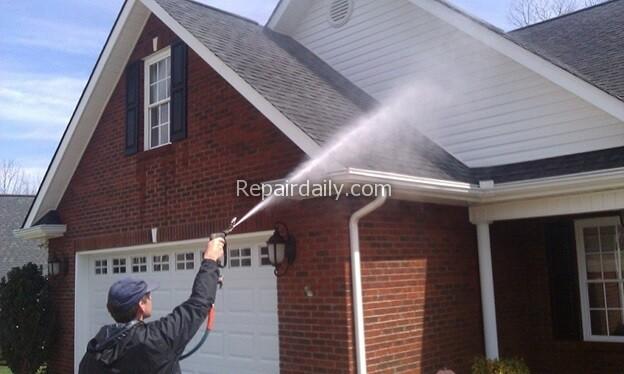 Most people know that they will need to paint or resurface the exterior of their home at least every 15 to 25 years depending on weather and other conditions. Most people also do not look forward to it. If that describes you, it might lift your spirits to learn that there are things you can do to care for your home exterior that will help it to last and look better longer. Chief among these is regular pressure washing.
Here at Imperial Power Washing, we get a lot of questions about pressure washing, but by far the one question we hear most is, "How do I know when my home needs to be power washed?" The simple answer to that question is that you should power wash your home before dirt and other debris lead to more serious damage that can be avoided. But there is some nuance to the full answer. So, we sat our team of professional pressure washing techs down to answer the question in full. Here's what we came up with.
---
When You Should Pressure Wash Your House?
There are different reasons to pressure wash a home and those reasons will tend to cause you to do it or have it done at different times of the year. However, the best time of year to have it done is when the air is most dry. The reason for this is that you want to avoid the development of mold and mildew. But if mold or mildew is already starting to form up visibly on the surface, it is usually best to do the pressure washing sooner than later in order to knock down the existing bloom and to wash away the material it is feeding on. But mitigating visible damage is not the only reason to have it done.
If you are planning to paint or resurface your home exterior, it is a good idea to do a good pressure washing before laying down any new material. This is to clear away any loose debris, dirt, dust, and other materials that will come between the paint and the surface, preventing proper adhesion.
In addition to this, reasons to power wash include:
Prevent Damage: A dirty exterior is more prone to damage
Save Money: The damage that is more likely without power washing is more expensive to fix
Prime Surfaces: Power washing is a necessary preliminary step to painting
Protect Your Health: Dust and mold are bad for your respiratory health
Is Power Washing a House a Good Idea?
Power washing is an excellent idea. However, it should be done at the right time and in the right way. Many people will rent a power washer and use it on their home before the house is ready for it and be disappointed with the result. One of the most frequent situations of this kind is when the paint is starting to peel or bubble, and the pressure wash blasts some of it away. This is actually a good thing, but if an untrained or inexperienced operator experience this, they might believe they have caused harm. In reality, pressure washing will not knock down any material that does not need to be knocked down. Therefore, you will get a cleaner, smoother surface that will be ready for repainting after it dries.
As mentioned above, pressure washing is absolutely necessary before applying a new coat of paint, stucco, or other exterior surfacing. Applying new paint without creating a clean, clear surface will all but ensure that the paint will not last as long or look as good as it should. Pressure washing is best left to the professionals, since inexperience may lead to you causing damage to certain parts of your home. If this is something your home needs, look for great  pressure washer rental companies to get the job done for you without any risks.
How Often Should You Get Your House Pressure Washed?
The frequency of power washing that is best depends on the type of siding material on your home exterior. Wood siding should only be pressure washed when visible dirt is apparent, and it should be done at a lower pressure than other materials. But in general, you want to have a power washing done before mold, mildew, or algae starts to become visible.
Once these types of growths develop to the point that you can see them, permanent damage may have developed. Also, these types of biological growths are likely to have deposited spores deep into the structure of your exterior walls by the time to see large splotches of them. If you have metal, vinyl, or composite siding, you should have a pressure washing at least once a year. These materials will not be damaged even by a high-pressure wash. Wood siding should be washed at a lower pressure, or less frequently.
Finally, if you live in an area with high humidity, getting timely pressure washing is even more important to prevent damage to the structure and help keep maintenance costs low.
The Benefits of Pressure Washing
The benefits of regular power washing are clear. They help keep your home looking great, reduce the cost of repairs and maintenance, and make a new coat of paint go on and stay on the way it should. But that is not all.
Prevent Damage from Mold, Mildew, & Algae
Save Money on More Extensive Repairs
Make a New Coat of Paint go on Better
Protect the Respiratory Health of You and Your Family
Save Time on More Extensive Repairs
Boost Property Value & Curb Appeal
If you have questions about when and why to pressure wash your home, get in touch with Imperial Power Washing today. We will answer all of your questions. Get in touch today for a quote.
FACEBOOK
TWITTER
INSTAGRAM
LINKEDIN

I'm so excited to tackle all my home improvement projects! From plumbing to DIY and cleaning - I'm ready to get down to work! #homerepair #homecleaning #plumbing #diy
---
---
---