Anyone that owns or manages any type of property will want it to look its best. One form of maintenance and service that you should have done from time to time is a professional power washing service. There are a variety of reasons why you should hire a professional power washing service to ensure your property is clean and looks great.
Provide a Clean Shine
One of the main advantages of hiring a professional power-washing surface for your property is that it can give your home a clean shine. Most people would be surprised how much dirt and dust exterior walls and ground surfaces can accumulate. It is especially hard to notice as the accumulation can happen slowly over time. When you hire a professional power washing service, they will be able to thoroughly clean the surfaces to remove any dirt or other grime. It could also help to clean up mold and mildew that could continue to grow if left alone. You will notice an evident improvement in the color of the surface, which can make your entire curb appeal and outdoor space stand out.
Remove Challenging Stains
Another advantage of power washing your property is that it can help you to remove challenging stains and debris that is otherwise difficult to remove. Spilled oil, grease, and other materials can seem to sink into any surface and be permanent. At the same time, gum and other items can be next to impossible to clean up. When power washing the property, the specialized cleaning agents and high-pressure water can combine to clean up any stain and get even the most challenging pieces of gum up.
---
Protect the Surface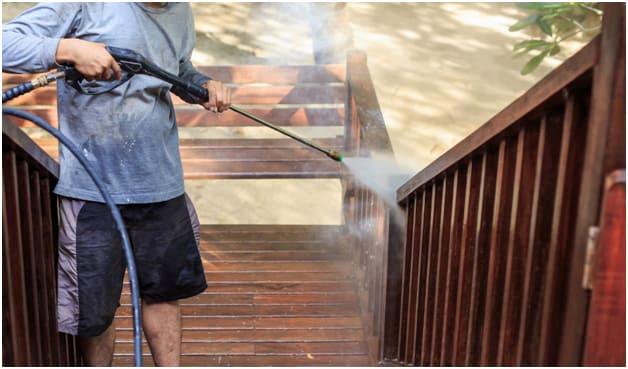 While it is important to have the surfaces cleaned properly to make them look their best, you can also protect them by power washing. Certain substances can cause damage if they are left on brick, concrete, wood, or other surfaces for too long. Eventually, this could cause the surface to crack or lose some of its strength. The power washing service can protect these surfaces by ensuring that they are properly cleaned at all times.
Save Time and Money
Another reason that you should hire a professional for power washing is so you can save time and money. If you try to power wash your property on your own, you may quickly find out that the cost of a quality power washer that will allow you to work efficiently can be quite expensive. Further, to do a good job with standard equipment, you could find that the entire project is time-consuming. When you hire a professional, you will know that you have an experienced professional that can make your property look great. This will help you avoid the costs of purchasing the equipment and can ensure you have more time to enjoy your property.
When looking for power washing near me, choosing a service that is experienced and reputable is very important. A quality power washing service, such as Sunset Pressure, can provide great service that will ensure your property looks great, even if it was previously affected by challenging stains and debris.