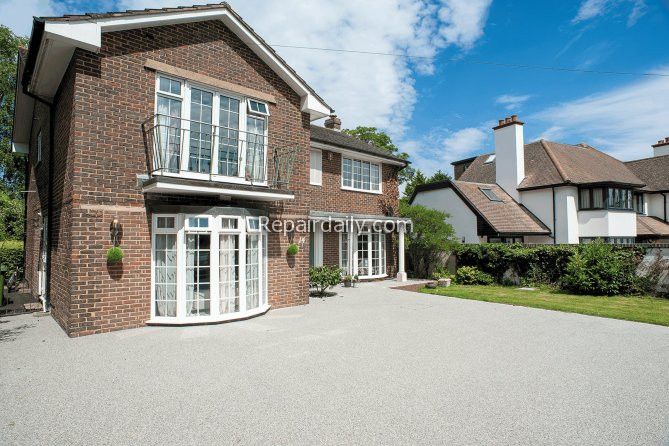 For a newbie in the driveway paving business, resin-bound driveways are quite the bold choice over the traditional gravel paving. When it comes to padding your driveway, the first and obvious choice back then was usually loose gravel, right? But, this has changed over the years, let's find out why.
To make the difference in quality between resin driveways and loose gravel driveways more 'obvious', we'll take a microscopic look at the features of loose gravel. Here we shall highlight their features, duration, and flaws too.
---
Finally, we'll compare these features to those of resin-bound driveways, discovering how and why they beat their gravel counterpart.
Resin Vs Gravel: The Battle of the Driveway Pavings
Now, if gravels aren't the better option, why do developers go for them in the first place? Well, it's due to their low cost. In the UK, driveway developers look for the best option for price when it comes to installing a driveway pavement. But cheaper isn't always better.
The upside to this is that you spend less on acquiring the materials, leaving you with enough money to spend on other necessary items to bring your driveway to life. The downside, however, is that you get exactly what you paid for and the quality might not be quite what you had hoped for.
Let's Dig Deeper
Because the gravel materials are so cheap, you're guaranteed an aggregate of loose materials that do not bind together. This may not seem like a problem once the gravels have been laid on top of the compact or soft earthy surface. With a master's touch, the visual appeal could cloud your judgement.
But, that illusion is immediately shattered once you actually start using this driveway. Remember that the materials used are totally loose so you can expect a series of misplaced gravels when you drive through or even walk on these driveways.
This totally defeats the purpose because the real function beyond the aesthetic of your driveway is made completely useless. You need something that'll not just stand the test of time -and tyres- but completely defeat it and offer a compact driveway experience for years to come. Enter resin driveways
Resin driveways show no mercy to their loose gravels counterparts when it comes to durability and longevity. Sure, they cost slightly more to install but when you factor in the advantages, it ends up being a very small price to pay.
Gravel driveways require more maintenance than newer more modern resign driveways. They are also less likely to crack or chip, and they won't get as muddy in the winter. Resin driveways tend to look cleaner and neater than gravel driveways. They have a smooth, glossy finish that will add some pizzazz to your home. Resin driveways are also much easier to maintain than gravel driveways. There is no need to rake or sweep them, and you can just hose them down if they get dirty.
So if you're considering having a new driveway installed, resin driveways are the best choice in our opinion. They require less maintenance and ensure good grip throughout hazardous weather conditions.
Also, due to their compact nature, resin driveways do not exhibit the same flaws as loose gravels. So, no misplaced gravels across the driveway, no deterioration over time, and much more. Their advantages aren't necessarily based on having opposite features of loose gravels. You can also choose various shades, a light grey resin driveway is a sure fire way to boost the kerb appeal of your property.
Resin-bound driveways are also porous. This prevents flooding or pooling of water on the surface of the driveways as the water seeps through to the ground. Now, you don't have to worry so much during winter about the dangers of slipping on ice.
This makes your driveway accessible to wheelchairs, baby pushchairs, or whatever smooth-wheeled item that rolls on it.
In Conclusion
We can conclusively state that the durability levels are miles apart. Resin driveways are made of aggregates bound together by a strong epoxy that ensures the pavings are long-lasting. Say goodbye to misplaced gravels and say hello to a top-tier visual appeal with a longer, better, and sturdier lifespan.
FACEBOOK
TWITTER
INSTAGRAM
LINKEDIN

I'm so excited to tackle all my home improvement projects! From plumbing to DIY and cleaning - I'm ready to get down to work! #homerepair #homecleaning #plumbing #diy
---
---
---