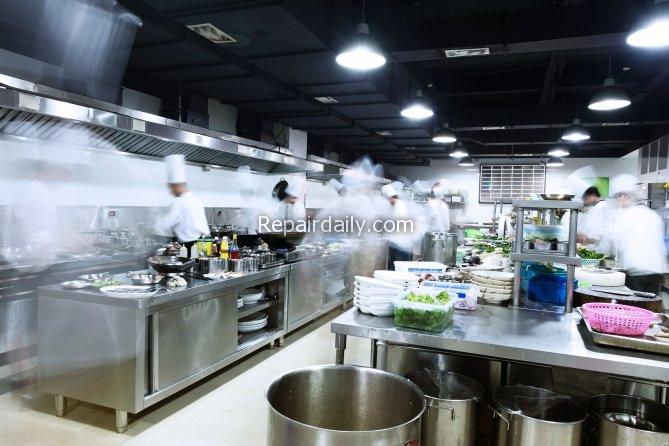 The food service industry is a big business across the world. Every year it generates a whopping USD$800 billion dollars with products ranging from a budget-dollar meal to luxurious fine dining for upscale diners.
When it comes to restaurant businesses, owning excellent equipment is one of the most critical indicators of success. That said, it's highly advisable to use commercial-grade, heavy-duty equipment to help you execute your day-to-day operations effectively. And when it comes to commercial-grade kitchenware, nothing beats the power of stainless steel.
---
Through the years, stainless steel kitchen equipment and appliances have been the top choice for restaurant and commercial kitchen applications. Why? Because they look exquisitely sleek and are easy to maintain. Not just that, they also offer tons of benefits perfect for your restaurant or food service needs, which we will discuss in this article.
If you're looking for someone that can supply you with high-quality stainless steel equipment, you might want to check out https://veitchstainless.com.au/. You may also visit any metal crafter near you for more information about it, such as quotations and customization.
As previously mentioned, stainless steel has been an excellent option in most commercial kitchens, and for good reasons. Here are some of them:
1. They Don't Wear Easily
Stainless steel is widely known for its hard-wearing resistance and hardness. It can withstand corrosion, crash, and extreme heat of up to 500°C.
Because of its intrinsic properties, stainless steel is the perfect choice when building commercial and professional cooking spaces. After all, commercial kitchens are infamous for highly intensive operations. So, having durable and non-corrosive appliances and equipment is a must.
On the other hand, many homeowners also use it for their domestic kitchen needs. However, you should know that not all stainless steel equipment is the same. So, you have to be extra careful when choosing the right one for your home.
Stainless steel kitchen should have the right thickness and hardness. Otherwise, it'll get easily dented, cracked, and chipped, decreasing its usefulness in your kitchen. Not to mention the time and money you wasted.
Therefore, choose the most suitable and durable stainless steel for your home.
2. They Are Hygienic
Stainless steel with an anti-bacterial coating can significantly benefit your business. With this, microorganisms, particularly molds and bacteria, won't easily thrive and contaminate your food, keeping your food safe for everyone.
It also does not react to food flavors and colors. That is why stainless steel thrives in commercial kitchens where food preservation and safety are fundamental and essential.
Also, having a hygienic kitchen space saves not only your customers from diseases and illnesses but also your business from temporary to permanent closure. It protects you from potential legal liabilities and consequences for causing harm to other people through the food you serve.
Look for stainless steel labeled as 'Inox' or '18/10 stainless steel' for optimum hygienic results. These are the classes of stainless steel perfect for food production and processes.
3. They Are Easy To Clean
Stainless steel is famous for being extremely easy to clean. Thanks to its smooth surface, you don't need to exert extra effort when cleaning it. That's why it's the perfect choice for highly operational places where cleanliness is essential.
To clean stainless steel surfaces, you will need water, a smooth brush or sponge, and liquid soap or powdered detergent. Avoid scrubbing harder to prevent causing dents and scratches on surfaces. In addition, don't forget to clean the inner corners of your cabinets and compartments where dust and dirt are likely to accumulate, raising the risks of potential food contamination.
Therefore, when assembling stainless steel equipment, you want to ensure that it has no hard-to-reach surfaces and that every part is easy to clean.
4. They Are 100% Recyclable
If you're looking for eco-friendly alternatives for your commercial kitchen spaces, stainless steel is probably your best option. It's made from sustainable and environmentally-friendly material that is 100% recyclable.
On top of that, stainless steel can be recycled multiple times without degrading its inherent properties, such as strength, resistance, and durability. It guarantees the sustainable usage of natural resources, helping the planet breathe and survive.
However, you may wonder what happens to stainless steel that is disposed of. Metal manufacturers will collect them and convert them into pure metal again, ensuring that they won't cause harm to the environment.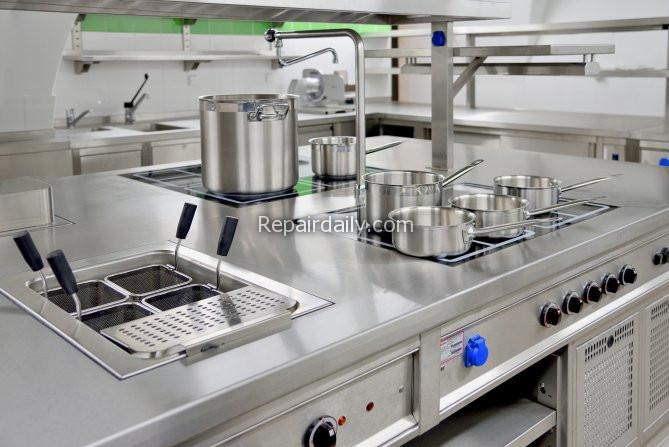 5. They Can Exist For Long Periods
The materials used to produce stainless steel can exist for long periods. That's why stainless steel doesn't age even after years of usage. Because of its hard-wearing properties, you'll be able to recycle it for as long as you would want.
It is why stainless-steel kitchen equipment is a good investment for the future of your business and your family's next generations.
However, you'll still have to replace your stainless steel because of some scratches, dents, and chips that may form over time. Food establishments need to be free from such eyesores. Otherwise, your chances of passing your sanitation tests and accreditations may be slim.
6. They Require No Maintenance
Stainless steel doesn't require any maintenance to keep it in perfect condition compared to other materials like wood.
Wooden workbenches and countertops are among the best options for kitchen surfaces. While they're aesthetically pleasing to the eye, it's tough to maintain their optimum condition, especially when water comes into play.
Water is the number one enemy of wooden equipment that makes them rot. Not just that, bacteria and other microorganisms may also thrive and decrease the structural integrity of the wood. The only way to prevent such cases is to maintain it every day.
In addition, you may use coatings and gels to preserve it and hide potential damage. Over time, maintaining wooden equipment can be time-consuming and may cost you more than enough.
But with stainless steel, there's no need for you to worry about such problems. It's highly durable and requires zero maintenance to prolong its lifespan, saving you time and money for more important expenses. But you can also use protective coatings to boost its durability and safety.
Final Words
At this point, you probably understand why the restaurant and food service industries make stainless steel their top choice for their kitchen equipment, appliances, and cutlery. It is not only aesthetically pleasing, but it's also durable and hard-wearing; hence, an ideal option for highly intensive kitchen operations.