The doors of a commercial building are what you see first and are often the first impression your company gives. As such, it's essential to ensure that the doors are inviting and functional to your customers, employees, and visitors.   
Your doors must also guarantee your employees' safety and your building's security. We'll address these reasons and provide helpful tips on choosing the best door for your commercial building.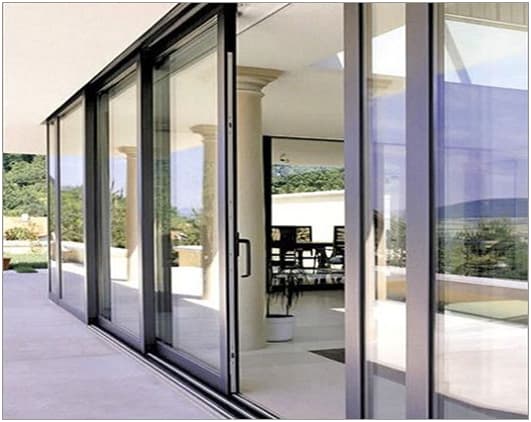 ---
Entrance Doors 
Commercial buildings are places of high foot traffic, so you'll need a door that can live up to constant daily usage. For areas such as the lobby or storefront door, you'll need a door that is solid enough to handle continuous use and fits the aesthetic of the building. Entrances also give visitors the first impression of your building, so you'll need an eye-catching door design.  
You may consider an aluminum door with glass windows for this task. Aluminum is a fantastic material as it's naturally anti-corrosive, cost-effective, and readily paintable. Plus, the glass's transparency allows visibility into your building, giving it a brighter appearance and enhancing the store's aesthetics.   
Interior Doors  
You'll need to find a way to control the noise levels in your work environment to create a peaceful atmosphere. After all, you wouldn't want to hear the hustle and bustle of the workspace if you have an important meeting. Additionally, interior doors must match the interior aesthetic you aim to build.   
Wood Doors are an excellent fit for interior doors. Wood doors are perfect for adding a natural look that fits great into many modern offices. Moreover, wooden doors are typically dense. The density of wooden doors makes them a natural sound-absorbing material that'll last for decades if treated correctly. Another benefit of using wooden doors is the versatility available to you. Because of the abundance of wood, plenty of customization options are available, ranging from the type of wood, the coating used, and even an extensive selection of locks you can use.  
Fire-Rated Doors 
Your building's evacuation routes (such as stairwells) must remain clear and safe during a fire. To achieve this, you'll need to install doors that can withstand fires for enough time to allow everyone to evacuate the area. While you can see some wood and aluminum fire-rated doors, the most common material is steel. Steel fire-rated doors are the best material, as they have a higher melting point than aluminum and aren't inherently flammable like wood.   
To achieve the desired fire rating for the evacuation routes, you'll need to ensure that the walls, doors, and ceilings match each other's fire ratings. Because of this, it's essential to have a suitable access door for fire-rated applications in ceilings. Safety should continually be the top priority in your workspace and investing in the right equipment will be a worthwhile investment for you.  
Cleanroom Doors 
Cleanrooms can be a challenging project for you to handle without the right door. Your clients depend on the door seals to keep any contaminants out to maintain the optimal work environment. For these, stainless steel doors are perfect.  
Stainless steel is durable enough to handle the constant application of cleaning products without breaking down. Additionally, stainless steel prevents static from building up, so that dust will not settle on the door's surface. It's also important to consider if the door will fit into your client's current systems, as many cleanroom door brands will only work within their ecosystem.  
Glass Doors 
You'll often see glass dividers used for conference rooms and workspaces. Glass dividers are perfect for giving a sense of ample space to the working environment. Additionally, glass dividers are easily customizable, making them a popular choice for your clients who want a regular floor layout shift.   
With glass dividers, you'll need some way to access the different workspace sections, so providing the right glass doors is essential. You'll also need to consider the kind of glass your clients prefer, as various glass types and coatings are available on the market.  
Choosing Based on Your Needs 
Ultimately, you'll need to consider your clients' requirements to get the perfect door for your next commercial project. Clients have differing conditions, and what works for one may not work for others. Hopefully, this article inspired you to find the best door design.