The office layout design is a crucial part of an office. It directly impacts your and your employees' productivity, workflow, and efficiency. With such high importance for the layout, it's vital to plan it out diligently and thoroughly.  
Many factors go into designing the proper office layout. When creating a new office, it's essential to consider all of the company's needs moving forward. In this article, you'll read more about things you must consider when designing an office layout.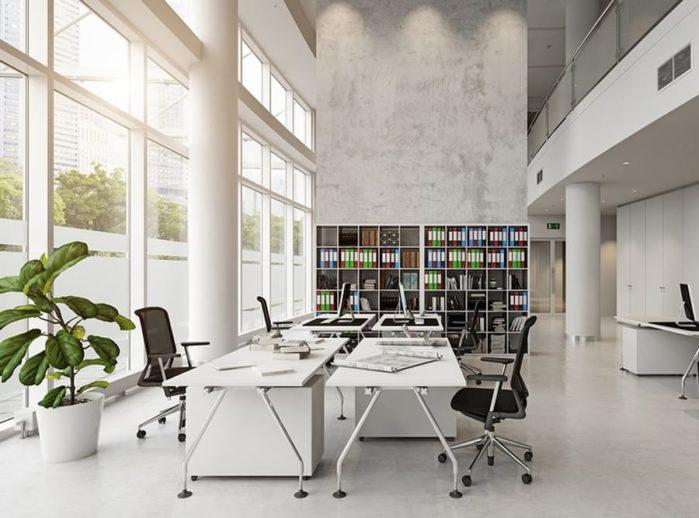 ---
Setting the Target 
Firstly, you'll need to set the objectives you want to achieve with the design before going for any aesthetic. Identify the reason behind your decision and use this as a basis for your target.   
For example, you may have an older space that isn't easy to work in and has high heating/cooling costs. In this case, you'll look for a suitable floor plan that you can easily navigate, plus utilizing better insulation for lower ventilation costs.  
Office design is costly, but it can be worth the time and money if done correctly.   
Architect Vs. Interior Designer 
Now that you've set your targets, you'll probably look for a professional that can help you reach these goals. During the planning phase, you may get confused about which one you should hire: an architect or an interior designer.   
While these two professions overlap in some cases, they have key differences that make you want to choose one over the other. Let's go over a few of them: 
Interior Designers

– Interior designers focus on making the interior aesthetic look amazing. Choosing the finish, such as the type of flooring, furniture, paint, and other accessories, are the concerns of interior designers. So if you need to spruce up a space to make it look good as new, interior designers would be perfect.  

 

Architects

– Architects, on the other hand, focus on the bigger picture beyond the interior look of the space. An example of this is checking to see if the design will live up to local building codes, creating site plans, and even looking for ways to increase the energy efficiency of a given space. For major renovations, architects would be the better match for you. 

 
Ideally, you'll have both Interior Designer and Architect working together to create a genuinely cohesive space aesthetic and ergonomic. However, you'll need to go back to the targets you've set and decide which one to hire if you can only choose one.  
Having an Ergonomic Layout 
An ergonomic layout means you can work on-site properly without causing injury to yourself or others. Here are two examples of what that would look like:  
It would be best if you had desks that are the right height. In an office environment, you'll probably sit in front of a desk for most of the day. If your desks are too short, it'll cause you to hunch over and cause back problems to develop. With the perfect desk height, you'll be able to work more efficiently and allow you to finish more throughout the day. 

 

Additionally, you'll need to ensure your space is free from clutter. Tidying up your room allows you to stay well-organized. One way to stay organized is by installing a

flush wall access panel flange

. An access door like this secures your utility lines neatly behind a wall while allowing access for any future maintenance work. 

 
Office Amenities 
Suppose you're looking to find the perfect candidate for your office. In that case, you'll need to be creative to attract top talent. A great company with its employees makes its work environment enjoyable. Moreover, studies have shown that employee happiness can improve productivity.   
If you're looking to attract the best workers and keep your employees long-term, you should consider adding spaces for recreational activities and relaxation areas. Providing these benefits ensures your employees will stay happy and healthy.  
Having the Best Office Takes Time 
Designing the office layout is an important decision you should take with care. The design of the office will directly impact on your employees' productivity and enrich your working environment.   
If you're still unsure how to get the best layout, you can also chime in with your office mates for any feedback. With the influx of ideas, you'll have plenty of options to build the perfect office for your company.