One of the quickest ways to grow your business is by investing in ads for your HVAC company. However, it is easy to waste money if you fail to understand, plan and execute a strategy that will bring results. In this post, we will discuss a few key things that can guarantee good returns with HVAC ads.
Why Invest In HVAC Ads?
The primary reason for investing in HVAC ads is to bring new customers and generate leads. In addition, a good ad can create awareness about an HVAC business. It can make your business stand out among all the hundreds of thousands of competitors in your city.
Ads can be expensive, though. The good thing is you can get triple ROI.
---
We will look at a few examples of the best HVAC ads and how you can grow your business with advertising.
5 Best Examples Of HVAC Ads
1.) Don't Fight Yourself In Ads For HVAC
This ad uses a dog as its main character. In less than 30 seconds, you see the problem — an uncomfortable dog —  and the solution — turning on the air conditioner. The ad is sharp and clear.
The major question here is, how can you communicate the importance of an HVAC product or service in 30 seconds? Using a dog makes it memorable because showing how much comfort means to animals says a lot about the importance of a cooling system in a home.
2.) Dads In Briefs
This ad runs for a minute and 30 seconds, which is quite long considering the cost of showing such ads on popular TV shows.
The noticeable lesson from this ad is that it is relatable, witty, and funny. Not everyone would be happy to see their parents in 'briefs' while a couple of friends are standing next to them. The ad shows the second-hand embarrassment that comes with too much heat.
3.) Sample Google Ads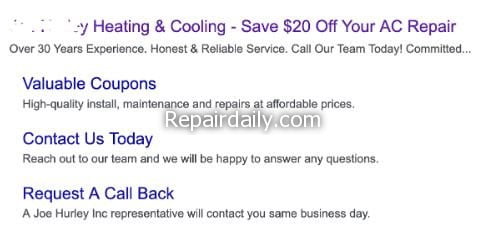 This is an example of Google ads that show all a homeowner will need to take action. Its promises are nice, but the business will need a little more than that in a competitive industry. So let's think about an offer that is too good to resist.
How about "paying 10% to every referral that pays for our services?"
The point is to make the offer too good to resist without hurting the business's profit. Overall, the ad has a call to action, an option to call you back, and a promise of quality service. These make it easy for users to take action.
Don't want to break your brain learning Google or Facebook Ads?…
…And risk getting mediocre results and lose sales?
Hire a Google and Facebook ads professional who will make you more money than you invest in your company. A highly specialized Plumbing, HVAC and Electrical SEO marketing service like Skyrocket Results SEO can you a lot of time and make you a lot of money. Use advertising experts. Avoid trying to reinvent the wheel, losing months and even years learning ad writing and targeted marketing.
4.)  A Simple Flyer Ad For HVAC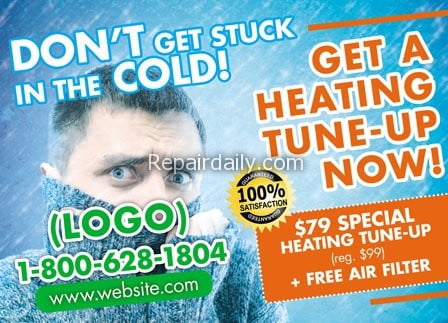 "Don't get stuck in the cold," is a good example of winter HVAC ads.
A simple flyer that communicates your product's or service's importance can bring attention to your HVAC business. You will need to hire a copywriter and create a great offer.
The advantage is that flyers are easy to share. They can be used in social media marketing or shared on buses if printed.
5.) Sensibo Ad For Heating And Air Conditioning
This is one of the best examples of creative HVAC ads. Every business owner competes with other brands. You want to give the buyers a reason to choose your product over the competitors. This is exactly what this ad did.
It started with someone educating us about a product. Then, a new guy comes over and shows us a better product that looks easy and is tailored to the user's needs.
Here's a quote from the ad that is true for every ad you use: no one cares what the exact temperature is. It's about being comfortable. So don't tell us about your product, show us why it's good value for money.
How To Advertise Your HVAC Business
Now you have a few ideas for your next Heating and Cooling business ads. The next question is, how do you attract HVAC customers?
There are hundreds of methods to go about advertising. Each has different requirements and costs, so you will need to contact the provider of such a service to understand the required fee.
Different Types Of Ads
Below are a few methods to advertise your HVAC business:
Social media ads (Facebook, Instagram, TikTok). They usually require images or short videos.
Pay per click. They usually require a landing page.
Search engine marketing/optimization. You need a website and a landing page.
Referral programs
Testimonials from previous customers
Do Marketing Agencies Charge Separately For Google Ads Management And A Separate Charge For Every Lead Generated?
You will likely get varying answers depending on location, industry, and agency. The best way to get an accurate explanation is to talk to a few HVAC ad agencies in your region. Also, don't forget to ask them, what is the norm for the HVAC industry?
Author Bio:
Mark Buckingham grew up in a Plumbing and HVAC family business. Mark has over 21 years of professional internet marketing and SEO experience (in results). He's a leading expert in helping Plumbing, HVAC and Electrical business get to the top of Google, boost leads, get more customers and grow their company. As the founder of Skyrocket Results SEO, he's on a mission to help HVAC contractors, Plumbers and Electricians avert internet marketing mistakes, avoid wasted marketing dollars, increase profits and build wealth. His free Plumbing, HVAC and electrical company marketing blog is: www.SkyrocketResultsseo.com/blog