While renovating your kitchen can be a daunting task, it really doesn't have to cost the earth. There are many small improvements you can incorporate into the room that will still make a big difference. Check out our pro kitchen renovation tips and learn how to refresh the hub of your home without breaking the bank.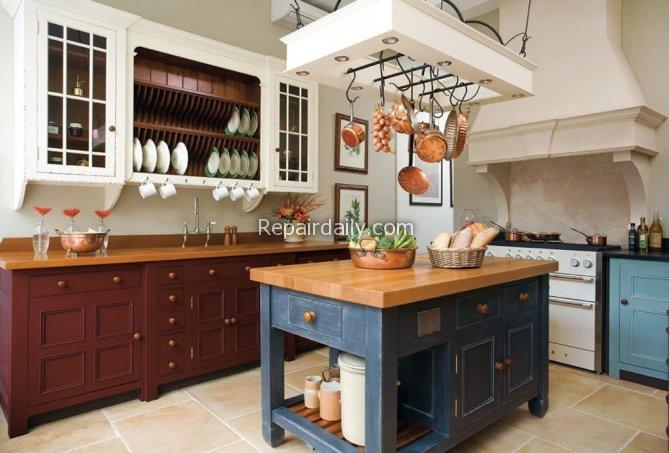 Key Takeaways
The DIY ways to renovate your kitchen on a low budget include adding a backsplash, replacing your cabinet hardware, painting the cabinets, and upgrading the lighting, among other things
You can finance your project in different ways, including getting a personal loan or using home equity loans
There also are government programmes that you can avail of
---
DIY Kitchen Renovation Ideas on a Budget
Here are some DIY options to breathe new life into your kitchen without blowing your budget:
Paint Cabinets
One of the fastest and cheapest ways to change the appearance of your kitchen is to paint the cabinets a different colour. The job can be done over the weekend. You get to choose from a plethora of palettes that fit in with your overall kitchen décor. Before you begin, make sure to dismount the doors and hardware (do not paint on site!) and primer the surface.
Replace the Sink and Faucet
Even though it's a relatively small change, replacing the sink and faucet can give your kitchen a new look. Depending on the model and materials you go with, you can achieve a high-end look.
Replace Cabinet Hardware
If you don't feel like painting, here is another idea to renovate your kitchen on a low budget. Replace the hardware on all drawers and cabinets. Choose ones that have a luxury look and feel and this will make a huge difference. It's one of the simplest tasks as this project only requires a screwdriver.
Upgrade Lighting
Not only does good lighting allows you to see well when using the kitchen, but it can highlight the areas that you want to put more emphasis on. Plus, it will make the kitchen look visually more spacious. Adding under-cabinet lighting will also give the heart of your home a luxury feel. Opt for LED lights as they are energy-efficient, which means they will serve you up in the years to come.
Add a Backsplash
If you want to add colour and texture in your kitchen, go for a backsplash. In addition to changing the appearance of the space, it will protect the walls from stains and spills. A backsplash is always a good idea, so if you don't have one, consider installing it. Like everything, there is an abundance of materials whose price varies. In the end, you can choose a product that suits both your budget and preferences.
Replace the Countertops
Kitchen countertops take up a lot of space and are the focal point of any kitchen, which goes to say that you can transform the room by simply replacing them. If your countertops are old, think about picking more modern materials next time. Even with a tight budget, you can find materials that are sturdy and beautiful.
Reuse and Repurpose
Repurposing items you already have but no longer use is another wise idea. It is easy on your wallet and great for the environment. For example, if you need a new kitchen island but don't have the finances to buy one, you can make your own using an old dresser. If you are looking for affordable décor pieces that can transform your kitchen, check out second-hand stores for great bargains.
Financing Options and Loans
Financing your renovation project may be a bit challenging if you are on a tight budget. The good news is that there are different financing options available in the UK. Let's have a look at them.
Personal Loans
A personal loan is one of the most common options. A type of unsecured loan, it can be obtained from banks or credit unions and it tends to have fixed interest rates. One of the advantages is that you can easily get up to £25,000. The biggest disadvantage is that they come with higher interest rates. In some cases, they also require a good credit score.
Home Equity Loans or Lines of Credit
Home equity loans or lines of credit (HELOCs) are types of secured loans which require that you have a home to guarantee the loan. On the positive side is the fact these offer lower interest rates. As far as the disadvantages are concerned, you need to have significant equity in your house or flat.
A home equity loan might be used for kitchen renovations and the amount you are allowed borrow equals up to 80% of your home's value. Nevertheless, you should keep in mind that if you fall behind on payments, you can lose your home. So, it's not without risks.
Government Programs
In the UK, many people take advantage of a few government programmes that can help to finance your kitchen renovation or other home improvements. These include the Energy Company Obligation (ECO) scheme and the Green Homes Grant.
The former offers funding for energy efficiency alterations in low-income households.  The latter delivers vouchers to homeowners that enable them to cover up to two-thirds of the cost of the project. Keep in mind that there may be eligibility requirements for both. Not to mention, they probably won't cover the entire cost of the improvement.
Before arriving at a decision, you need to compare each option, weighing down the pros and cons.
If you're looking for a reliable kitchen renovation service provider that won't break the bank, consider AceKitchens. Located at 6 Woodcote Mews, Wallington SM6 8RB, United Kingdom, they offer a wide range of budget-friendly renovation solutions that will fit your needs and preferences. Whether you're looking to replace your countertops or add a backsplash, their team of experts will work with you to create a customised kitchen design that meets your budget and style. You can contact AceKitchens today at +44 800 107 8763 and get started on your dream kitchen renovation project.
FAQ
How much does it cost to renovate a kitchen on a low budget?
The cost of an affordable kitchen renovation does vary based on the scope of the project, but it typically ranges from £6,200 to £11,500.
Can I renovate my kitchen on my own or should I hire a professional?
If you have what it takes, you can absolutely renovate your kitchen by yourself. Of course, it's always best to hire a professional. Keep in mind that it is time-consuming and daunting to perform renovation tasks alone.
How long does a budget-friendly kitchen renovation usually take?
It depends on the scope of the project. Smaller changes can be implemented in just a couple of days while more serious improvement will take 4-6 weeks.