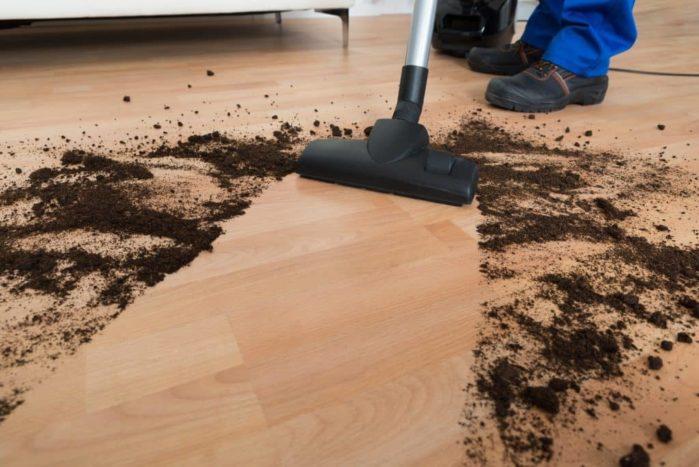 When running a commercial establishment, it is necessary to keep it well-maintained to preserve its quality and features. Maintaining vital parts of your building will ensure that your indoor environment will remain comfortable.   
An establishment's flooring is one of the most significant contributors to indoor environment quality. It does not only serve as the base of your building, but it can also be a vital structure that helps protect essential fixtures underneath that you can access through floor access hatches. The flooring material can affect indoor air, acoustic, lighting, and thermal quality, so it is always essential to research what flooring type you want to incorporate. 
---
Some people may disregard the importance of flooring, but they are responsible for bearing the force of constant impact. The indications of minimal damage that often show up first on the flooring material can make a wrong impression on your business or visitors.  
Why Should You Choose Hardwood Floors? 
Hardwood is a popular flooring material in the industry due to its versatility in terms of function and design. It offers an earthy ambiance and natural charm that gives each installation a unique personality and appearance. In addition, they are long-lasting and durable, especially when combined with proper care and maintenance.   
One advantage of hardwood flooring is that it never goes out of style. Despite numerous modifications and changes in style and design, this material will never grow out of trend.  
Reasons Why You Should Regularly Clean Your Hardwood Floors 
First Impressions- A well-maintained and clean hardwood flooring is an excellent way of giving a good impression to your guests or clients.  

 
Hardwood Requires Special Care- If you have hardwood floors, you should know that they require special care and treatment. There are many ways one can damage the hardwood floor, so you must clean them frequently.  

 

Indoor Air Quality- Your floors are one of the significant contributors to air pollution. Dust particles might come from the floor material due to constant traffic that causes wear and tear or accumulated from secondary sources. Religiously cleaning your floors will maintain optimum air quality.  

 

Floor Durability- Pollutants like dust, moisture, and others are why hardwood floors result in wear and tear. Keep your floors clean to prevent pollutant growth.  

 
How to Clean Your Hardwood Floors 
1. Dust Your Floors Daily  
Dust the floors daily to prevent dirt and dust accumulation which can cause minor scratches. Keeping them clean can also extend the material's aesthetic appearance and longevity.  
You can use a vacuum to eliminate the dirt, dust, pet hair, and other particles and debris that could potentially scratch your floors. Please don't use a vacuum with a beater bar attachment as it could damage the floor's surface. Use the floor brush attachment. Depending on the foot traffic, you'll need to do this at least twice to thrice a week.   
2. Clean Floors Weekly 
Debris can build up on hardwood floors over time. That's why it's essential to clean them regularly. It's best to use a cleaner made from the same surface finish as too many chemicals can damage your floor material. 
You can search for pH-neutral, nontoxic, biodegradable recipes to clean effectively and keep your home and environment safe. For example, vinegar can damage the finish, even when mixed with diluted water.  
Sweeping is not the best option for cleaning hardwood floors because it spreads the dust around the base and into the air, affecting your indoor air quality. For instance, if you decide to sweep, utilize a broom with angled soft bristles and clean with the grain.  
3. Polish Quarterly 
Polishing helps extend the life of your hardwood floors and adds shine. Continue vacuuming to ensure you pick up all the dirt and dust and utilize water-based polishes to maintain their shine and luster every two to three months. 
Although these polishes won't leave residue or release harmful toxins, they can still strip your floor. Long-lasting, urethane-based chemicals have fast dry times, no waxy buildup, and a protective wear layer to fill micro-scratches and even the floor's appearance.  
4. Refinishing 
Refinishing hardwood flooring restores the wood to its authentic shine and appearance. For hardwoods, a 1/4-inch-thick refinishing could do more damage than good by stripping away the whole floor. Therefore, you should only refinish every seven to 10 years.   
Other Helpful Alternatives for Cleaning Hardwood Floors: 
Regularly cleaning your hardwood floors will help maintain their appearance and quality. 

 
Don't use water and vinegar, soap-based steam cleaners, or wax on your hardwood floor. Water and vinegar will dull the floor's finish, and soap or wax can leave a residue. Furthermore, steam cleaners put heat and excessive moisture on your floor, resulting in long-term damage. 

 

Use a rubber rug with a waffle pattern in entryways or high-traffic areas. 

 

Felt floor covers or protectors for different furniture and chair leg pads help minimize and avoid scrapes and scratches in the wood. 

 

If possible, avoid wearing footwear that contains pointy heels, which can cause scratches on the hardwood. 

 

Use the proper machines or tools to clean your floor. For example, you can use a mop paired with a machine-washable microfiber pad for cleaning and dusting. If possible, avoid string mops because this product puts excessive amounts of water on the floor, which can be damaging, and push the dirt around instead of picking it up and removing it. 

 
Immediately clean up spills to avoid permanent floor stains. 

 

Trim your pet's nails regularly. 

 

Stop using oil-based polish. It can dull the wood's finish, making the floor slippery and causing injury. 

 
The Bottomline
Keeping your hardwood floors in optimum condition by cleaning will help you minimize damage and unnecessary repair costs. These easy tips and practices will significantly help you save your investment for many years.   
FACEBOOK
TWITTER
INSTAGRAM
LINKEDIN

I'm so excited to tackle all my home improvement projects! From plumbing to DIY and cleaning - I'm ready to get down to work! #homerepair #homecleaning #plumbing #diy
---
---
---