An average human spends 90% of their day indoors. We need to change this destructive habit and spend more time outside. Many people avoid going outdoors because they live in overcrowded cities with too much pollution. The atmosphere gives them a headache rather than making them feel at ease. 
Instead, you should consider investing in a vacation house in a small town, such as a farmhouse. Farmhouses are built in open spaces around agricultural land. They are a perfect opportunity to connect with nature by tending to the farm animals and crops. If you are looking to avail these benefits by building a farmhouse, here is a guide to getting it done.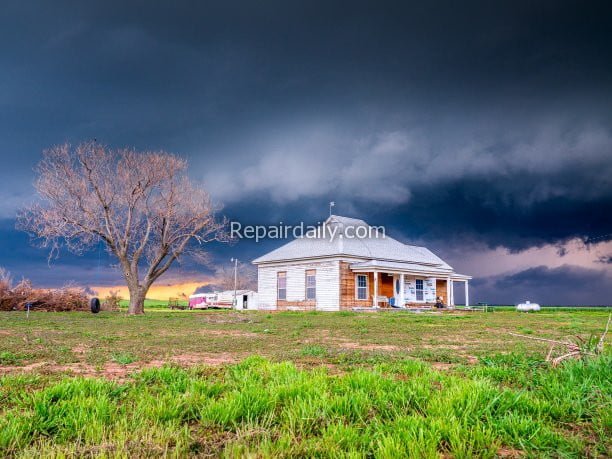 ---
1. Budgeting
Building a farmhouse from the ground up is an expensive project. You will have to buy suitable land, hire an architect and contractor, purchase the best materials, get furnishings and pay for cooling and heating units. Aside from the house's costs, you will also need to invest in the farm surrounding your home. You will need to hire farmers to make the land capable of farming. Require landscapers to add essentials like decks and patios where you can relax. Depending on your farmhouse's location, many people also build a pool. 
You must first draw up a budget to ensure you can pay for your expenses. List down all the fees you will make and their estimated costs. The budget plan will ensure you keep your purchases in check and are less likely to overspend. It will also give you an idea of how much you must save to build a farmhouse or which loans to acquire. Only start building the farmhouse when you acquire more than your estimated budget. Problems often arise in construction and require extra costs to fix. 
2. Choose a Suitable Location 
The most crucial step in building a farmhouse is to purchase suitable land. Remember that your farmhouse is like a vacation home, so you want it near your current home. If it is on the other side of the country, then you are less likely to spend time in it. 
Ensure the land you select is farmable. It should have proper access to irrigation water and is fertile so you can grow the crops you want. Consider states like Texas, Missouri, Oklahoma, and Iowa, as the land is highly fertile and relatively cheaper. 
The farmhouse should also be close to a small town or village. It is tempting to have your second home in a remote location where no one can disturb you. However, these remote locations may not have access to essentials like cell service and Wi-Fi. The farther you are from the markets, the longer you will have to travel to purchase necessities and groceries. Emergency services also take longer to reach remote locations. You will have difficulty finding tenants and workers to upkeep your house while you are away. 
3. Layout and Design
Layout and Design are vital aspects you must consider building a home. You should customize a farmhouse's layout to match your preferences. This choice is one of the most significant advantages of building a farmhouse yourself. Consider getting an architect to help with the layout. They will effectively combine all your requirements in a house plan without making it feel overcrowded. 
If you want to save money by not hiring an architect, consider using an already available house plan. You can browse catalogs and visit other farmhouses to choose a design. You can go for a traditional American farmhouse look. They are typically one-and-a-half to two-story houses with central chimneys. They have an open layout, a fireplace in the living area, and a wrap-around porch on the patio. Or you can choose a Modern farmhouse with floor-to-ceiling windows that make indoor living feel like you are outside. 
Since farmhouses are vacation homes, we recommend adding designated areas for recreational activities you cannot enjoy back home, such as building a pool to relax in or adding a tennis court to blow steam. 
4. Maintenance 
Every property must have regular maintenance checks to ensure it does not develop problems that require costly repairs. You must regularly check your farmhouse's roof and plumbing to ensure no leaks. Also, ensure cleaning your HVAC system every month, so you do not lose any warm or cool air. And make sure your fire alarms and security systems are always functioning. You must check the fire extinguisher's expiration date to ensure you never find yourself in an emergency. 
For the outdoors, you must maintain landscaping by regularly trimming grass and ensuring all the greenery has ample sunlight and water. You must daily cater to the crops according to their specific requirements, and you must look after livestock to ensure they get the proper diet and exercise. In addition, make sure to attend their vet visitations. 
Maintaining a farmhouse can be tough, as you are absent throughout the year to manage the regular maintenance. To ensure the property is always cared for, you can hire tenants from a neighboring town to maintain the farmhouse. We recommend visiting the property every few months to ensure the tenants keep up with their duties and check if any problems are present that you must address immediately. 
5. Permits and Legal Requirements
To build a farmhouse, you need special permits. The permits you require will differ for each state. If you plan on making a farm with your farmhouse, you will require a water board permitting for crop irrigation. The government also requires you and your farmers to use limited pesticides and need a National Pollutant Discharge Elimination System (NPDES) permit. The NPDES permit is also required if you have livestock. 
These permits allow the government to regulate water use and control the pollutants seeping into water bodies. It helps ensure no water shortages soon, and excess contaminants do not diminish aquatic biodiversity. 
Endnote
Farmhouses are a great way to connect with nature and escape from the hectic and hustling city lives. Many people purchase an already-built farmhouse rather than building one. Constructing a farmhouse is cheaper, and you can customize the exteriors and interiors to match your preferences and requirements. When making the farmhouse, ensure to keep the above considerations in mind. They will ensure your farmhouse experience is smooth, and you will encounter fewer problems afterward.