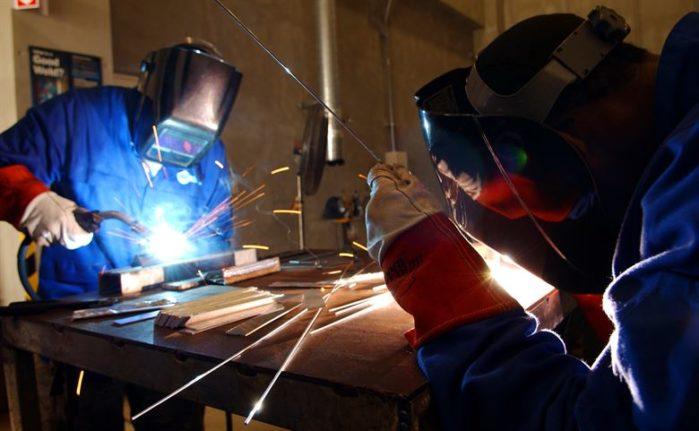 Welding can be a tedious job. You will need to cut various metal types and sizes and fuse them together. Some of these workpieces can be heavy and complex particularly when you are working on a huge welding project. Working on such projects manually can lead to fatigue. You will need to shift from one position to another during the welding process.
Fortunately, this is no longer the case. You can work on huge welds without necessarily shifting from your position. But how is this possible? All you need is a positioner.
---
What is a positioner in welding?
A welding positioner is a machine or device for enhancing the welder's comfort. These devices allow you to work on a welding project. The positioners can rotate in 360 degrees meaning you do not have to bend or move to accomplish your task. The device helps you adjust the position of the workpiece according to your need.
In other words, the positioners can rotate, hold, or move a workpiece into different positions and directions. The welder will not need to change their position to fix or weld a certain area. This aspect saves your effort and reduce fatigue. Also, welders will cause less mess on the floor since the splatters will only be in a single point. The positioners help you improve the quality of your work.
Why should you set up a welder positioner?
Before getting into the different types of welding positioners a welder can consider, it is essential to understand why use one. As noted, a welder positioner enhance the comfort of a welder during the welding processes. It involves setting various equipment to allow you maneuver the workpieces mechanically into a suitable position for welding and assembling.
The positioning also enhance the ease of accessing the weld joints when working on subassembly tasks. This way, you increase your safety, save on space, and improve on the weld quality.
Also, it helps you avoid fatigue as you will not need to work on uncomfortable positions or keep shifting from one place to the other. Hence, it is a good idea for both large and small welding projects.
What are the different types of welding positioners available?
Like other aspect, the welding positioners come in different types. These devices vary depending on their maneuvering capabilities. Some of the common positioners are:
Rotary indexer weld positioners
Rotary indexers are the universal weld positioners. They are simple with few features and moving parts. Also, they can rotate and switch to flat or horizontal positions. These indexers are suitable for use in simple and precise welding projects.
Rotary indexers feature different speed controls with option for reversing rotation directions. Though you can use these positioners for other weldment tasks, they are suitable for welding round objects. They allow welders to get the next weld points without much hustles.
Also, you can only use them for shorter overhang or lengths. If you need to use the positioner on long lengths and overhangs, you will require some supporting elements.
Multi-axis weld positioner
Sometimes, you need to enhance your productivity and improve the quality of your work. This aspect is not different in the welding world. Every welder desire to have the best production in their welding yard or factory.
The best way to realize this goal is ensuring efficient flexibility and ability to maneuver workpieces and weldment. Multi-axis weld positioners come in handy in this case.
As the name suggests, these positioners allow welders to move, rotate, and hold the object in different positions and directions. These positioners feature indexers with one mounting position and several positions. This aspect is suitable for large weldment and allows you to rotate the entire configuration in complete 180 degrees with the help of headstocks and tailstocks.
This positioner enhance productivity by reducing downtime and boosting production levels. Also, they enhance the welder's freedom. The positioner enable welders to access all areas of the weldment. It is suitable particularly when working on non-symmetrical workpieces.
 Benchtop positioners
This type of positioner is useful during pipe and tube assembling. The benchtop weld positioners enable welders to move and rotate the workpieces beyond the welding arch. This helps them to work without awkward positioning around the bench.
Wrapping up
In a word, welding positioners are crucial tools in the welding projects. The tools improve the welders comfort and enable them to avoid fatigue. Also, they make welding task easier and boost productivity.
As a welder, you can work on a workpiece without moving from one position to another. This makes you productive and improve the quality of your task.
FACEBOOK
TWITTER
INSTAGRAM
LINKEDIN

I'm so excited to tackle all my home improvement projects! From plumbing to DIY and cleaning - I'm ready to get down to work! #homerepair #homecleaning #plumbing #diy
---
---
---