Sailing the waters on a nice boat is what we all fantasize about when we want to relax or go on an adventure. When we're done sailing, we park the boats near a dock. Not only that, but we can use docks for other activities like fishing and sunbathing. 
So, how are these boat docks made? Believe it or not, building a boat dock is easier than we think. So, here are some tricks to building a DIY boat dock and making it stand out.
---
How to Build a Boat Dock
Building a boat dock sounds like an incredible challenge to many of us. There's so much lumber to use, and we'll have to stand in the water for a long time!
Well, what if we told you that there are DIY dock kits that we can use? What if we told you that we could build our boat dock in only five steps? Here's how to build one.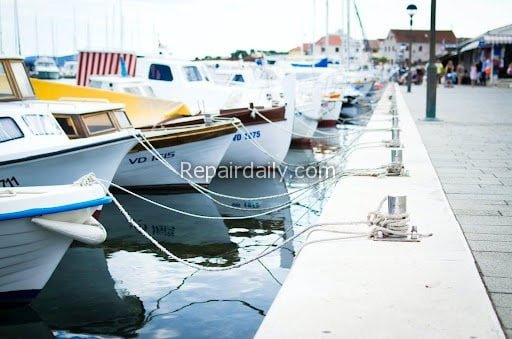 What's the Dock's Size?
We should first consider what size we want our dock to be. Should it be long or short? Should it be wide or narrow? We should determine our dock's size based on the water's distance and depth.
For example, if we want to use it for other activities like fishing and sunbathing, our dock will have to be long. A long dock may not leave much room for sailing, but it provides an excellent place for diving.
Speaking of water, we'll have to use long pillars if the water is deep. Pillars should be at least two feet long, plus the depth of the water and the piling's length in the lake bed. We don't want the dock to go underwater, after all!
Finally, we should know what size we want for parking our boats and other activities such as fishing or sunbathing. That way, the dock won't be so cramped.
Tools We Need
After deciding the size of our dock, we'll need the proper tools to build it. Some materials we'll need are-
4×4 pieces for the surface of the deck, the vertical posts, and the lake bed's pilings

2×4 pieces for the deck railing and deck base

2×6 pieces for the surface of the deck
If we want our deck's lumber to support many people and objects, we'll have to research the type of lumber, grade, stamping, load duration, and design.
Building the Dock
First, we should cut the 2×6 pieces into equal-length planks. Then, we'll have to use a speed drill and steel screws to fasten these planks to the 4×4 cross pieces.
After that, we'll have to drive the 4×4 pilings into the bed of the lake. Remember, the pilings are supposed to connect to the deck and be a secure base.
The Vertical Pilings Connect to the Deck
When we finish driving the 4×4 pilings into the lake bed, we'll need to fasten the decks to them. We can use three-inch wood screws and a power screwdriver.
Then, we need to move our recently-constructed deck into the water near the pilings and fasten it to them with the steel screws. When the deck is secured to the pilings, it'll stabilize them and not let them shift.
The Deck Railing
After attaching the deck to the pilings, we'll have to fasten vertical, 36-inch 2×4 boards onto the deck with our steel screws. Make sure the railing has an opening for parking our boat.
When we're finished securing the vertical 2×4 pieces to the deck, we need to connect horizontal 2×4 pieces to the vertical pieces with three-inch steel screws.
Then, we can put bumpers along the deck's outside to prevent boat damage by the wood. We can use used tires for the bumpers.
How to Make Your Dock Stand Out
Congratulations, we've finished building our dock! Now what? How can we make our dock stand out from the other docks? Here are some ideas to make our dock prettier and stand out. Lights
While we can see our dock just fine in the daytime, we can't say the same when night comes. That's why using lights is a good suggestion for finding it in the dark. Some of the lights we can use are-
String lights along the railings

Solar dock lights for easy installation and no use of electricity

Wharf lights for decorative yet functional lighting

Motion-activated flood lights for easy and safe lighting

Underwater lights for the ease of seeing our dock
It's dangerous to walk on a dock in the dark. We can trip and hurt ourselves or possibly drown. That's why it's crucial to install lights so that we can see better.
Bins
Whether sailing or fishing, we'll have some stuff we want to throw away at the end. However, we don't want to pollute the water. That's why we recommend using dock-specific bins.
We can buy a garbage bin to throw away our trash and not pollute the water. We can also use storage bins for our fishing gear, dock cleaning supplies, and other related stuff.
These bins are made of synthetic materials that withstand moist, marine conditions, like a dock setting. We can place these bins at the sides or the edges of our dock so we don't block the walking path.
Fishing and Boats
Fishing is one of the most popular activities, and a dock is one of the most popular fishing settings. So, having some fishing gear at the docks would make sense.
Besides the storage bins to keep our fishing gear, we can also place a fish cleaning table. Scales get everywhere when we clean fish, so a table for cleaning them is the perfect alternative to scaling fish in the house. Make sure the table is mounted in a stable state when using filet knives for scaling and cleaning.
We can use anchor and pier ropes as well as other fishing and boat decorations. Both of those items are excellent at keeping a boat from floating away.
Plants
Nature is beautiful; plants help that matter. When picking a plant for our dock, we should consider picking ones that love sunshine and moisture since those plants will get a lot at a dock.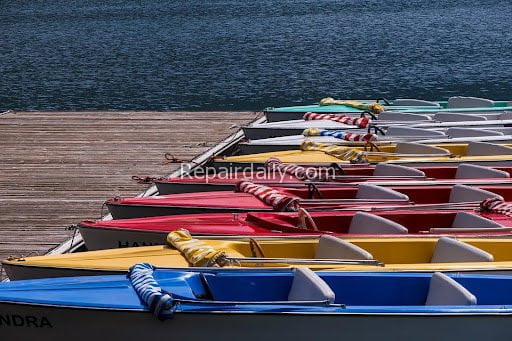 Simply Put
It's nice to have a dock near the water. That's why it's essential to learn how to build one DIY style with the right supplies and put neat decorations on it to make it stand out.
FACEBOOK
TWITTER
INSTAGRAM
LINKEDIN

I'm so excited to tackle all my home improvement projects! From plumbing to DIY and cleaning - I'm ready to get down to work! #homerepair #homecleaning #plumbing #diy
---
---
---