Are you bored on a plain wall? If you are determined to decorate your room wall with a nice collection of canvas art. Then the first thing is to perfectly hang them on the wall.
That's why in this article we will guide you through how you hang canvas prints.  Hence we have discussed unique and popular methods with their first to final steps to make your task much easier. So, let's discuss!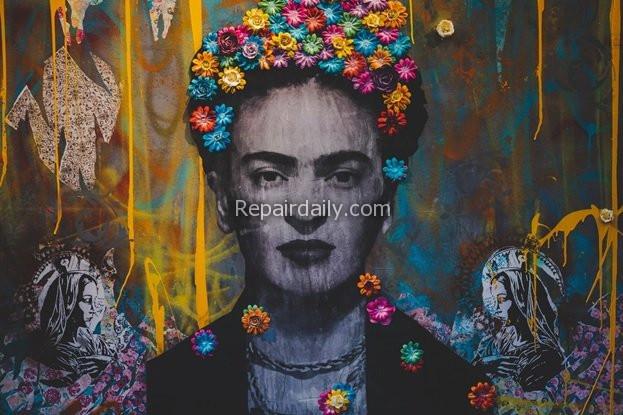 ---
6 easy steps to hang canvas prints
Hanging your canvas prints using nails is a very ordinary process. The first step is to prepare the wall by using a pencil to mark where the nail should go. Next, hammer the nail into the mark with one or two quick hits. Finally, hang your print by sliding it over the top of the nail and allow it to rest on either side of the nail. Here we have added some unique and most convenient methods as well.
Method-1 J-Hooks for wall
When dealing with broader or wider canvases, J-hooks are fantastic selections. There are a wide range of options such as either each or twin nails on the clamps. For lightweight, smaller paintings, a shorter, simpler hook would be preferable, while heavier canvases would be anchored by hooks which require at least 2 nails.
Step-1: Leave a mark on the surface with a pencil, one or more. Depending on how many hooks you're using, this will vary.
Step-2: Then put your selected J-hook in place on the wall. Its included nail will fit perfectly into the hook.
Step-3: Hit it with a moderate incline. To guarantee that the canvas does not hang unevenly, ensure the hooks are correctly positioned on the wall.
Method-2. Sawtooth Bracket
For smaller to medium-sized canvases, sawtooth clamps may be a workable idea because of their excellent stability. This is regarded as among the easiest and most widely used methods for hanging wall art. A sawtooth bracket, the matching screws, and a nail are necessary to complete your task.
Step-1: Mark the midpoint of the peak of the back frame's measurement.
Step-2: Utilising the position mark as a reference, insert the bracket in the backside middle of the canvas. At a small angle, drive the nail into the hanger hook.
Step-3: The bracket should be screwed in one corner first, before the other.
Step-4: Now ensure the nails are tight and the bracket is not loosened.
Method-3. Eye Hooks for hanging canvas prints
Even In luxury interpreting shops, eye hooks are particularly popular. But did you know that using them at home is very simple? Single eye hooks are really simple to use and robust enough to hold a canvas.
Step-1: Four to five inches from the peak of the canvas wooden base, attach the eye hooks into each side.
Step-2: Then the art wire then needs to be strung between both the two eye hooks, so that they can  provide space for hanging.
Step-3: Lastly, drive a screw or, if you prefer, a claw into the spot wherever you indicated the centre.
Method-4. Easy to use Adhesive Strips
Using adhesive strips is one of the gentle and safest ways to hang canvas prints. When employing the majority of adhesive hanging items, you won't need to do any kind of harm with a hammer or other tools.
They frequently include a Velcro as well as adhesive pair and are very simple to use. Before beginning, end up making sure you are aware of the heaviness of the canvas.
Step-1: To assist in positioning the canvas, check and make pencil marks.
Step-2:  Then, to make sure it's horizontal, add a gentle straight line over.
Step-3:  Now, attach the adhesive strips to the wood frame's corners, or add additional if you think they're necessary.
Step-4:  Fixing the canvas with your lines, push it gently against the wall. It's finished here!
Method-5. The popular method using Nails
The optimum use of nails is for tiny to medium-sized canvases. Choose your nails first, taking into account the size of the painting. Metal or steel nails are required to be put carefully into the wall to prevent cracking or harming it.
Step-1: Set the frame and the hanging location.
Step-2: With one or two fast punches, hammer the nail into the hole.
Step-3: Do not leave more than an inch or a half of the canvas hanging from the nail.
Method-6. Unique method Cord
Last but not least, the most unique and strong method is using cord for hanging canvas prints. With each "D" of the D-rings pointed inside toward the other, attach the frame hooks to the canvas's side support bars using the four thinner screws. To confirm the D-rings are parallel with one another, we advise testing a little bit first. They should generally be secured just above the bars' centre.
Step-1: Put the string through each D-ring, draw it tight, and then secure it by tying a knot at every tip. You may keep or reduce any extra length as you demand.
Step-2: Where the nails  need to be placed mark two the exact two points using pencil.
Step-3: Now, nails should be driven by hammering.
Step-4: Gently place the loop of cord on the nails to hang your canvas prints.
Final word
Most people prefer just using a nail and hammer for hanging while others prefer a staple gun. It is entirely up to you and your individual preferences how you hang your painting. It's crucial that you prominently display your priceless canvas prints and original artwork.
Now use any of these described methods and boost your home decor. For more updates, comments or ask anything below and share your valuable feedback!
FACEBOOK
TWITTER
INSTAGRAM
LINKEDIN

I'm so excited to tackle all my home improvement projects! From plumbing to DIY and cleaning - I'm ready to get down to work! #homerepair #homecleaning #plumbing #diy
---
---
---