Interior designing can be as fun as it is rewarding. With proper planning and vision, you can transform the look of your home into something different entirely. 
Among the many dazzling styles and themes prevailing in the industry, the Bohemian decor has spanned the longest. 
The Boho vibe is something unique – combining the elements of eccentricity and easygoing in the most well-balanced mixture. It is the perfect interior design theme for wayward experimentalists who want to stand out and build something unique in their homes. 
Here, we'll look at the many tips and techniques to achieve the perfect Boho look to call your home your own.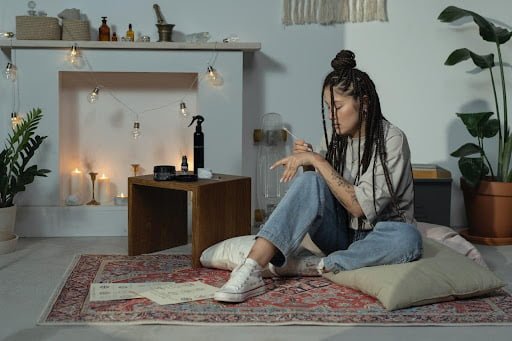 What is the Boho Theme in Interior Design?
Boho, short for Bohemian, is a popular and eclectic interior decor style derived from the artistic wonders of Paris in the nineteenth century. The Boho theme is almost based on the fantastical representation of the nomadic lifestyle. 
It features inspirations from different cultures and eras, using rich and bold colors, layered textures, and combinations of patterns to create a vibrant and relaxed atmosphere. Such a design style is not bound down by any laws and thrives on its lack of rigid structure. 
Designing a Boho interior is all about creativity and setting up your home exactly the way you want. It includes natural materials, vintage elements, and even handcrafted items to complete the aesthetic. 
Boho interiors emit a sense of comfort, personal expression, and a laid-back ambiance to make your home decor align with your individuality. 
9 Tips for Giving Your Home a Bohemian Look 
Technology has done a great deal for our homes – from modular kitchens to virtual assistants controlling our room temperatures, everything is just a remote click away. 
But sometimes, you need your house to be a representation of your personality. And there's nothing that expresses individuality quite like Bohemianism. 
Here are 9 great tips for making the Bohemian decor work in your modern homes: 
1. Dine Like Bohemians 
If you look at it, the Boho vibe primarily focuses on exuding warmth and a feeling of welcomeness. 
If there's anywhere your guests would want to feel welcome, it's the dining area. Modern homes have fairly standard prerequisites for a dining room – plush and neat tables, some chairs, and maybe an odd ornament on the side. 
The Boho vibe will elevate the look to the next level. 
By adding elements like crocheted chairs, vibrant textiles, potted plants, and centerpieces filled with flowers and candles, you can transform your dining area into an open space that encourages shared meals and spirited conversations. 
There are many different ways to style a Bohemian dining room. You can go for any look that manifests your personality. 
2. Start at the Heart – A Living Room Overhaul 
For the Boho vibe to be authentic, you need a solid foundation. The perfect way to start the transformation is to give your living room a new look. 
You can introduce plush cushions, water down the walls, and even throw a few oversized floor pillows around. A handsome-looking rug lining down the entirety of the room could not hurt either! 
Starting with the living room can be a bit intimidating. After all, it's where you and your guests will spend the most amount of time. But that's exactly why it's the perfect starting point. 
The rest of the house should match the vibe of the living room. By starting here, you will have a better understanding of what kind of changes the rest of your house needs. 
3. Lie Low, Literally!
Laying low is not a phrase you'll use when it comes to Bohemianism. But the literal meaning can make sense if you're following such an interior decor style. 
Conventional and sophisticated sofas are a thing of the past. Trade them for low-level seating options like floor cushions, poufs, and even bean bags. If you're working on the living room, add a small coffee table on which you can keep natural elements and other items for a more complete look. 
While Bohemianism invites everyone to be seated on the floor atop floor cushions and smooth, accent rugs, doing so is not for everyone. Respect their preferences by adding low-lying seating options while still keeping true to the Bohemian roots. 
4. Get That Rugged Look 
We are talking about actual rugs here. In Bohemian cultures, the concept of floor is elusive. People always covered the floors of their homes with accent rugs. 
Apart from making your entire house soft and comfortable to sit in, these rugs also add a unique charm to the place. Accent rugs come in different patterns and rich shades. You can experiment with what's available on the market to create a color palette for each of your rooms. 
Be reminded that Bohemians used rugs everywhere – bedrooms, dining rooms, and living rooms. Maybe not your bathroom, though!
5. Table-Top Peculiarities 
The Bohemian vibe can be amplified by placing innovative and peculiar items on your low-lying tables. 
Place stones from your journey around the world in ceramic ware trays. You can also use other natural components to adorn your rooms. 
You can also scour thrift shops and explore flea markets to get your hands on some vintage treasures. Take the pieces that resonate with stories of the past and place them at strategic points in your home to make them look more visible.
Whether it is an antique clock, a retro vase, or even a withered ornament, it's all good for the Bohemian look. 
6. Add Free-Spirited Artwork 
You will find an assortment of eccentric and eclectic masterpieces that mirror the Bohemian spirit. 
Convert your room into a gallery wall filled with paintings, prints, and tapestries that reflect your individuality and life story. 
Forget the modern obsession with small and concise posters. Go wild with your imagination and create a cathedral of artwork in your own home. 
7. Bohemian Lighting Elements 
Before lamps and tube lights were introduced, light used to look way more beautiful. Bohemianism exploits this concept royally. 
Hang striking pendants or beaded chandeliers in your dining or living room areas to give your home a Bohemian twist. Let natural and kaleidoscopic lighting dance through the intricate patterns and designs embezzled on these items, creating a mesmerizing ambiance at your place. 
8. Paint Your House With Colorful Crochets 
The hallmark of any bohemian interior decor style, crochets represent everything about this theme. 
You can buy them from the market or knit one yourself in luminescent colors. From there, it's up to your imagination – hang them by the windowsill or throw them over the couch and the chairs to give your home the aesthetic appeal it needs. 
9. Add a Piece of You 
The Bohemian style is nothing but an extension of your individuality. Simply following theme presets step-by-step is not going to make your home look any better.
The Bohemian vibe will only feel complete when you put a personal touch to your home. 
Add elements that speak about you and let others know that it's really your home. 
Parting Words 
The Bohemian approach to interior design is nothing if not magical. It symbolizes the power of self-expression and individuality, allowing homemakers to shape their homes the way they feel and speak. 
In a world obsessed with modernizing, the Boho vibe can be a sweet reminder of beauty in its simplest, purest form.
FACEBOOK
TWITTER
INSTAGRAM
LINKEDIN
---

I'm so excited to tackle all my home improvement projects! From plumbing to DIY and cleaning - I'm ready to get down to work! #homerepair #homecleaning #plumbing #diy #fixerupper #realestate #renovation #interiordesign #farmhouse #diy #homedecor #hgtv #home #farmhousedecor #modernfarmhouse #farmhousestyle #fixerupperstyle #fixandflip #homerenovation #realestateinvesting #beforeandafter #homesweethome #remodel #realestateinvestor #interior #realtor #joannagaines #flippinghouses #countryliving #design #homedesign #farmhouseinspired #investmentproperty #bhghome #renovationproject #farmhousekitchen #homeimprovement #farmhouseliving #cottagestyle #decor #realestateagent #magnoliahome #homeinspo #magnoliamarket #kitchendesign #dreamhome #shiplap #construction #houseflipping #investor #farmhousedesign #architecture #farmhousechic #homereno #rusticdecor #reno #kitchenremodel #webuyhouses #magnoliatable #rentalproperty #fixerupperinspired #newhome #interiors #homeremodel
---