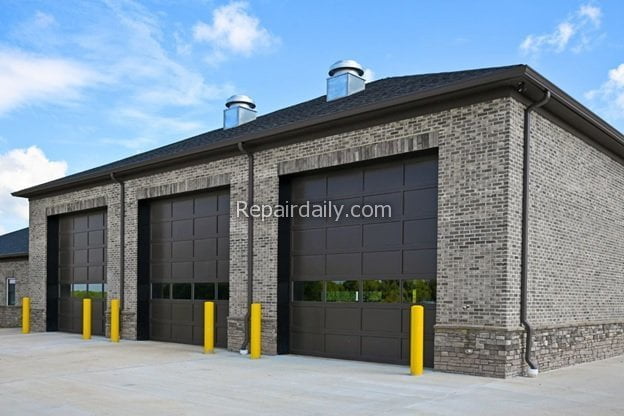 In a variety of businesses, commercial garage doors are essential equipment. It would be best to choose a garage door that will satisfy your company's specific demands most effectively feasible. Finding the right door for your home may be a challenge, but our garage professionals are here to help.
Be sure to think about a variety of things before making a final decision, such as the kind of door, the materials it's made of, how it will be used, and how secure it is.
---
While exploring your options, you may want to look into Garage-related Queries here. Taking the time to think through every aspect of your business's goals and priorities will ensure that your door is safe and useful when it's finished.
Commercial Overhead Doors
1.  Types
Choosing an overhead door for a business building will need research and attention from start to finish. Overhead door standards must be chosen based on the environment and conditions they will be installed. You can get the most out of your investment in an overhead door by taking advantage of the unique features and advantages that each kind of overhead door offers.
To choose the model that best suits your company's requirements, you may consider numerous possibilities, such as:
Sectional: These doors are great for companies because of their affordability and versatility.  They are very long-lasting, and they are fitted with thermal efficiency-enhancing characteristics. Installing them may need a large amount of space, depending on where you live.
Rolling Steel: These doors use interlocking slats that wrap around a hanging barrel to save space if you work in a small place with limited headroom or backroom. Options like this one are long-lasting and secure.
High-Speed: With a speed of up to 54 inches per second, our high-speed versions are perfect for companies that need doors that can be raised and lowered often without breaking down.
Security Grills: Visually appealing security grills protect your company from intruders at night while also providing a sense of security to your customers. While maintaining a high level of security, you may display your facilities.
The overhead door ideal for your business depends on a slew of criteria. Determine how to effectively incorporate the overhead doors into your company by considering door function, purpose, and building limits.
2.  Materials
You have a variety of options when it comes to picking out the material for your garage door in addition to the design. Each material has a distinct appearance, enabling you to choose something that enhances the overall appeal of your organization. However, it would help to consider how the material would be used while selecting.
Steel may be better for those who open and close their door every day.
Aluminum is a good option for doors that don't need to be as durable or resistant to dents and damage as steel.
Consider installing glass above doors to make your company seem more open and welcoming.
3.  Insulation
Your overhead door protects your company from the elements, ensuring the safety of your items and your consumers. Like other kinds of insulation, insulated overhead doors may produce an energy-efficient atmosphere that keeps air conditioning and heat inside while keeping the winter cold and the summer heat out of the building.
An insulated overhead door may also protect your facilities from other types of weather, such as snow and ice. Insulation may extend the life of your door by offering a long-lasting solution.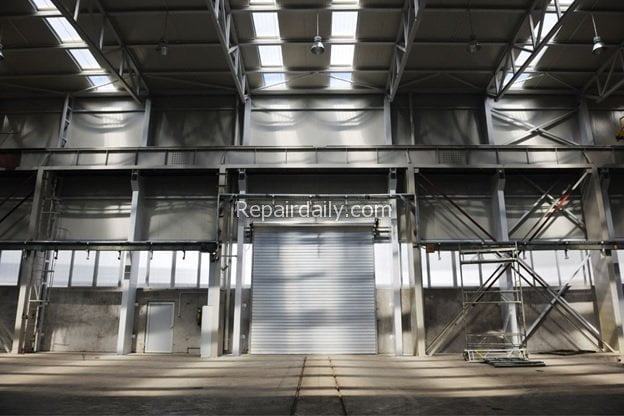 4.  Usage
When selecting an overhead door for your business, you should consider the volume of traffic you deal with. Many shopping malls have security gates that only need to run a few times a day. In contrast, the doors of a body shop or warehouse may open and close a dozen times in a few hours.
Finding out how often you will use your door will help you choose the most suited model for your company. You'll determine whether you need an automatic or manual garage door opener by tracking how often you open and close the door.
If you intend to use your garage door often, you'll want to invest in a long-lasting type that can withstand daily use. In addition to providing convenience, making the appropriate option may boost your company's productivity and income.
5.  Security Features
Customize your doors with robust locks and choose from various choices, including inside or outside positioning and manual or motorized alternatives.
In addition, your door opener may include cutting-edge security measures by automatically engaging deadlocks, scrambling opening codes to avoid accidental cycles, and shutting after a pre-programmed period.
You can be ready for everything that comes your way with a high-quality door that you can personalize to match your security requirements.
Bottom Line
You'll need to consider several considerations when deciding which roll-up door is best for your company. Your firm may benefit for years if you look into all of your possibilities.
Author Bio: Jerry is an experienced handyman who's been working for Best Garage Door & Gate Repair for many years. When he's not fixing garage doors, he likes to share his repair ideas and knowledge with others.