Are you in the market for new kitchen appliances? The variety and selection available can be overwhelming. How can you choose the best appliances for your family and situation? Whether you're doing a full-on kitchen remodel or just replacing your range, you want to be sure you choose correctly- appliances can be one of the most expensive parts of your home.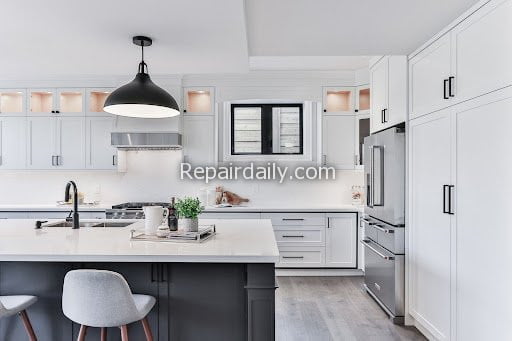 Start With a Plan
The most important part of a kitchen renovation is to have a plan. The kitchen is one of the most practical rooms of the house. Your plan should start from a place of practicality. Everyone has different kitchen uses and needs. What do you use your kitchen for? What do you need from your kitchen in order to best use it?
---
Some families are rarely in the kitchen, and it's used mostly for quick meals and snacks on the run. Other families cook every meal and spend hours a day in the kitchen. Large families have different needs compared with a retired couple. Some people enjoy gourmet cooking and need a kitchen that reflects that, while others have small children and practicality is vital.
When buying appliances, consider your lifestyle as it applies to the finishes you choose. Some finishes are more durable than others. Some require a lot of cleaning in order to look nice. Some show fingerprints, while others dent easily. Consider the durability and maintenance needs before choosing a style.
Select Carefully
Appliances always look good in store showrooms. be sure to also picture them in your house. Will the finish clash with your flooring or cabinets? Will the color open up your space, or make an already small room look crowded? If you want to add value to your home, research which finishes are most in demand.
Appliances also come with a variety of new features, from touch-screen refrigerators to high-tech dishwashers. You should evaluate which features are most important for your family and don't be dazzled by fancy gadgets you won't use. In most cases, simplicity and sophistication are more valuable in the long run.
Measure Everything
When you're buying appliances, it can be easy to forget that they aren't all the same size. While there are some standard size ranges, it's important to know that they are in fact ranges and can vary by several inches. If your kitchen cupboards are too close together for your appliances, you'll scratch them during installation and they possibly won't fit at all. If your appliances are too small for your space, they will leave gaps that are unsightly and impossible to keep clean.
Beyond making sure your appliances fit in their intended location, you should also make sure they are a good size to fit with the look and space in your kitchen. Large appliances can overwhelm small kitchens, so imagine your space with different sizes of appliances.
Use a tape measure to see how tall your refrigerator will be compared with your current one. Measure the depth of your stove and dishwasher to make sure they won't stick out into the room or block any nearby cupboard doors. Imagine where your dishwasher door will open: does it block any cupboards or walkways? Measure your upper cupboard to verify that your range hood height will be correct.
You Get What You Pay For
While a good deal is always tempting, and there can be good reasons to purchase a bargain appliance, it's not always worth it. Your appliances are one of the biggest single purchases in your home, and a bargain that ends up being a bad deal could waste thousands of dollars.
A bargain appliance could go badly in several ways. You could be buying used appliances that have hidden problems. You could buy scratch-and-dent in an appliance store, but make sure you're okay with the location and type of damage. You could go with a bargain set from a box store, only to find out there's no warranty and they don't work very well. While everyone loves a good deal, be careful and don't be afraid to spend more on this important, long-lasting purchase.
Pay For Delivery and Installation
You might be a DIYer who enjoys a challenge but hauling and installing appliances is a tricky job. Besides needing a truck or trailer to haul the huge boxes, they are very heavy and hard to maneuver. Once they are in your kitchen, installation includes plumbing work and possibly connecting gas lines. Some dishwashers are hardwired rather than plugged in. If you aren't knowledgeable and comfortable with this process, have them professionally installed.
Some common mistakes when buying appliances include:
Not focusing on your individual needs

Not planning the layout to fit your space

Skipping measuring

Not centering the cooking area

Buying finishes that aren't suitable for your family

Buying mismatched finishes

Forgetting to relax and have fun!