Your home office should be an extension of who you are, not just a few pieces of furniture in the corner of your house. When decorating, focus on creating an atmosphere that reflects your personality while serving as an inspiring workspace.
Above all else, make sure any changes made to your home office are functional and practical; think about how they will help you stay organized while still making it stylish at the same time. Your home office should be unique, so take this chance to create your space. Please keep reading for our top tips on refining your home office space, from a leather accent chair to new lighting.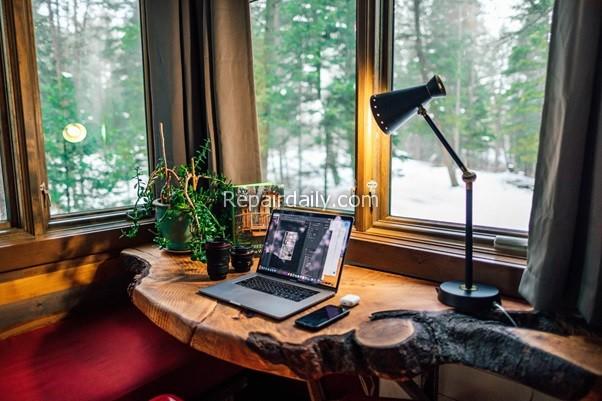 ---
●     Invest in a Quality Desk and Chair
Investing in a quality desk and chair for your home office is essential if you want to be comfortable and productive. A suitable desk will provide enough workspace and storage space and can also be adjustable so you can work at the perfect height. Additionally, it should have an ergonomic design to support your posture throughout the day.
The right chair is just as crucial since most people spend hours sitting while they work. It should be adjustable so you can find the ideal seating position, and it should also have lumbar support and armrests to reduce strain on your wrists, neck, and shoulders. Quality chairs often have strong materials such as leather or fabric upholstering, making them more durable than cheaper options.
Having a suitable desk and chair combination in your home office will not only make it more comfortable but will also make it look more sophisticated. Investing in quality furniture may seem expensive now, but they will last longer than cheaper models, so you'll save money on replacements long-term.
●     Invest in a Pair of Leather Accent Chairs
If you are looking for ways to make your office or home study appear more refined, one way to do this is by investing in a pair of fine leather accent chairs. Leather accent chairs can be a great way to add a touch of modern elegance to any home. These highly durable chairs will instantly elevate the look of your space. They come in a wide range of styles and colors so you'll have no trouble selecting one that best compliments your existing décor. In addition, leather is incredibly durable and will remain timeless for many years if well taken care of.
Leather chairs also provide an instant upgrade to the atmosphere of a workspace. These timeless pieces are versatile, classic, luxurious, and highly comfortable. With so many online options available at a wide range of prices, you can easily find the perfect chair to suit your budget. Shopping online for leather accent chairs can provide numerous benefits.
The aforementioned various colors and styles allow you to find the perfect fit for your space and add a sophisticated flair. For example, a brown leather chair with a classic tufted seat back will bring sophistication to a traditional office space, while brighter colors like red or turquoise can add a bold and modern look.
When choosing leather accent chairs for your home office, it's essential to consider not only the style but the comfort of the piece. Leather seating usually is long-lasting and supportive, so when shopping, test out different options until you find the right fit. The added convenience of having an ergonomic and supportive chair while working in your office will not only improve your productivity but also reduce aches and pains at the end of the day.
Also, shopping online is usually quicker and easier than going into a store; you can do it from the comfort of your home and have the item delivered straight to your door. Finally, since many stores provide product reviews, you can read through customer feedback before purchasing.
A leather accent chair is also the perfect piece of furniture to take your decor to the next level. Not only do these chairs lend an air of sophistication and elegance, but they are also incredibly comfortable and inviting. Unlike many other pieces of furniture, leather chairs have a timeless appeal that will never go out of fashion. Visitors will immediately recognize how tasteful and well-curated your office is when they come into your home. Additionally, leather chairs add an undeniable feeling of sophistication to any office and will impress clients or visitors.
●     Use Lighting to Transform Your Space
Home offices often lack the proper lighting, so choosing the right type for your space is essential. In addition, different types of lighting can create other effects in your office and help you stay productive.
For task lighting, you may consider installing LED under cabinet lights or desk lamps that are adjustable and focused on areas where you work the most. These will provide enough light without blinding you while still keeping it energy efficient. Ambient, mood-setting lighting also helps set the tone in a home office. Consider adding warm ceiling lights and recessed spotlights in strategic places around the room to create an inviting atmosphere.
Don't forget about natural light sources such as windows; optimizing these can help reduce strain on eyesight and improve productivity. Having multiple types of lighting in your home office can completely transform how you feel about working from home; it will be more comfortable and make your workspace look great. With just a few amendments to your existing setup, you can easily make sure any home office feels like a professional environment.
Wrapping Up: Look Online To Create A Sophisticated Home Office
By making a few critical investments in your office furnishings, you can take your business to the next level of sophistication and professionalism. A quality desk and chair, a pair of leather accent couches, and some well-chosen lighting fixtures can make all the difference in how clients perceive your company. If you're ready to take your home office to the next level with increased comfort and refinement, look online for many fabulous and luxurious options.
FACEBOOK
TWITTER
INSTAGRAM
LINKEDIN

I'm so excited to tackle all my home improvement projects! From plumbing to DIY and cleaning - I'm ready to get down to work! #homerepair #homecleaning #plumbing #diy
---
---
---