Moving to a new place can be exciting. Meeting new friends and living in a new environment can be fascinating. However, the moving process can sometimes be tedious, especially if you have several heavy items. While most things can be easy to pack and move safely, other belongings, like large furniture, can be challenging and require special handling and protection during transportation.
These items are fragile, and without proper care and the right tools, your furniture can be scratched or even break before reaching its destination. As such, you must offer the utmost care and protection for these items. Luckily, there are various things you can do to secure your bulky furniture during transportation. Read on to learn how to keep large furniture safe while moving.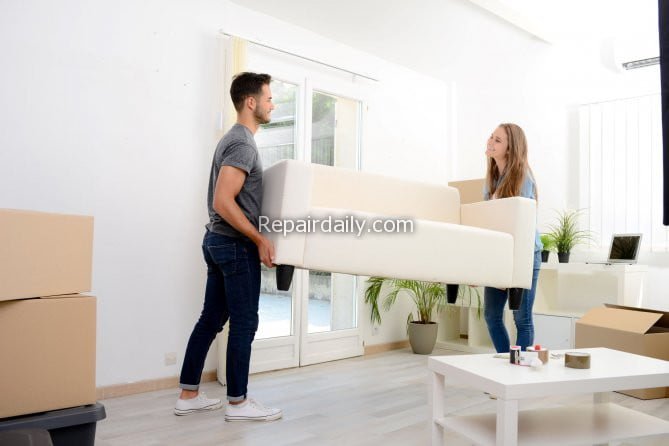 ---
1. Hire The Appropriate Shipping Container
Undoubtedly, shipping containers make your moving process less stressful than other methods. They offer a massive loading capacity that can accommodate all sizes and shapes of items. It ensures that you transport all or most of your large furniture in one container. Shipping containers are also more cost-effective than other alternatives. And they're very flexible. Most shipping companies will enable you to store your items in their storage facility until your new home is ready. Lastly, they're more secure as they can withstand extreme weather conditions.
However, various container sizes are available. Therefore, ensure you select the correct shipping container hire to accommodate all your large furniture.
2. Acquire The Appropriate Moving Equipment
Loading and unloading heavy furniture can be challenging. However, with the right moving equipment, you're sure you can safely lift your furniture onto your moving truck and unload it securely at your destination. Some of the tools you can acquire are:
Furniture dolly: Dollies are vital when moving your furniture to and from the truck. They're four-wheeled and flat, making transporting bulky and oddly-shaped items much smoother.
Sliders: Sliding large furniture over the floor can be much easier than heaving them. Furniture sliders are plastic materials that slide under your furniture, protecting its bottom edges from damage.
Lifting straps: Another crucial tools are the lifting straps. These offer better grip control ensuring the furniture doesn't fall off and break.
Moving or furniture blankets: Moving blankets are heavy-duty blankets that protect your furniture against damage, scuffs, and scratches. They also keep it free of dust and dirt while moving.
Cardboard sheets: These protect your furniture corners and edges and glass furniture.
Stair rollers: Moving heavy items downstairs can be daunting. These moving tools will help you seamlessly roll your large furniture down the stairs. However, using stair rollers can be risky, especially if you don't know how to control the furniture down the steps.
Using the right moving tools can lower your moving costs. With them, you can move large furniture securely and minimize the risk of damaged items.
3. Clear And Clean Furniture
Transporting empty and clean furniture is more secure than transporting it with its contents. That's because empty furniture is lighter and easier to move. Additionally, there's no risk of the items falling off when moving and damaging your furniture. Therefore, ensure you take out all items in your furniture and pack them differently.
On the other hand, cleaning enables you to remove debris that can graze delicate furniture surfaces. Additionally, it allows you to remove dirt and dust that can settle on your furniture and cause a permanent stain.
4. Dismantle Furniture
Another significant way of keeping large pieces of furniture safe while moving is to disassemble them. It makes them lighter, smaller, and easier to move. Additionally, it lowers the chances of your furniture breaking during transportation. You can start by removing the furniture's legs. For instance, you can remove your sofas, beds, tables, legs, and moving parts. It enables you to move lighter and smaller frames.
Remember to properly pack and label the disassembled pieces to avoid confusion and frustration while assembling them in your new home. For items you can't dismantle, such as drawers, ensure you tape them well to prevent them from opening while in transit.
5. Wrap Furniture Properly
Wrapping your furniture appropriately protects them during transportation. It ensures that all fragile parts are covered, and any minor collision can't affect them. To wrap your furniture:
Pack sofas in a specially made plastic cover to protect them against stains and moisture. Alternatively, you can use plastic shrink wrap.
Cover glass tabletops in furniture blankets and place them in cardboard boxes
Cover all wooden furniture with a moving blanket. Consider using corrugated cardboard sheets between pieces of furniture since it provides additional protection and inhibits rubbing and scratches while the parts are on the truck.
Remember to wrap the disassembled pieces and clearly label all boxes for easy identification as you reassemble your furniture in your new place.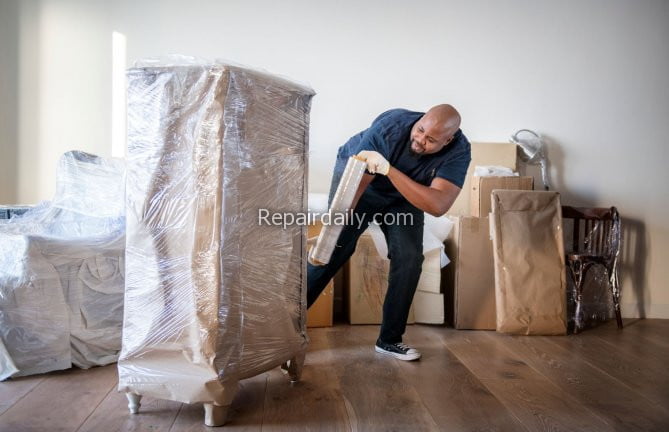 6. Apply The Right Lifting And Carrying Approach
You reduce the risk of damage to your large furniture by using proper lifting and carrying techniques. Additionally, you protect yourself against personal injuries. Therefore, lift with your legs as you keep your back straight when lifting heavy furniture. Also, set your legs shoulder-length apart while bending your knees. Finally, carry the furniture close to you and avoid twisting your body while moving. When you apply the proper method, you minimize the risk of dropping your furniture and damaging it.
7. Fasten Your Furniture Well
Fastening large pieces of furniture during transit ensures they don't shift or bump into each other. Additionally, it protects them from being ejected due to high-speed turns or unexpected stops and starts. You can use tie-downs in the truck to fasten your furniture and prevent it from dropping or shifting when moving into a new home. Aside from that, tying down saves you the trouble of recovering ejected items on a busy road.
8. Position Your Furniture Properly In The Truck
Another thing that impacts the safety of your furniture during the transportation is how you position it on the moving truck. When loading your furniture into the vehicle, ensure it's balanced and free from shocks and vibrations. The heaviest pieces should start at the truck's bottom to avoid breaking smaller parts. Additionally, provide to position these parts near the front of the car to prevent the cab from being back-weighted and impacting the power steering. Aside from that, distribute the weight equally from side to side to avoid instability.
Conclusion
Moving large furniture is one of the significant challenges most movers experience. However, this shouldn't be tedious when you know what to do. When you know how to lift and carry them, have the right tools, and secure them well, you won't find any difficulty during transportation. Additionally, with the proper shipping container, you can be sure your furniture will reach your home safely.
FACEBOOK
TWITTER
INSTAGRAM
LINKEDIN

I'm so excited to tackle all my home improvement projects! From plumbing to DIY and cleaning - I'm ready to get down to work! #homerepair #homecleaning #plumbing #diy
---
---
---