The HVAC system is such a crucial necessity, yet it is easily overlooked until it breaks down. They are an all-year-round necessity in the home, since they provide heat during the bitter cold of winter and cool during the heat of summer.
HVAC means Heat, Ventilation, and Air Conditioning system. The air return, exhaust outlets, electrical elements, filter, outdoor unit, compressor, ducts, coils, and blower are the nine main sections of an HVAC system. HVAC systems are mechanical ventilation systems used to regulate indoor air quality and temperature levels of an indoor environment or space. They are designed to move air, to put it simply.
The system's mechanism moves warm air in or out of the indoor space. In addition to that, the system helps to improve the quality of air being fed into the room, using installed air filters that remove dust and particles from the air, as well as other air quality products such as air purifiers, humidifiers and dehumidifiers, which in turn, enhance indoor comfort.
---
As a result of their all-year-round necessity, HVAC systems tend to undergo a lot of strain, leading to breakdowns when proper maintenance routines are not practiced. Like in every other mechanical system, routine HVAC maintenance checkup from experts like Professional Heating Cooling helps detect faults sooner, prevents possible breakdown, lowers repair costs, and extends the HVAC system's lifespan.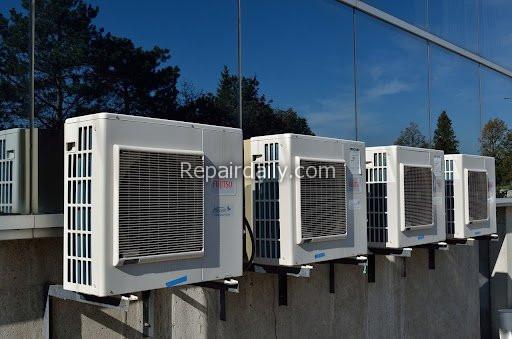 When you want to install a new HVAC system or need to conduct maintenance checkups, you probably should consider paying for the services of a qualified technician from a repair company. The technician will evaluate the indoor space and its requirements and help choose the best system to suit those requirements. You can also contact HVAC Repair Harford County, which offers installation, maintenance and repair services for HVAC systems.
An HVAC system consists of three major units; the cooling unit, the heating unit and the air duct. First, the air conditioner, furnace and heat pump create the heat, then the blowers and air duct move the air. HVAC systems vary depending on many factors such as the temperature requirements of the indoor space, preference of the inhabitants, energy optimization, climate, as well as other factors. There are many types of HVAC systems, but the most popular ones include:
Split system: The forced-air system has one unit inside the home and another outside. The system consists of a furnace and air conditioner, a heat pump, an air handler, and a heat pump. The furnace and heat pump setup is best suited for very cold climates.

Hybrid heat pump: This system uses a central heating mechanism that uses an electric heat pump that works in conjunction with a furnace. Each of these units switches functions depending on how cold the weather is. The hybrid heat system, also known as the dual-fuel system, saves energy bills as it costs less to heat an indoor space with a heat pump than with a furnace.

Packaged system: This system contains the same basic components as a split system but has all its units installed outside. This type of system is best suited for rooms that do not have the space for a heating unit. The packaged system comes with its advantages too. They're quieter because all units are installed outdoors, and they're also cheaper to install.
Here are a few maintenance tips for your HVAC system to prevent costly damage.
Clean or change the dirty air filters regularly

Clean the drain lines

Keep the outdoor unit clean

Get a smart AC controller

Clean the condenser or heat pump.

Regular professional maintenance checkups
FACEBOOK
TWITTER
INSTAGRAM
LINKEDIN

I'm so excited to tackle all my home improvement projects! From plumbing to DIY and cleaning - I'm ready to get down to work! #homerepair #homecleaning #plumbing #diy
---
---
---