Creating a moss wall art piece can be an incredibly rewarding experience. It makes for an interesting conversation piece in any space, and creating living plant art can also be a therapeutic, mindful task. To do it right, pick a spot on the wall that receives some natural light, select a species (or mix) of moss that is robust enough to survive in your climate and thrive there — and then get creative with the arrangement! Whether you go with a design such as geometric shapes or let nature flow freely, the results will be beautiful!
According to Terra Design, adding a moss art wall to your home or workspace is a simple and convenient way to bring the natural beauty of nature indoors. These calming, eco-friendly art pieces require zero maintenance and are perfect for those with plant allergies.
To get started, you'll need a moss frame with some backing and accessories from driftwood, pebbles, rocks, or twigs to attach your moss. Some people also use wood to add a 3D structure to their work of art.
---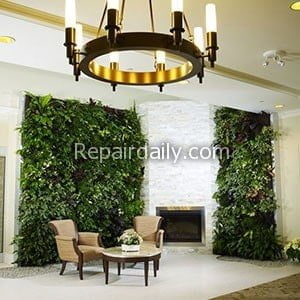 Framed Moss Wall Art
Moss wall art is a beautiful and unique modern green decor solution that works well in homes, offices, or commercial spaces. These natural framed wall art pieces are lightweight, easy to install, and require minimal maintenance.
These framed wall art panels come in various heights, colours, and textures to create a one-of-a-kind look for any space! Choose from preserved moss, living moss, or natural sheet moss.
Preserved moss is preserved with natural glycerin that does not need any watering or maintenance, making it an excellent choice for those looking to save money on indoor plants.
Unlike live moss, preserved moss does not have to be cared for or trimmed and does not attract dust.
Adding any natural elements like acorns, mini pine cones, driftwood, nutmeg, and other decorative pieces can help to add more texture and intrigue to the finished work! These can be added after your moss has been put in the frame.
Preserved Moss Wall Art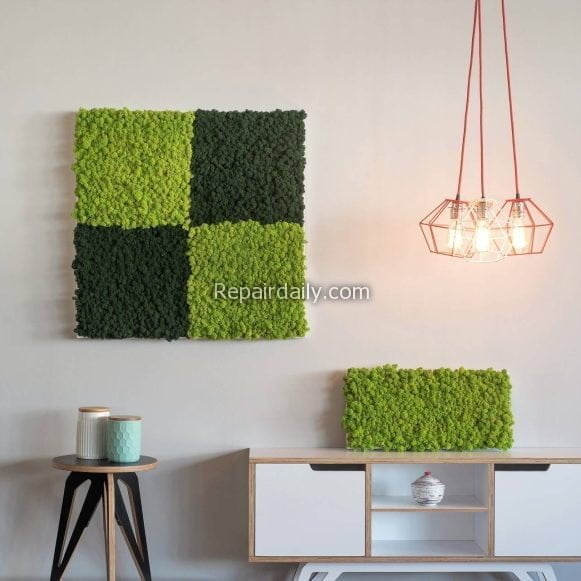 Moss wall art is a natural and organic way to add depth and texture to your home. Whether you want to create a green wall in your living room or soften up the walls in your entryway, moss is a great choice.
You can use a few different moss types for your art. These include preserved moss, cushion/mood moss, and sheet moss.
Preserved moss wall art is an excellent option if you're looking for a permanent moss wall but don't want to commit to the upkeep of a living moss wall. Because a preserved moss wall doesn't need to be watered or fed, it's less heavy than a living moss wall and can be installed in more places.
Another benefit of a preserved moss wall is that it doesn't attract insects. It's also easier to clean than a living moss wall since it has no soil. It's ideal for busy homeowners not interested in caring for a live moss wall.
Living Moss Wall Art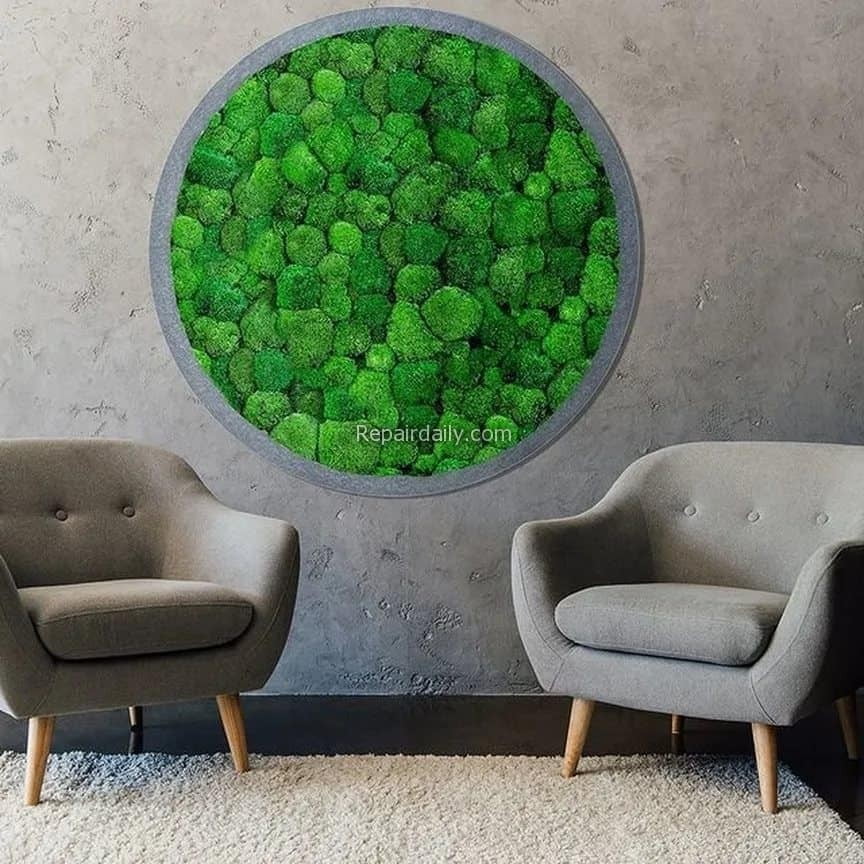 A living moss wall is a great choice if you're looking for an eco-friendly, low-maintenance way to add greenery to your space. These pieces are self-sufficient and require no watering, although you can occasionally spritz them with a little water to maintain their beautiful lustre.
Depending on the type of moss, these walls can live for up to 25 years if cared for properly. But that comes at a cost: a lot of time and effort to water them, fertilise them and provide natural light or artificial grow lights.
These moss walls can be hung vertically or horizontally, and they're perfect for anyone who wants to add some greenery to their home without all the work that comes with having real plants. They're a wonderful way to make your space feel more cosy, welcoming, and unique!
Moss Wall Frames
Moss art wall frames are a great way to add natural greenery to your home. You can hang them up virtually anywhere inside your house.
They also come in different shapes and sizes, so you can choose what moss to put in your frame. Mix and match a few different moss types to create your unique design!
These framed moss wall art are also easy to install. They can be hung with nails or wire and used as a bedroom headboard or as a decorative piece on a tabletop.
They are also a convenient option for people who don't have much space for a living wall in their homes or offices. These frames can be hung on vertical or horizontal walls and do not require additional lighting, so you can use them wherever you want!
Conclusion
To conclude, moss art walls are a wonderful way to add beauty and life to any space in your home. They are a unique and low-maintenance alternative to other artwork, can drastically improve your home's atmosphere, and give you an easy way to express yourself artistically. Not only do they make a statement, but moss art walls are also timeless, as they can last for years with proper care. When making your moss wall art, be sure to use real plants so that the colours have more subtlety and variety; these colours will bring out the bright foliage of your living green wall even more. Be mindful that natural sunlight is essential for the moss if you're displaying it indoors, so remember to install LED lamps near the piece to supplement its light needs. Once it's all setup, enjoy the vibrant addition of your custom-made moss wall art!
FACEBOOK
TWITTER
INSTAGRAM
LINKEDIN

I'm so excited to tackle all my home improvement projects! From plumbing to DIY and cleaning - I'm ready to get down to work! #homerepair #homecleaning #plumbing #diy
---
---
---