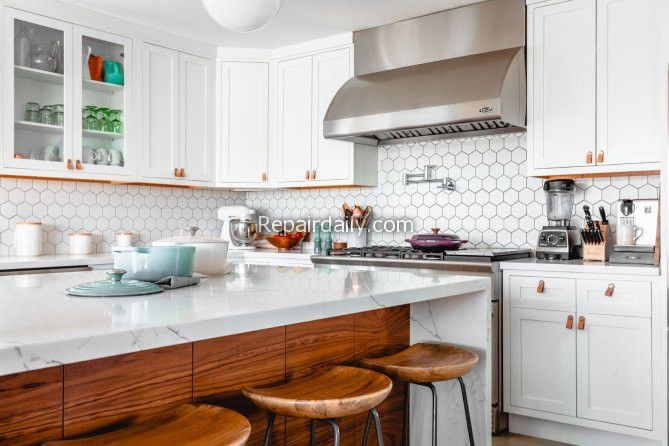 Designing a stylish kitchen doesn't just mean choosing the right appliances, bar stools, and tables; rather, it means selecting appropriate kitchen counters, cabinets, and other elements to turn an ordinary kitchen into a spectacular one.
Off white quartz countertops are one of the popular ways to add a decadent style to the kitchens. In fact, white-on-white is gaining a lot of popularity nowadays.
---
If you are someone who enjoys a symmetrical, consistent look, white-on-white is perfect for you. Do you need creative ideas for off white countertops? If yes, this post is for you. We will share some timeless design inspirations for your dream kitchen.
Let's explore the possibilities!
Reasons to invest in off white quartz countertops
Quartz is one of the best options for off-white kitchen counters as it is low maintenance. Since quartz is a manmade material, it offers some extraordinary benefits that include:
Great strength
No sealing required
Scratch resistance
Easy to clean
Reasonably priced
However, it's suggested to ensure investing in decent quality off-white quartz countertops; otherwise, it may not last long. There are several reputed quartz countertop manufacturers, like Caesarstone, that provide you with durable counters in several attractive colours, patterns, and veining options.
Why is off white a popular choice for countertops?
The trends for dark and earthy tones keep on changing, but nowadays, most homeowners prefer timeless looks. Therefore, homeowners prefer off-white and bright white tones that don't lose their charm and can be easily combined with other pallets. Since the kitchen counter is one of the central elements, it should look the best but without being flashy; therefore, opting for off-white helps create a soothing effect.
The best thing about the off-white counters is the ease of pairing them up with any kind of cabinetry, flooring, backsplash, and other accessories.
Want to display vibrant cobalt blue elements on your kitchen cabinets? Off-white works. Want to have antique brass accessories? Off-white works with brass, too.
The ideas to design your kitchen with off-white counters are endless. No matter what you purchase for your dream kitchen, they can save you from that unpleasant buyer's remorse.
Design ideas for off white quartz countertops
1.    Waterfall quartz countertops
Waterfall off white quartz countertops have become a staple in contemporary cooking spaces. Interestingly, these countertops are versatile and can complement any kitchen design. In this design, the counter material on the top surface is extended down to the floor. It also helps protect the cabinetry from the sides.
2.    Quartz countertop with an island
It is a wonderful idea if you need some extra storage in your kitchen. However, it is suggested to introduce some texture or pattern to the island or the off white quartz countertops to diversify your design. You can design the island for a variety of purposes, such as a dining bar, cooking or chopping area, etc.
3.    Rounded kitchen islands
Do you want a design that's extremely unique? If yes, you can opt for rounded kitchen islands with quartz counters. However, this design is more appropriate for larger kitchen spaces.
4.    Modern farmhouse kitchen
You can create a cozy farmhouse-themed kitchen with a combination of off white quartz countertops, shaker cabinets, and white subway tiles. You can enhance the look with dark wooden flooring and chairs.
5.    Open shelving
This is an economical option for upper cabinetry, which will help keep everything within your reach and sight. Moreover, if you go for items with a rose gold accent to display on the upper shelves, they will complement your off-white cabinets perfectly.
6.    Experiment with shapes instead of color
If you don't want to compromise on your off-white pallet, then playing with different shapes will be your best option. A few examples include triangular-shaped subway tiles, an off-white round island with a counter, industrial white pendant lights, etc. These unique shapes will allow you to add visual interest to your space.
7.    Tile your kitchen floor
Want to create a fun kitchen? Go for a graphic tiled floor that can perfectly accent the off-white quartz counters. Moreover, you can match the print of tiles with existing kitchen décor and other materials.
8.    Jazz it up with natural light and greenery
If you have some greenery right outside your kitchen, then choosing a large wall of windows will make your space feel refreshing. Moreover, there will be an ample amount of natural light, which will jazz up your off-white kitchen counters like no other. To give a more designer feel to the space, go for unique pulley lights, flower pots, weaved chairs, and an antique dish rack.
9.    Create a blend of traditional and industrial kitchen
Off-white waterfall kitchen counters paired with a gray island, industrial bar stools, and pendant lights help create traditional industrial vibes in your kitchen.
10.   Divide the colour scheme
Go for an off-white kitchen space in essence, but you can make it more interesting by introducing some bolder shades at the bottom. Keep the walls and worktops in an off-white scheme to open up the cooking space, but you can spice it up with dark base cabinets, such as dark gray or black.
Another way to add some interesting elements to your kitchen is with bold yellow or cobalt blue chairs. A printed rug will also work if you want an economical option.
11.    Paint it citron
Do you want your kitchen space to reflect high energy? If yes, introduce citron colour to your backsplash.
Alternatively, you can update your backsplash with citron subway tiles. Citron will contribute to the off-white quartz counter's modern aesthetic. In addition, you can go for the stainless-steel cabinetry to achieve a sleek, contemporary look.
Takeaway about off-white countertops
A countertop covers a large area in a kitchen, so it's important to choose the right design which goes with all other elements in your kitchen.
However, an off-white counter goes well with almost every colour scheme and lets you display your creative side. In addition, off-white counters help increase the resale value of your home.
There are endless ideas for making your kitchen look aesthetically pleasing without compromising its functionality. Follow our off-white quartz countertop ideas as shared above to bring life to the ordinary kitchen.
Good luck with the new off-white kitchen!
FACEBOOK
TWITTER
INSTAGRAM
LINKEDIN

I'm so excited to tackle all my home improvement projects! From plumbing to DIY and cleaning - I'm ready to get down to work! #homerepair #homecleaning #plumbing #diy
---
---
---