When designing humble abodes, most people concentrate on what happens inside. After all, interiors can make quite a lasting impression. But, once you've mastered that, it's time to reevaluate what's going on outdoors.
It's essential to consider it these days when any social gathering is more than likely to occur outside. Every outdoor space, be it around the fireplace or even a balcony, seems to be an opportunity to create a warm and inviting ambiance—and that involves paying attention to the lighting.
---
Exterior Lighting Tips And Tricks
Even a narrow, out-of-the-way space can appear nearly mystical with the appropriate lighting. Lighting can do the trick, whether you have an expansive poolside area, a newly-built patio, or a backyard sanctuary you want to beautify. And for that, here are some tips you can try to transform your outdoor place:
1. Decide On A Lighting Style
Do you want your outdoor lights to have the same style as your indoor lights to tie the two together? Or maybe you have a distinct architectural home exterior that you'd want to emphasize instead. Others prefer to go for a minimalist look where the fixtures nearly vanish. Either way, you can achieve this with proper planning and research.
Lighting designs range from French Provincial to Cape Cod and Modern and Art Deco, to name a few, just like furniture and outdoor décor. In recent years, the most significant advancement is that technology has allowed external lighting to become as varied and creative as indoor lighting systems. As a result, you're sure to accomplish your preferred outdoor lighting style.
If you live in Massachusetts, you can call a reliable electrician in your area, such as Wallace Electrical Co, to discuss the lighting style you want to achieve. If you're not entirely confident in your electrical skills, working with a professional might be better to ensure safety.
2. Look Beyond The Aesthetic Appeal
Simply walking around your house at night with a flashlight is a brilliant place to start. Look into the areas you want to illuminate for added beauty and enhanced security. Consider the different forms of light, just like you would with indoor lighting–ambient tasks, which could help you in doing tasks like preparing and cooking meals.
For instance, consider accent lighting to add highlight and drama to architectural or landscape features. Take note of areas that could significantly benefit from outdoor lightings, such as flagpoles, garage doors, patios, pathways, grilling area, the front door, pool, and driveways.
As you identify certain spots that need illumination, now's also the right time to check beam angles. Direct lighting isn't always the ideal option because it can shine in people's eyes, so diffused or ambient lighting may be a preferable choice.
3. Know The Right Fixture To Install
Knowing the proper fixture to install in specific areas of your outdoor haven can ensure you won't be putting uncomfortable and harsh lighting. For example, backyard lighting should be balanced yet cozy rather than overbearing and distracting. Floodlights may not be the ideal fixtures for this particular spot. Instead, you can consider the post, wall, and ceiling-mounted lights for better illumination.
Outdoor wall lights can be installed on the front porch, the sides of your house, and in the back to illuminate the areas you might need to walk through at night or dissuade burglars. If you have a bigger home and outdoor space, it might take more than one outdoor light fixture to serve the purpose. You can consider wall lanterns and motion lights for backyard lighting.
If you have a rear-covered deck or patio, you can install an outdoor ceiling fan with light fixtures to brighten up the spot and keep it fresh during hot summer days. This simple trick can instantly create a cozy place for outdoor parties, intimate dinners, and barbecue nights with your family and friends.
4. Elevate The Ambiance With Mood Lights
Mood lights are becoming increasingly popular nowadays because they can make your outdoor space more welcoming. You can consider this type of lighting near the pool or in and around your patio. Consider a string of lanterns, LED strips, or color-changing lights for extra warmth and appeal. Mood lights instantly calm people's minds and invoke a more inviting vibe.
Adding or installing some outdoor lamps may also liven up the mood and create a relaxed atmosphere when you only want a lower light level. If you prefer to do it yourself, you can use a landscape lighting kit. Typically, these kits include a few ground spotlights threaded on a separate cord. You can arrange the lighting kit in your garden to create dramatic shadows or around your patio for a more festive ambiance.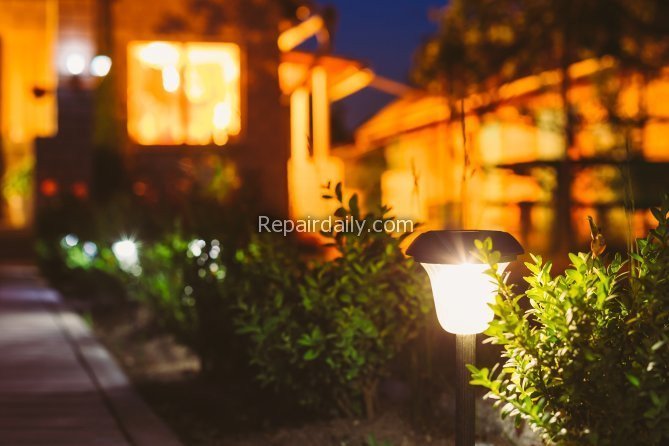 5. Add A Festive Vibe Using String Lights
String lights are more than just a Christmas decoration nowadays. You can place them between trees, walls, and posts to add a more festive vibe. Since these lights are waterproof, they're ideal for use on your deck, patio, or by the pool area. String lights are durable and easy to use, as they only require plugging into an electrical outlet.
These lights are practical for parties and intimate gatherings at home. You no longer need to worry about how you can beautify the space, and they're also energy-efficient, mainly if you go for LED string lights. You can also connect multiple sets of string lights to create a chain, as long as it's within a specific safe limit. Doing so will allow you to extend the outdoor string lighting even further. Outdoor string lights can give any outdoor space a festive, almost magical appearance and feel.
Conclusion
Outdoor lighting is a practical yet magical way to elevate your entertainment area while keeping it safe and secure. If you've been spending more time hanging by the pool area or eating outside, investing in decorative and functional lighting fixtures is surely a great move that can benefit you in the long run.
An outdoor space is no longer just creating a spot for a picnic table and a small grill. It's now a multi-functional space accommodating food prep and cooking while also sizable enough for lazing around and dining. Creating these areas and designing enhanced lighting schemes around them can significantly increase the value of your home and provide years of fun and entertainment for your family.
Author Bio:
Shane Woodland is an interior and exterior designer who loves to write blog posts for homeowners. Since the pandemic started, Shane has dedicated much of her content to readers looking for valuable insights on home design and transformations. Shane likes to go to the beach and read books in her free time.