Safety railings are an important feature of warehouses, but not all warehouses require them. Safety railing systems for rooftop fall protection for construction employees are an important safety measure for rooftop projects. They can be temporary or permanent, and they are OSHA-compliant. In addition, installation can be done in as little as an hour by two workers. Depending on the project, rooftop fall protection may be necessary for several reasons.
Types
There are many types of safety railing systems for warehouses. They serve several purposes, including defining off-limits areas and containing dangerous equipment. They also improve safety on mezzanines and help guide the transport of products by conveyors. Additionally, these systems offer a clear guide to staff and visitors navigating the warehouse.
---
Aside from ensuring employee safety, these systems can improve productivity in a warehouse by separating restricted areas. These systems can also prevent damage to inventory and equipment. You should invest in regular maintenance and inspections to ensure your warehouse guardrails are in top condition. Checking for guard rail integrity is crucial to the safety of your employees.
Height
Proper safety railings are crucial for warehouses, particularly those with multiple levels. In addition to guardrails, warehouses also need to incorporate ramps and mezzanines. The handrails should be made of solid steel or thermoplastic polyethylene to ensure their integrity and compliance with OSHA standards. The rails should also be highly visible to prevent falls and collisions.
The height of safety railing systems for warehouses should be appropriate for the amount of traffic and equipment the warehouse receives. For example, guardrails around machinery need to be over 44 inches high. However, barriers for directing traffic do not have height restrictions. A reliable supplier can tailor a safety railing system to fit a warehouse's unique needs.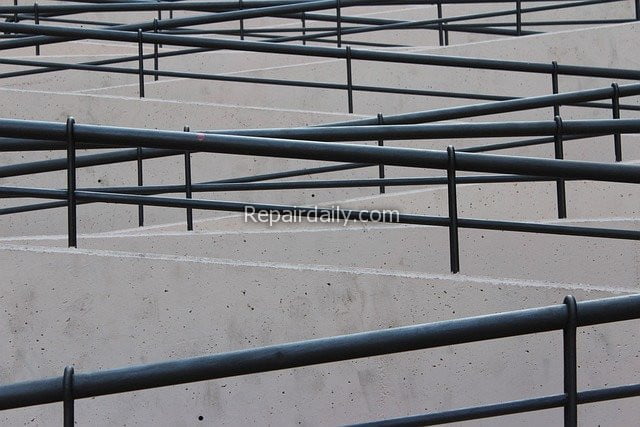 Maintenance
If you're running a warehouse, maintaining safety railing systems is important to protect employees, prevent accidents, and improve workflow. Following OSHA guidelines is key to ensuring that your warehouse's railings are up to code. Keeping your guard rails in good shape is also important, as broken or damaged ones can slow down logistics and lead to thousands of dollars in lost productivity every hour.
Fortunately, you can take several simple steps to ensure your warehouse guard rails remain in good condition. First, you should assess your current set-up and consider any potential improvements. Once you've done this, you can select ideal new assets for your warehouse and secure professional installation and maintenance.
Warning line
A warning line is a safety railing system that prevents workers from falling from a rooftop to a lower level. It consists of uprights, top and mid rails, and mesh between the top rail and the working surface. It must have a breaking strength of at least 200 pounds for construction activities.
A warning line is required for workers working on a roof that is not properly protected by a guardrail system or a safety net. An employer must implement a rule prohibiting employees from working beyond the warning line. This requirement applies even to residential construction.
Warning lines must be mounted at an appropriate height. This is accomplished by ensuring the length of each warning line is at least 20 feet. A warning line must also be sturdy enough to resist tipping when a force of 16 pounds is applied. In addition, the warning line must be rigged such that its lowest point is at least 36 inches off the surface.
Warning lines are good for roofing work on low-pitched or leading-edge rooftops. Because the lines are visible, workers are alerted of any unprotected areas. However, warning lines are not enough to prevent workers from falling. They work best as part of a complete rooftop fall protection system.
Versa-Clamp temporary guardrail system
The Versa-Clamp temporary guardrail system is a versatile safety system that can be used for various applications on various rooftops, including parapets, concrete slabs, and more. 
This system is designed with full-perimeter fall protection, allowing 100% watertight installation under most standard roofing and perimeter edge details. Because it does not penetrate the roof, this system can be installed before construction or even left in place for complete roof replacement. In addition, it meets and exceeds OSHA standards and the International Building Code for roof safety.
The Versa-Clamp is a modular system with a simple, quick installation process. Its adjustable mounting brackets can be easily installed on flat/low edges, over gravel stops, or concrete slab overhangs. Its double mounting sockets allow it to be easily adjusted vertically and to rotate around a post. Its versatility is unparalleled, and it is available in various powder-coated colors.
A versatile system for fall prevention is a must for construction workers. Whether working on a rooftop or in a warehouse, guardrails can protect your workers from falling. 
FACEBOOK
TWITTER
INSTAGRAM
LINKEDIN

I'm so excited to tackle all my home improvement projects! From plumbing to DIY and cleaning - I'm ready to get down to work! #homerepair #homecleaning #plumbing #diy
---
---
---