The Samsung Frame TV is a revolutionary device that has revolutionized the home entertainment experience since its debut in 2017. It was first unveiled at the Consumer Electronics Show in Las Vegas and quickly gained recognition for its sleek design and innovative features.
The Frame TV combines the traditional television experience with modern art, allowing users to display artwork or photos when not in use. It has several pre-loaded art pieces from well-known artists, or you can upload your pictures to make it truly unique. The Frame TV also comes with a motion sensor that turns the artwork on and off, depending on whether someone is in the room.
In addition to its aesthetic appeal, the Frame TV also packs a punch in terms of technology. It has an ultra HD LED screen and 4K HDR picture quality, making your favorite shows or movies look better than ever before. It also comes with the Samsung Smart Hub, which allows users to access streaming services like Netflix and Hulu or browse through the internet as they would on their computer. It even has voice recognition, so you can control the TV with your voice.
---
The Samsung Frame TV is the perfect way to enjoy television modern and stylishly. With its stunning design and powerful features, it's sure to be a head-turner in any home.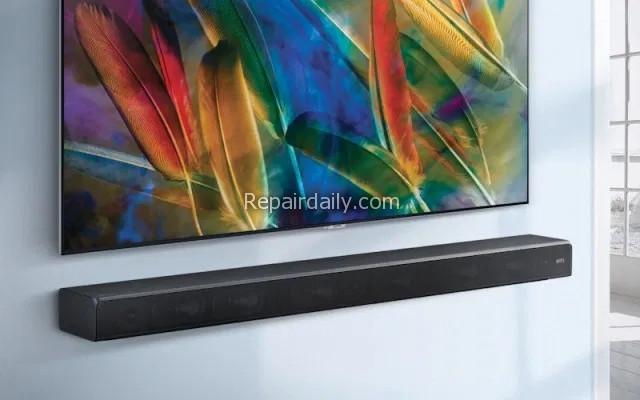 Why Choose Samsung Frame TV?
The Samsung Frame TV is an excellent choice for those looking for a modern, stylish way to enjoy their favorite shows and movies. Using a modern style for TVs is great because it allows you to combine the traditional television experience with modern art, making your home entertainment system more personalized.
You can choose artwork or photos to display when not in use, creating a truly unique look and feel for your room. Additionally, modern-style TVs often come with powerful technology features like ultra HD LED screens and 4K HDR picture quality so that you get an immersive experience from your favorite shows and movies. Finally, many of these TVs come equipped with voice recognition, allowing you to control functions on the TV using only your voice. All of these features make modern-style TVs an excellent choice for anyone looking for an updated home entertainment system.
Ultra HD LED Screens and 4K HDR Picture Quality
Ultra HD LED screens and 4K HDR picture quality are two of the most advanced technologies available in modern television sets. Ultra HD (UHD) is a resolution that is four times greater than traditional HDTV with 3840×2160 pixels. This resolution provides an incredibly sharp and detailed image with even more color depth than HDTV. UHD TVs also have higher contrast ratios and wider viewing angles, allowing for better picture quality across the whole screen.
4K HDR (High Dynamic Range) is an enhanced color technology that produces richer colors with greater detail than standard HDTVs. It uses a combination of extended dynamic range and a wide color gamut to create improved image quality with better contrast and more realistic colors. This technology ensures that you get the most out of your movies, shows, and games while enjoying a more life-like picture with greater clarity and depth.
Voice recognition
Voice recognition is a technology that allows users to control their TVs with voice commands. This allows users to search for movies, shows, or apps by simply speaking into the remote control. It also gives users more options when it comes to controlling the TV's functions, such as changing channels and adjusting volume levels. Voice recognition often uses artificial intelligence (AI) technology to interpret user commands accurately and respond accordingly. Many of today's latest televisions come equipped with this feature, allowing users to interact with their TVs in a more natural way than ever before.
Styling Up Your Samsung Frame TV
Designing your Samsung Frame TV is easy and can transform your viewing experience into a unique, personalized one. Start by choosing the perfect size for your space; the Screen Size selector helps you find the right size for any room. Samsung's range of Frame TVs comes in sizes from 32″ to 75″, giving you plenty of options to choose from.
Once you have chosen your TV size, it's time to pick the perfect artwork or photos. Samsung offers over 1,200 pieces of art and photography that can be displayed on the Frame TV when not in use, adding a personal touch to your living room. You can also upload your own photos to the TV, creating your very own custom on-screen gallery.
Buying TV frames to design your Samsung Frame TV can be a great way to customize the look and feel of your home entertainment system. With the right frame, you can bring out the beauty of your TV while also accentuating the room's other decor.
When looking for chic TV frames to buy for your Samsung Frame TV, one option is the Woodgrain Standard Frame. This frame has a modern, curved design with sculpted edges that adds a stylish touch to any home entertainment system. The frame is made from solid wood and is available in multiple colors, allowing you to customize the look of your TV to match your décor.
For a more traditional look, you can choose the Vintage Classic Frame. This frame is crafted from solid wood with an antique finish and comes in multiple sizes, making it ideal for any room's style. With its classic design and timeless finish, the Vintage Classic Frame will add a touch of sophistication to your living room.
Another great option for your Samsung Frame TV is the Contemporary Matte Frame. This frame features a sleek, modern design with clean lines and no visible screws or nails. Its matte finish gives it a contemporary look that will add an edge to any living room. The frame is also lightweight and easy to mount, allowing you to install it quickly on your wall.
With so many choices available for your Samsung Frame TV, it's easy to find the perfect frame to match your style and transform your viewing experience into a personal one.
FACEBOOK
TWITTER
INSTAGRAM
LINKEDIN

I'm so excited to tackle all my home improvement projects! From plumbing to DIY and cleaning - I'm ready to get down to work! #homerepair #homecleaning #plumbing #diy
---
---
---