A crawlspace encapsulation could protect your home against damage and even protect your family's respiratory health. Do you need one?
The idea behind a crawlspace encapsulation is that it places a protective barrier in your crawlspace. We often neglect this area of our homes and forget about it. However, if you don't make moves to inspect and protect it, you could end up with horrible home problems.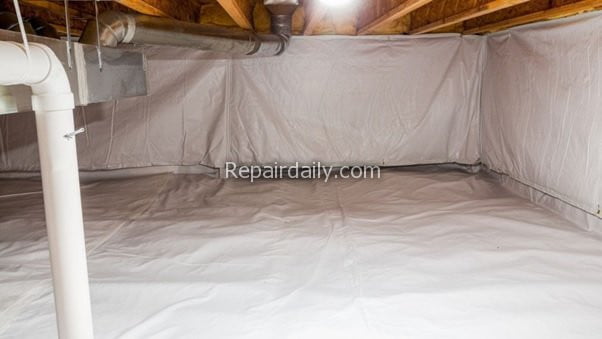 ---
The 7 signs you need a crawlspace encapsulation
A crawlspace encapsulation stops leaks, deters rodents, and prevents rising damp. It is like the lining of a pond or a pool. This added barrier keeps your home safe and dry. Here are 7 signs that you need one, stat.
1 – Mold
The most obvious sign that you need a crawlspace encapsulation is when your home develops mold. The mold will appear as spots of damp, which can come in yellow, green, or black. Neither type is friendly but black mold is the worst. It can cause hospitalization. You can bleach the mold, but it will return. A damp barrier in the crawl space will help stop this. Consider putting it in the basement as well.
2 – A Smelly House
When you have mol spores in your home, it starts to smell bad. It is an intense musty smell, as if you had left your clothes in the washing machine overnight in the cold. You might not notice it. If visiting guests ask you what the smell in your house is and you have mold spots, put two and two together to equal damp proofing.
3 – You live in a Flood Area
if you live in an area prone to damp and flooding, don't wait for the mold spots to appear before you get a crawlspace encapsulation. In this case you are racing the clock to keep the damp out. Install sump pumps if you don't already have them and extend your crawlspace encapsulation to include the basement and even under your flooring. Check your damp proofing every autumn.
4 – You have an Infestation
Rats, mice, and other rodents can get in under your house. They will come up through the crawlspace. This is one of the primary reasons you should inspect your crawlspace at least once every 6 months. An encapsulation will prevent them from getting in, interrupt the pathways they use to get about under your house, and even disturb their nesting areas.
5 – Wet Basement Walls
If any of the walls in your house are wet without reason to be, you need to install a crawlspace encapsulation. Wet walls will erode the structural integrity of your home quickly.
6 – You Constantly De-Humidify
If you find the need to constantly run a de-humidifier and you don't live in a humid climate, then this could be down to the damp rising under your house. You know what the answer is. Install it and watch your energy bills drop.
7 – Your House is Cold
Among other things, a damp barrier in the crawlspace acts as a form of underfloor insulation. The more layers there are, the better the energy efficiency of your home.
A crawlspace barrier protects your home
The upshot of all this is that a crawlspace barrier protects your home and family. Can you afford not to get one?
FACEBOOK
TWITTER
INSTAGRAM
LINKEDIN

I'm so excited to tackle all my home improvement projects! From plumbing to DIY and cleaning - I'm ready to get down to work! #homerepair #homecleaning #plumbing #diy
---
---
---