With the need to get away and the crunch for space, small apartments have become trendy and the new 'in-thing' for people these days. People with a minimalist lifestyle, which is most people around us, are moving towards small apartments. The irony is that these small apartments have become the next big thing among people these days.
Proper decor and styling make these small apartments look spacious and clutter-free. Even movies and shows these days have made this concept of small apartments a boon among the youth. There is a catch to this: we will tell you all the brilliant home color hacks for small apartments. These hacks will completely change the way people look at your small apartment.
Before moving further, you must know that using emulsion paints for interior walls and ceilings is the most common type of paint.
---
The best part? These interior wall paints can be used on previously painted walls or newly plastered walls. These hacks will make your space look bigger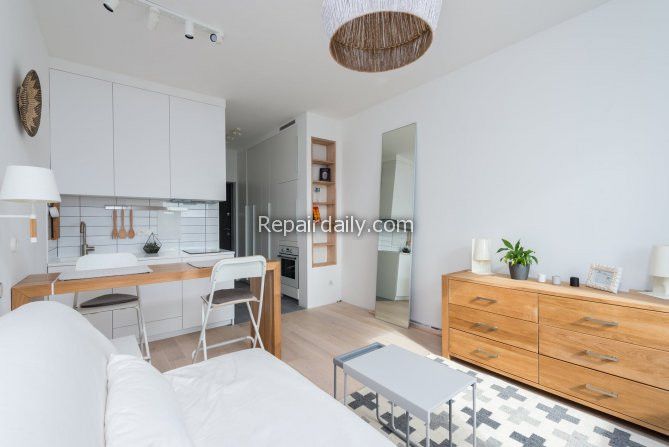 ●      A single color
Using a single color may seem insignificant, but it works wonders for your small space. It enhances the spaces and gives a very calming effect. Colors can be used in furnishing and other items, which is enough to provide a vibrant mood.
●      Use light shades of paint
To make your space look bigger, your small apartment needs light shades of paint. Lighter shades are always known to enhance the space and make it look bigger and better.
●      Use props
You can always prop up your space with cute little items and focus on details, keeping the fun and design intact. Quirky pieces of furniture or small items enhance the space well and are eye-catching. The best part? Adding and using these props can be done all by yourself, and you need not get extra outside help. Just flaunt your interior decor skills with this hack.
●      Storage beds
Storage beds are a great hack for you to make use of your space efficiently. A small bedroom space can work well for you if your bed has storage space. You can use it as a makeshift wardrobe to keep your extra footwear, winter clothes, or any other heavy items you do not use regularly. This will ensure you have enough space left for all other essential things. Surprisingly, this hack is a cheap home decor, as you save a lot of extra money on unnecessary shelves and extra cabinets.
●      Use floating shelves
This is for all book lovers out there. Small apartments might seem like there won't be any space for your books. But don't worry, floating shelves across the room, the corner space above the head can be well utilized for making use of whatever space you have.
Conclusion
These smart home color hacks for small apartments can be integrated with your existing decor and the ability to create great home decor even with minimal space. This is something that every homeowner can be proud of.
FACEBOOK
TWITTER
INSTAGRAM
LINKEDIN

I'm so excited to tackle all my home improvement projects! From plumbing to DIY and cleaning - I'm ready to get down to work! #homerepair #homecleaning #plumbing #diy
---
---
---