If you're running a business, chances are you'll need to avail yourself of professional software development services at some point. It's a rare company or even an online store that can thrive in this highly technological age without a dedicated application or other digital tools that help you establish a solid online presence, attract new customers and simplify their buying journey, build brand value, and much more. As an entrepreneur, you may be eager to scale up your business or simply give your new venture a good kickstart and now are looking for some specialists to help you with it. Chances are you've already consulted with some vendors and one of the first questions you might have asked was 'Who will be working on my project?' Needless to say, not every customer is well aware of software development team structures and the roles each person plays in developing custom business solutions. So, in today's post, we're going to briefly discuss the roles and responsibilities of software development experts you might want to hire to help you take your business to the next level.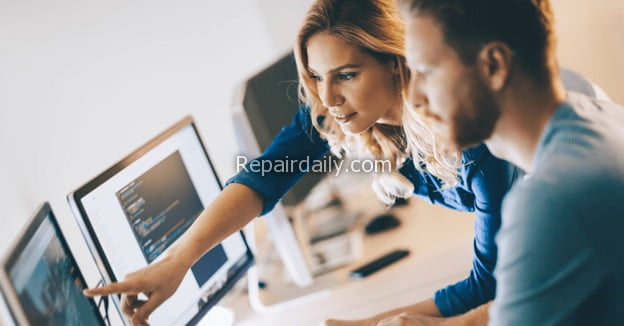 Roles of a Software Development Team
The number of people working on your project will widely vary depending on its overall complexity. Most commonly, a project will include an assortment of the following roles during certain stages of the development process:
---
Application architect
Interface engineer
User experience designer
Solutions architect
Software engineer
Technical project manager
Quality assurance engineer
Now you're probably wondering who does what and why it actually takes a variety of folks to create a software application well suited to our specific business needs. That's a valid curiosity. So, let's dive a little deeper into each role and what it is they do.
The Stages of Development
First, your project will likely consist of the following different phases.
First things first, you're going to discuss your app idea and its tentative functionality with solution architects. At this stage, experts will help you gain a better understanding of your business' technology needs. They will dive deeper into your established requirements, as well as investigate the unknowns that can vastly improve the overall value your solution can bring to your organization. They might create user stories, consult with various members of your team, and lay out the design architecture required for further stages.
At the second, design, stage, you'll closely cooperate with design specialists that will assist you in creating the best possible UX for your future customers from visual to navigable elements of your project. Exactly during this phase, such important steps as creating wireframes, mock-ups, and visual assets are implemented. This will help you get a better understanding of how your app will look and feel.
The final stage involves the implementation of your product. During this stage, multiple specialists will be working on your project including a technical project manager who will steer the development process and communicate your project's status every step of the way. Project managers, in their turn, will help ensure that your project is completed on time and within budget, as well as provide smooth translation between client and engineering teams. Application architects, software engineers, and interface engineers, all play specific roles in writing robust code that is essential to a fully functioning end solution.
And now let's take a closer look at the tasks your software development team members will need to perform to deliver the best possible result.
How a Software Development Team Help Make Your App a Success
Application architects normally lead the software architecture and technical guidance on project teams. They work directly with solutions architects to ensure the right technology choices are made, as well as properly allocate resources necessary for a successful completion of your project. App architects may also participate in selecting software and interface engineers that will work at specific aspects of your application.
Software engineers, in their turn, will take over the server-side development, while their interface counterparts will devote time and effort to writing the code that will interact directly with your end-user.
Last but not least, you need to ensure your business app is efficient, trustworthy, and safe to use. That's where quality assurance engineers come in and determine whether your product is compliant with all the important criteria. They work in tandem with the rest of the implementation team testing code as it's written from the developers. This helps to ensure that all possible bugs, glitches, and errors and that a smoothly running app is created in the end.
Hopefully, this short guide will help hire the best software development team that will turn your app idea into a successful project serving your business needs.