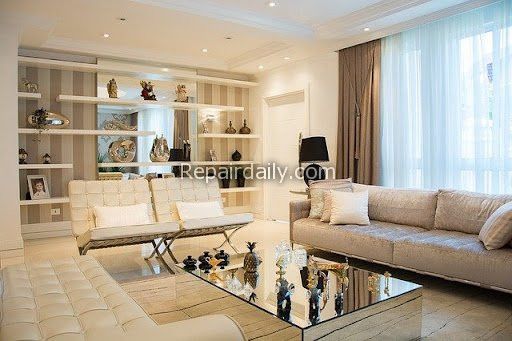 Home interior design projects can be daunting, but the process can be fun, especially with all the decisions you have to make. Having a decorating style helps guide your interior decorating project. Consider decorating styles like transitional, which are a traditional and modern hybrid, modern, which comes with fine lines and is well-tailored, contemporarily, a sparse, minimalistic design, or a farmhouse. Know the measurements of the space you're decorating before going shopping.
Upon getting the measurements, use them to make a floorplan to give you a good view of the whole house. Read design materials, including magazines, books, and digital resources, for decorating secrets and ideas. Here are a few tips for decorating your home interior.
---
1. Set up an aquarium
There are various aquarium design options you can consider depending on how you can use them to enhance your home's interior aesthetic appeal. While setting up an aquarium in your space elevates its feel and look, the use of water regulates your home's temperature, improving comfortability. It also enhances well-being and reduces stress.
2. Use plantation shutters
Plantation shutters' universal appeal can complement any home's interior design, whether you prefer a traditional, rustic, minimalistic, or modern aesthetic appeal. They are a popular décor option that adds a bright and spacious feel to any space. The natural wood incorporates well with most home furnishings, while the light they bring sets each room's ambiance. Stained, cream and white plantation shutters are popular for most interior shutters.
To get the richest color possible, pair the yellow poplar wood with shades of cream and white or use basswood with stained shutters. When looking for the best for your interior décor, note that creamy or white shades brighten spaces. You can get quality plantation shutters from Doors Plus or any other trusted vendor.
3. Paint your walls
Choosing suitable color pallets for your space can be daunting, and while you can go with color choices you fancy, light and neutral colors like gray and beige are better options. They offer you great decorating flexibility, making it easy to switch up accessories. Using a similar neutral color on two small spaces next to one another gives them a larger feel.
Neutral colored paints on your walls make it sell your home when the right time comes because they appeal to a larger group. You can consult an interior designer for advice on how you can use colors to make your home stand out.
4. Use mirrors
Besides being an excellent design element, mirrors light up your room, make a statement and conceal minor imperfections. When choosing mirrors for interior decoration, consider the room size and what you want the mirror to help you achieve. Don't forget how your mirror size and style choice will impact the space you're decorating.
5. Use artwork on your walls
Hanging artwork on your walls lowers your stress levels, promotes critical thinking, and decorates your space. Collecting unique fine art doesn't have to be costly. You can find outstanding decorative artwork with any budget, no matter how small. You have affordable options that add life to your space and vintage artwork pieces for diversifying your art gallery.
To help you choose suitable paintings for your space, know your inspiration, including the emotions you want to evoke and look for something unique to make your home stand out. Size is also important. If you're decorating a large wall, choose an oversize artwork piece or use smaller pieces for a gallery style and ensure the spacing isn't far apart. Ensure the center of your art is eye-leveled and if you are short, average your height.
6. Consider layering your lighting
When layering your lighting, you can use all the lighting types, including accent, ambient, and task, for quality lighting. To achieve layered lighting, the entirety of your space should glow with no daunting shadows, interesting pop-ups from attractive fixtures, or the glow shape and brightness. You can use canister uplights in corners to create a ceiling glow and make the space appear bigger.
7. Use area rugs
When using area rugs to decorate your space, they shouldn't extend under your furniture. Avoid skimping on size and covering hiring high-traffic portions of the house. Since the idea is to get the area rug centered in your space, the floor space left on all rug sides should be equal.
8. Add some greenery
Plants are an excellent finishing touch addition for any living room. They add freshness and life to your space. If you're new to using plants for interior décor, start with a few plants and learn how to care for them as you go. Matching your plants to your home's decorating style will enhance cohesiveness. You can also use different plant sizes to create visual interest and contrast.
9. Leverage throw pillows
Mixing and matching throw pillows are an excellent interior decorating hack you can use to spruce up your living room while enhancing comfort. To succeed with this technique:
Use a few accent pillows and vary the textures, not colors, to create visual interest devoid of the mess

Maintain a consistent pattern when using many colors, and consider trying earth tones in a space with natural accents

Choose a cascade of colors in one family to create an ombre effect that is impactful in a neutral room. You can also decorate using the same color throw pillows. Creating contrast with the couch can help the decoration pop
10. Create contrast
Contrast in interior design involves organizing items with opposite or different features to make an impact. Using color is one of the simplest to add contrast to your space. Dark and light colors develop such great contrast. For instance, black is an excellent combination that's dramatic and has a sophisticated feel. You can also use high-low contrast by mixing luxury furnishings with traditional ones. Texture, shapes, a mix, and matching items in your home can also help you create contrast when decorating your space.
Endnote
Your home is like a little haven. Decorating your interior makes it more appealing, enhances comfort, and keeps you happy and content. Use these tips to decorate your home interior and look out for home décor trends you can apply.
FACEBOOK
TWITTER
INSTAGRAM
LINKEDIN

I'm so excited to tackle all my home improvement projects! From plumbing to DIY and cleaning - I'm ready to get down to work! #homerepair #homecleaning #plumbing #diy
---
---
---