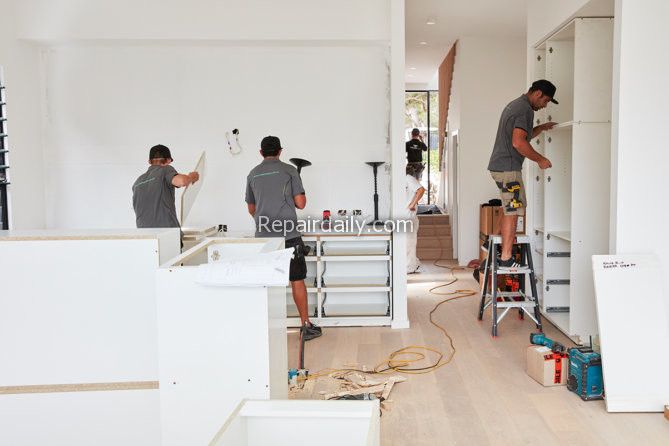 You don't have to move to a new place or do major renovations to your house to change the way it feels inside, you can give it an immediate refresh just by changing some small details in the rooms that matter most to you. Check out these seven quick tips for making your house feel brand new again.
---
1. Change Lighting
Most people don't think about changing their light bulbs until they don't work or until they start giving off a funny color. However, swapping your old light bulbs for new ones can make a huge difference in how you feel and live in your home. Some ideas to light up your kitchen properly is by choosing warm, bright colors such as yellow and orange instead of cool colors which can even boost your mood. Another idea is to swap out traditional fluorescent lights with LED lights which can save money on energy bills and last longer than traditional bulbs.
2. Update Furnishings
Updating your furnishings can be a quick and easy way to refresh your home. These new signage ideas for home decoration can add new life, color, and energy in minutes. If you love neutral shades but want a boost of color for some energy, consider swapping out wall art or repainting a wall in your living room or dining room. Similarly, bold decorative pillows or vases add new patterns and textures that can make an old couch feel new again.
3. Add a Pop of Color
Adding a pop of color is a quick way to get an energy boost and can instantly uplift your mood. This idea works well in every room, especially kitchens, bedrooms, and living rooms. In fact, it's such a simple change that you might not even need to hire professionals for help just grab some paint samples from your local hardware store and try out different colors on your walls. You'll quickly be able to see how certain shades will affect both you and others around you.
4. Hang New Artwork
Art is one way that homeowners can refresh their space, and there are so many ways to go about it. From DIY ideas to even just a solid color in your bedroom, art is something you should think about refreshing regularly. The truth is that when we see beautiful, inspiring artwork around us our mood lifts and often inspires us to be more productive.
It's also important to note that adding new pieces is a great way to showcase your own personal style, whether you choose to go bold or keep things neutral. And don't forget about wall signage. These small touches can make a big difference in your kitchen or office environment.
5. Decorate with Succulents
Succulents provide living examples of soothing home designs. If you're short on time, succulents are also a good option because they don't require a lot of maintenance and you can position them in just about any spot. Plus, with all their variations, succulents come in endless colors and shapes to complement your design style.
To refresh your space with these unique plants without spending too much time or money, consider succulent decor ideas like placing one in a large glass jar as an alternative to traditional houseplants; placing small pots throughout your kitchen; or grouping several together for a fresh centerpiece.
6. Switch up Textures and Finishes
Switching up textures and finishes in your home can give a different appearance and feel. Consider using a variety of materials, such as wood, stone, metal, or glass. A multitude of options is available at local home improvement stores. Taking down wall decorations is also an easy way to refresh a room's look. This can be done by replacing dated wall sconces with new fixtures. To make sure you choose something that fits with your current decor, keep track of any trends you like.
7. Replace Your Hardware
It may be easy to overlook hardware in your home, but a fresh coat of paint on these pieces can make a huge difference in your kitchen. In addition, new hardware can set a nice new tone for any room or open up space around your sink and cabinets. To make a fresh feel at home you can use dark colors or calming white tones that help create an inviting atmosphere for cooking. However, you can also paint hardware metallic colors such as gold or silver for different effects.
FACEBOOK
TWITTER
INSTAGRAM
LINKEDIN

I'm so excited to tackle all my home improvement projects! From plumbing to DIY and cleaning - I'm ready to get down to work! #homerepair #homecleaning #plumbing #diy
---
---
---