Home renovation to increase your home's value need not be costly. It may seem hard to do, but there are several ways to improve your home's value without compromising your bank account.     
Here are most of the trusted house and building contractors' tips on cheap upgrades to increase home value.  
---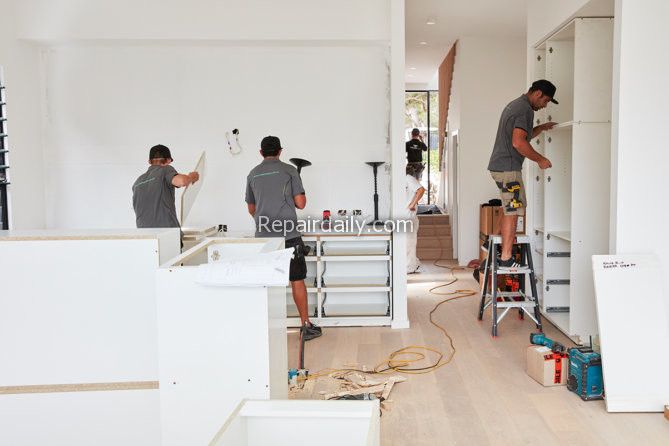 Tip #1 Clean your driveway. 
Cleaning your driveway gives your house a brand-new look, adds value to your home, and benefits you will enjoy.  
A clean driveway reduces the risk of accidents. 
Regularly maintaining your driveway is one of the best renovations to increase home value. It helps prevent stains and fungi formation that may cause it to be slippery, which might make people slip and fall.   
Cleaning your driveway prevents plants from growing. 
Make it a habit to power wash your driveway to remove all the dirt and prevent unwanted seeds and plants from growing.  
It helps prevent driveway degradation. 
Simply cleaning your driveway with non-toxic materials will not cost you a fortune, but it increases your house's value. The more it looks clean and new, the higher its value can become.  
Tip #2 Add outdoor lighting 
Outdoor spaces are the perfect get-together place for your family and friends. 
Setting up your outdoors and adding lighting will elevate your house's visual appeal while adding a relaxing vibe and alluring ambiance. You can perfectly hide through specialized and custom-made access or any surface-insulated access doors.  
Tip #3 Redecorate and repaint your house's walls.  
Changing the coat or repainting your kitchen, dining, or living room walls will transform your home's interior into a new and welcoming place.  
You may check the color psychology and the paint color palette and see which shade works with your desired color. Play around with the color combination until you get the best shade and tone from the sidings, walls, trims, doors, and even ceiling.  
Take note: The more the color complements each other, the more pleasant-looking your house will be.  
Tip #4 Install innovative technology in your house. 
Installing innovative technology is optional since some people love the classic doors with hinges and knobs, but if you prefer to renovate your house to a more modern place, install innovative technology.   
Start upgrading your door with an easy-install smart lock, then work towards the rest of your house's interior until your classic house transforms into a smart home that offers these benefits below.  
It can monitor activities in your house. 
With technological advancement today, you can easily monitor your house through the alerts your smart home and security system will send.  
It can help you save costs. 
Link a water-leaking detection system to your house, which will alert you when to turn off your water system. The same goes for your power supply. The system will optimize your energy consumption and send alerts to notify you about what you need to do.  
It helps detect fire. 
Avoid losing your house and your other valuable things due to fire with the integrated innovative home system that can detect smoke.  
Remotely control your whole house. 
Stop walking towards the light switch and stop looking for the remote control! Instead, start remotely controlling your entertainment system and other electrical appliances with the home automation system.   
Tip #5 Change your lights. 
Did you notice those coffee shops and hotel lights? They are beautiful and expensive looking, aren't they? You can also get those types of lighting and make your house look expensive.  
Instead of using the typical lights, install the recessed lights in your room, living room, or kitchen and see how the recessed lights will completely transform the mood and ambiance of the place.  
Tip #6 Insulate your attic.  
As the temperature rises due to global warming, most homeowners and home buyers are now looking for ways to insulate their attics. Protecting your attic might be the costliest on this list. But don't think of this as an expense but an investment instead.   
Adding insulation to your attic will increase your return on investment. It helps cool down your house's temperature allowing you to save more money over time, and if you sell your home, you are more likely to get around 110-120 return on investment (ROI).  
Conclusion
You don't need to spend more to renovate your house and add value to it. All you need to do is redesign and repaint your home and ensure that you invest in things that increase your house's value.   
These are durable access panels, proper lighting, redesigning your living room, adding paintings, and incorporating innovation and technology. Your house's market price will increase quickly.  
Do you have any suggestions on what adds the most value to a home we can add to the list? Comment below, and we will be more than happy to add it. 
FACEBOOK
TWITTER
INSTAGRAM
LINKEDIN

I'm so excited to tackle all my home improvement projects! From plumbing to DIY and cleaning - I'm ready to get down to work! #homerepair #homecleaning #plumbing #diy
---
---
---