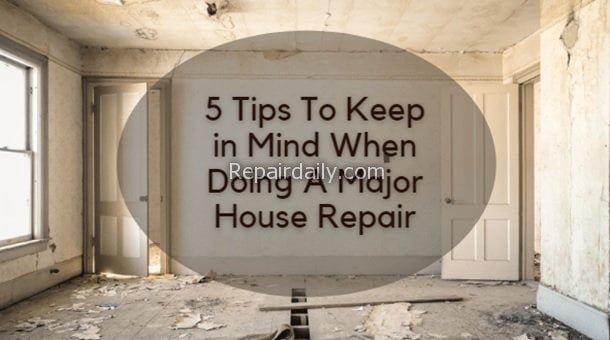 House repairs can probably get downright scary and ugly, not to mention costly. However, you have to remember that a major repair is an opportunity to make your home better, safer, and more efficient.
If you're going to be working on something like replacing drywall, or putting in new flooring, there's no need to rush through the project and make a mess of things. There's a way to do the work on time while still keeping the house livable for your family. Here are some ways to make sure you get the job done fast and efficiently.
---
Plan ahead and set a budget
While a major house repair can be an exciting time for homeowners, it can also cause unneeded stress. The best way to eliminate the stress associated with home repairs is to be financially ready and to plan ahead.
Don't just think about when the work will happen now—think about what will happen in six months, or even a year from now.
If it's going to be a long project, you should plan out and budget for your construction-related costs as well as any expense that might come with living outside of your home or apartment. You can expect surprises to pop up (especially if you're working on an older building), so it's best to have some cash saved up in case you need it.
If this is something that will be an ongoing project over the course of several years, it's also helpful to figure out how to store and organize all of your materials so they don't get in the way while you're still living in your house.
Make sure everything is clean
Before you begin any major house repair, it is important to clear the area and make sure everything is clean. Homeowners often ignore this step because they assume that cleaning up after the repair is enough. This can be a challenge if you are in the middle of a project or if you have a lot of clutter in your home. Either way, your first step is to remove all items from the room that could cause an obstruction. This includes furniture, decorations, and even children's toys. If you don't have a storage space availble, consider renting one from Keep Safe self storage. Once you have completely cleared the space, it is time to clean.
A thorough cleaning will help you identify any potential problems with your home before they become bigger issues. If you can identify these problems early on, then you will have less work to do when the time comes to address them. For example, if you find that there are cracks in your foundation or cracks in your floors, then this may be something that needs to be addressed as soon as possible – especially if they are causing water damage and other problems.
Remember that a dirty surface can lead to damage which could prolong the project or require additional work to fix later on. Just like if you want to paint the walls after completing the repairs, it's crucial that all surfaces are clean so that your new paint job will look its best.
Secure your belongings
While you may be excited about the prospect of renovating your home, it's not always as fun as it sounds. For example, if you are having some major repairs done to your house, you will need to find a place to store all of your belongings. If you are having an entire room renovated or added to your home, you will need to find a way to protect all of the furniture and personal belongings in that room.
The easiest way to move your belongings out of harm's way is by moving them to a self-storage unit. Keep Safe self storage facilities have climate-controlled units in various sizes so you can find one that will fit all of your furniture and possessions. You can also use self-storage units for other projects around the house such as getting a head start on spring cleaning or storing seasonal decorations and clothing.
A self-storage unit will provide you with a secure space to store all your belongings while your house is being repaired. All your items will be locked safely inside the unit. You can also find a self-storage facility that has an alarm system, which can give you additional peace of mind.
Hire experts
The best way to avoid a major home repair disaster is to get help from experts, who can offer you tips on how to do the job right and ensure it's done safely. While you may be tempted to power ahead with your renovation project, enlisting the help of professionals can prevent you from making costly mistakes.
Before starting your major home repair, speak with friends and family members about their experiences and ask for recommendations. Also, be sure to read reviews online before hiring any contractor—just because someone is skilled doesn't mean they're trustworthy! Finally, always get an estimate—if a contractor estimates more than twice what another did, something could be amiss.
Take time
Beyond having all of the supplies and tools you will need for your repair, it is also important not to rush your work. This means taking your time and making sure that every part of your project is done correctly. If you are not used to working with certain types of materials or tools, then it is best to take some time and practice before you do anything else. If possible, try to hire someone who specializes in this type of work so you can be sure that everything is done properly.
Test everything once it's finished
Once you've finished the repair, it's essential to test everything. If you're just trying to make something work for the moment, that's one thing, but if you're going to be taking on a major project like this, don't leave out the steps at the end of your to-do list that is imperative to make sure everything is working properly.
Home Repair Takeaway
When it comes to home repairs, there are a lot of things that can go wrong. Whether there's a mishap during construction or you have to do some emergency repair work, there are certain precautions you must take in order to avoid any additional problems. The more informed you are about the possible issues, the easier it will be to complete your home repair project.