Water is essential for all types of plants, whether you're growing a flowering yard in the suburbs of Ontario or a vegetable garden in a neighbourhood in British Columbia. That's why various lawn sprinklers are available to make watering more manageable and efficient for all growers. And we'll help you find out which one could fit yours.
If you're new to gardening or haven't used an irrigation system before, this guide will help you understand the different lawn sprinklers for various yard types and needs.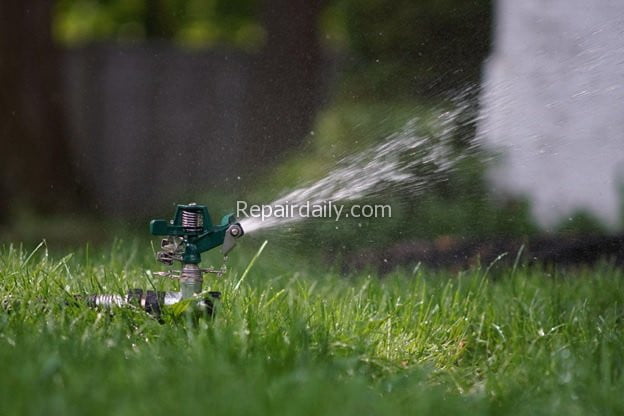 ---
Stationary Sprinklers
This sprinkler type is perfect for watering smaller areas and uses low water pressure to avoid damaging more delicate plants. Stationary sprinklers are excellent for watering certain areas in your garden that need frequent watering. However, you might need to move them constantly to avoid overwatering since they tend to focus on one site.
Oscillating Sprinklers
An oscillating sprinkler uses a long metal or plastic tube that oscillates or moves back and forth to spray a heavy rain-like pattern for your yard. This sprinkler type is perfect for covering more ground and taller plants, considering it sprays water a bit high. The only thing to remember about these sprinklers is that they may not be efficient on windy or hot days. Spraying at an elevated level may make the water evaporate quickly.
Rotating Sprinklers
This sprinkler type features at least two or more arms that spin to distribute water efficiently in more expansive areas. Their gentle spray is excellent for watering shrubs, flowerbeds, and other delicate plants. You won't be able to adjust the sprinkler heads, but you can change the coverage area by adjusting the water flow since they move or spin according to water pressure.
Rotating sprinklers offer a more inexpensive option for watering larger yards, especially if you get them from quality service providers like EZ Lawn Sprinklers.
Travelling Sprinklers
Travelling sprinklers have wheels used on certain parts of your yard, eliminating the need to drag big hoses across the lawn and supervising the system while it works. They provide a more extensive spraying action which is excellent for immense landscapes that require regular watering. Unfortunately, they may not work in all gardens because the plants and soil may obstruct the sprinkler's movement.
Impact Sprinklers
This sprinkler system is ideal for watering shrubs, trees, and more extensive lawns. Its sprinkler heads use powerful water steam that can reach a long distance in a circular pattern. Additionally, the water from these sprinklers can resist wind, meaning the spray won't get disrupted or blown away. However, its intense water pressure may damage more delicate flowers or foliage.
Sprinkler Hoses
Sprinkler hoses or soakers aren't exactly sprinklers themselves, but they work similarly to other irrigation systems. Generally, they're garden hoses with tiny holes that spray or squirt low-pressure water for any rectangular area. They're ideal for watering in irregular patterns in narrow spaces that no other sprinklers can reach, particularly in vegetable gardens.
Nurture Your Plants With an Efficient Sprinkler System
A sprinkler system in your yard can benefit your garden in more ways than one. For instance, it can assist you water your yard efficiently so you can save time and energy from doing so yourself. These sprinklers may vary per coverage, but one will surely fit your needs, whether growing a luscious flower bed or a healthy vegetable garden anywhere.
FACEBOOK
TWITTER
INSTAGRAM
LINKEDIN

I'm so excited to tackle all my home improvement projects! From plumbing to DIY and cleaning - I'm ready to get down to work! #homerepair #homecleaning #plumbing #diy
---
---
---