Bathrooms can be a challenging space for an aging parent or grandparent to navigate, especially if their mobility or balance is compromised. The reality is, when floors are slick, surfaces are wet, and there's nothing to hold on to when moving around, the risk of falls and injury increase. According to the Centers for Disease Control and Prevention (CDC), about 36 million falls are reported among seniors each year, and one of every five falls causes a serious injury.
Having an accessible bathroom is an essential part of aging in place, so it's important to be strategic when you renovate your bathroom to help your loved one feel safe and comfortable. Consider the following tips to create a senior-friendly bathroom and make the most of your next renovation project.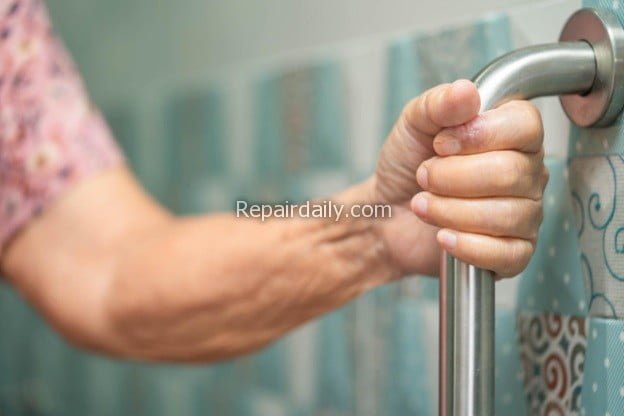 ---
Install Grab Bars
Grab bars are one of the most valuable safety features in a senior-friendly bathroom. They provide stable support for seniors, as they can be held on to while getting in and out of the shower, using the toilet, or standing up from a seated position. You can install grab bars on both sides of the toilet and around the shower to maximize safety in the bathroom. When you purchase your products from a reputable brand, you don't even have to compromise style for functionality, as some companies offer them in sleek designs.
An important thing to note when installing grab bars is that they should be installed securely and at appropriate heights to provide maximum support. Make sure your grab bars meet the ADA requirements for grab bars and test them out by placing them in different areas before securing them.
Consider Non-Slip Flooring
Slippery bathroom floors can be hazardous for seniors, especially when wet, as there is a higher risk of slipping and falling. Installing non-slip flooring can help reduce the risk of falls. You can choose from textured tiles, rubber mats, and slip-resistant coatings. Your choice of non-slip flooring will depend on your budget and the purpose of the renovation. If a senior is living with you temporarily, you can opt for one of the least expensive measures by adding non-slip mats inside and outside the shower. On the other hand, textured tiles and slip-resistant coatings are a more permanent solution and require a bigger budget and longer timespan.
Choose an ADA Compliant Shower
Walk-in showers can be an excellent option for seniors who have trouble stepping over the side of a traditional bathtub. These fixtures have a low threshold that seniors can easily enter, and many models come with built-in seats and grab bars for added safety.
It's important to consider showers that are ADA compliant to ensure they meet legal safety standards. ADA compliant showers are designed to meet Federal requirements for ADA code compliance in commercial & public buildings. Companies that offer ADA compliant showers use the Americans with Disabilities Act as a guideline for their manufacturing process to ensure accurate shower sizes, threshold height, clearances, and accessory configurations to accommodate wheelchair users.
Set up Shower Chairs
Shower chairs come with a backrest and arms for stability and comfort while in the shower, reducing the fall risk. When you choose a reputable company for shower chairs, the product will likely have smooth edges to enable easy transfers and can be wall-mounted for added security.
You can also include an adjustable, hand-held shower head for easy reach when sitting down. This is particularly helpful for seniors with limited mobility, as they can use the hand-held showerheads to rinse themselves off without moving around too much, reducing the risk of falls.
Creating a senior-friendly bathroom can make a big difference in the safety and independence of seniors who want to age in place. Installing grab bars, non-slip flooring, walk-in showers, and shower chairs can help prevent falls and make daily activities easier for seniors.