The garage, often overlooked as a mere storage space for cars and clutter, has the potential to be so much more. With a bit of effort and creativity, you can transform your garage into a functional and stylish space. Whether you're looking to create a new living space, a home gym, or a workshop, here are seven ways you can transform your garage into a space that suits your needs and lifestyle.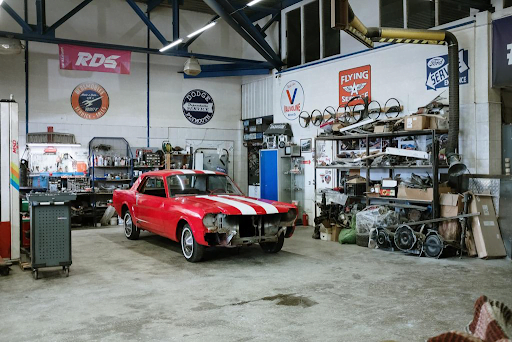 Convert it into a Gym
With the rise of at-home fitness trends, turning your garage into a home gym is an excellent way to make use of the space. Start by clearing out all the clutter and creating an open, inviting atmosphere. Install rubber flooring for safety and to protect your equipment.
Invest in quality exercise equipment such as a treadmill, stationary bike, weights, and a yoga mat. To keep the space motivating, add mirrors to create the illusion of a larger room, and hang motivational posters or artwork on the walls. Don't forget proper ventilation and temperature control to make your workouts comfortable year-round.
Transform it into a Storage Haven
If you're short on storage space in your home and have a preference for a sleek and neutral color scheme, consider transforming your garage into an organized gray storage haven. Start by decluttering and getting rid of items you no longer need. Install gray shelves, cabinets, and storage bins to keep everything neatly organized in a stylish and modern way.
Invest in a sturdy gray workbench and pegboards to create a designated area for tools and DIY projects. Consider adding a wall-mounted bike rack in a matching shade of gray to keep your bicycles out of the way. With proper gray storage solutions, your garage can become an efficient and functional space that helps keep your home clutter-free while maintaining a sophisticated aesthetic.
Create a Cozy Home Office
As remote work becomes more prevalent, having a dedicated home office space is a must. Your garage can easily be transformed into a comfortable and productive workspace. Insulate the walls, add drywall, and install proper lighting to make the space conducive to work.
Consider investing in ergonomic furniture, such as an adjustable desk and an ergonomic chair, to ensure a comfortable work environment. Customize the space to your liking with some personal touches like artwork or plants, and ensure you have a reliable internet connection for seamless remote work.
Build a Workshop or Craft Room
For those with a passion for DIY projects or crafting, converting your garage into a workshop or craft room can be a dream come true. Start by installing ample storage for tools, materials, and supplies. Pegboards on the walls are a great way to keep your tools organized and easily accessible.
Make sure you have adequate lighting, as proper illumination is crucial for detailed work. Additionally, invest in a sturdy workbench and consider adding a sink for easy clean-up. This transformation will not only provide a dedicated space for your hobbies but also keep the mess out of your main living areas.
Construct a Game Room
Transforming your garage into a game room can be a fun project for the whole family. Install a pool table, foosball table, or ping pong table to create a recreational space where everyone can unwind and have fun.
Decorate the walls with posters or memorabilia from your favorite games or sports teams. Add comfortable seating, a mini-fridge, and a sound system for the ultimate gaming experience. This space can be a great way to bond with family and friends, and it's perfect for hosting game nights and gatherings.
Make it a Home Theater
Create a cinematic experience right in your garage by turning it into a home theater. Start by insulating the walls and ceiling to improve soundproofing and create a cozy atmosphere. Install blackout curtains or blinds to control the lighting during movie nights.
Invest in a high-quality projector and screen, along with comfortable seating like recliners or a sofa with plenty of cushions. Don't forget to add surround sound speakers for immersive audio. With some popcorn and your favorite films, you'll have your private movie theater at home.
Conclusion
In conclusion, your garage is a versatile space with immense potential. By envisioning how it can best serve your needs and lifestyle, you can transform it into a functional and stylish part of your home. Whether you opt for a home gym, a cozy home office, or a storage haven, these seven ideas can help you unlock the full potential of your garage and enhance your living space in a meaningful way. With a little creativity and effort, your garage can become a valuable and enjoyable part of your home.
FACEBOOK
TWITTER
INSTAGRAM
LINKEDIN
---

I'm so excited to tackle all my home improvement projects! From plumbing to DIY and cleaning - I'm ready to get down to work! #homerepair #homecleaning #plumbing #diy #fixerupper #realestate #renovation #interiordesign #farmhouse #diy #homedecor #hgtv #home #farmhousedecor #modernfarmhouse #farmhousestyle #fixerupperstyle #fixandflip #homerenovation #realestateinvesting #beforeandafter #homesweethome #remodel #realestateinvestor #interior #realtor #joannagaines #flippinghouses #countryliving #design #homedesign #farmhouseinspired #investmentproperty #bhghome #renovationproject #farmhousekitchen #homeimprovement #farmhouseliving #cottagestyle #decor #realestateagent #magnoliahome #homeinspo #magnoliamarket #kitchendesign #dreamhome #shiplap #construction #houseflipping #investor #farmhousedesign #architecture #farmhousechic #homereno #rusticdecor #reno #kitchenremodel #webuyhouses #magnoliatable #rentalproperty #fixerupperinspired #newhome #interiors #homeremodel
---